Kell Brook's victory over Carson Jones delivered exactly what I wanted: a thoroughly entertaining fight, a great crowd and occasion, and a performance that proves Brook is ready for a world title fight.
We wanted to see Kell in a fight. We want to see him tested and under pressure and we wanted to see what we hadn't seen before. Carson Jones duly obliged. He came prepared and ready to fight, and more than that he produced his best performance to date.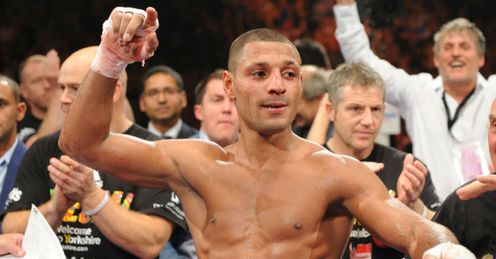 Kell won the fight in the first six rounds and in the second half of the fight he answered all the questions we had. He proved his determination, his toughness and his heart. Even though it was a desperate struggle at times, at that level, you are going to get desperate struggles. In that respect it was not only a good win but a good wake-up call, and now he knows how hard it is at the top level and how hard he needs to prepare next time.
Title fight
Kell doesn't need another tough fight before a world title fight. He has earned a title shot. He should be looking at getting a world title shot straight away while he knows how hard it is and how hard he has to prepare. He shouldn't give himself a chance to get lackadaisical again.
Kell now knows what is needed to be world champion and that fight will have given him the necessary kick in the backside to make sure he is better.
Glenn McCrory
Quotes of the week
Randall Bailey should be his next opponent. He has just won the title so that shouldn't be so hard to make soon. Bailey is a good fighter and has won the title but he's 37 and if you wanted to get anybody in a world title fight he's the one. So I think it would be the perfect fight for Kell. He should be looking at this November time, with Bailey possibly coming to Sheffield.
Carson Jones put in a tremendous effort and if Kell gets a world title fight with Bailey and wins it then he'll have to give Jones a shot at the title. That would be a fight people would love to see after this bruising and brutal clash.
Tough
I fought at world level and you get those fights. They are super tough. There is very, very little between you and you're opponent who is hungry, fabulously prepared, and strong as well as being the same weight. Kell's opponent was two years his younger and had youth, vitality and strength. He was hungry too. It was the perfect fight for Kell Brook to wake him up and make him realise that this is what it is like at this level. It is going to get no easier than that.
There were negatives. He was not as well prepared as he should have been and he admitted that after the fight. Whenever you prepare for a fight you want the best people around you to help get you ready. But all in all it is down to you how much you put in and what you're mental attitude is.
Preparation
When he criticised his preparation after the fight, I don't think he was saying he needs to change the people in his corner. What I think he was saying was that he's cut corners and in some way he has been sloppy. Whether that is in his life style or something else, he had a wake-up call. He needs to change something or he will get hurt and will get beat - he is the first to appreciate that.
So in many ways the negatives were almost positive negatives. When you are out there in the ocean, undefeated, you don't know how deep it is. You don't know the dangers. But now he knows and he still managed to win the fight and look good. So I can only say well done and good job.
Kell now knows what is needed to be world champion and that fight will have given him the necessary kick in the backside to make sure he is better. Onwards and upwards.
Comments (2)
Billy Killen says...
Totally agree with you Johnny , but i must point out how badly Dominic Ingle handled the affair on Saturday night, he was flapping, panicking and most of all negative, he should have been calming Brook down, reassuring him, showing empathy, he took the opposite route, how many times do you see Freddie Roach do that? Even when Khan had just been put out on his feet in the 10th against Maidana, his biggest fight at the time in America, Roach was like the ice man, Ingle needs to take note. I think if Hearn is serious about taking Brook to the states then they need to review everything. Brook has the looks, the charm and the skill, however if the preparation is wrong it means nothing. Brook looked world class in the first 6 rounds, but he was blowing it out of his backside from the 8th onwards. In my opinion he needs new back room staff, a new trainer, a strength and conditioner and a dietician & nutritionist. If he wants to back his confidence up, this is the way forward.
Posted 19:55 10th July 2012
John Barnes says...
Why should Bailey come to Sheffield Glenn?He's the champ!! is that gonna be Brook's thing that he has to fight on home turf, if he wants to be a world champ he should be able to go over to America and take the belt from Bailey, also i think the fight against Jones was a belter but in my opinion it was a draw, 1st 6 rounds to kell and last 6 to Jones. I think it was the 10th or 11th round that Kell had good start and caught Jones with 3 or 4 nice shots and Jim Watt (who i respect alot) was sayin in commentary that Brook had already done enough to win the round, but there were still 2 or so minutes left at that stage and i think Jones dominated the rest of the round.
Posted 08:56 10th July 2012