I think Carl Froch should have been chosen as Sports Personality of the Year.
I love Bradley Wiggins to death for his humour, character and what he achieved this year, while Jessica Ennis also had a fantastic 2012, but what Carl has accomplished over the last 12 months has been phenomenal.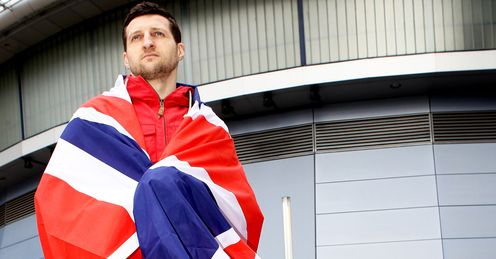 The Cobra, a three-time world champion, went 12 rounds with Andre Ward, the greatest fighter on the planet, in December 2011 and then in May of this year destroyed a 30-fight unbeaten world champion in Lucian Bute.
Carl is a great role model, too, and proved how steely-strong his heart and temperament is when he got over the disappointment of losing to Ward on points to rip the IBF super-middleweight title from Bute in his home town of Nottingham.
I have been around the fight game since Methuselah was alive and Carl is one of the most mentally-tough fighters I have seen.
Glenn McCrory
Quotes of the week
I have been around the fight game since Methuselah was alive and Carl is one of the most mentally-tough fighters I have seen, and I think it is a travesty that he was not selected as one of the final 12 nominees for SPOTY.
Still, if he can show his talents again against Mikkel Kessler and Ward in 2013, maybe he will get it next year...
Promising
David Price may win the award one day, though, because I have no doubt in my mind that he will, eventually, become heavyweight champion of the world.
I believe the Liverpudlian is the most improved fighter of 2012; he began it by flattening John McDermott inside a minute and ended it as one of the most promising fighters in his division.
Price is big, athletic, always willing to learn and impresses me more with every fight, while he is a diamond kid, too; he doesn't spout on about what he is going to do - unlike domestic rival Tyson Fury - and just steps into the ring and wins.
I think Kell Brook is destined for a world title as well, and he will get his big chance when he faces Devon Alexander in Detroit early next year for the IBF welterweight strap - but the Sheffield fighter has something to prove.
Brook was given a stiff test by Carson Jones during their fight in July and was dominated in the second half of it, so at the time it seemed like Kell had done well to come through.
But just a few weeks ago, we saw Jones put look mediocre as he limped to an eight-round draw with Ireland's Dean Byrne, so even though Brook made light work of Hector Saldivia a couple of months ago, perhaps he needs to improve more than we thought.
There are hints of greatness in Kell, but there are also hints of disappointment, so hopefully 2013 will give us a clear indication of how good he can be.
Entertainment
Juan Manuel Marquez's fight with Manny Pacquiao may only have happened a few weeks ago but I still think it was the best, and most intriguing, bout of 2012.
Everyone will remember the sixth-round knockout that Pacquiao suffered but there was more to the fight than that.
Pacquiao and Marquez were facing each other for the fourth time and usually when opponents have multiple fights the later bouts are never as good as the first - like in Muhammad Ali's series with Ken Norton - but these two bring entertainment every time.
I don't think Pacquiao gave Marquez quite the respect that he deserved but the Filipino still boxed well in the fight; he attacked, looked sharp and proved he is not on his last legs yet and it was not as if Marquez was boxing a shadow.
Marquez, who works so hard, is one of my favourite fighters and typifies that gritty Mexican style that we have also seen from Marco Antonio Barrera and Erik Morales.
He has limitations and is never going to beat Floyd Mayweather but he knew he could beat Pacquiao, and proved that with self-belief and hard graft you can do something special.
Comments (13)
Paul Wakefield says...
The fact that Carl wasn't even shortlisted confirms that the majority of the British public know very little about boxing and in particular have no idea that it's the hardest sport in the world bar none. I bet Carl thinks the SPOTY award is a worthless bauble anyway - I agree.
Posted 12:04 20th December 2012
Russell Thomas says...
Why shouldn't Froch be shortlisted for SPOTY? The man is not only a great role model but a 3 time world champ who has never got a look in. Yes Wiggo did extremely well and deserves his award but some people are very belittling of Froch's achievements.
Posted 09:24 20th December 2012
Aky Hussain says...
Carl should have atleast been nominated for sure but like you intimated Glenn, its been an outstanding year for British sport and the Olympians were always destined to dominate the list. Froch is a fighter that has done tremendously well but I still feel he isn't mainstream as someone like Amir Khan is who had a very quick introduction to public life at the age of 17 and had he achieved what Carl had, may have sneaked into the nominations but highly doubtful due to the Olympic success. Put it simply, Carl and any other boxer would have had to do something purely out of this world to get on this year's list but if he wins his expected Rematch Trilogy against Kessler, Ward and Bute then he'll definitely feature.
Posted 19:42 19th December 2012
Adrian Rees says...
All the nominee's were justified, Carl lost 2 fights and talks a good fight, the reality is that to date he needs to test himself against the best and fight outside Nottingham, B.W, was the best sports personality from the high selection although disappointed that Murray didn't get the runner up prize J, Ennis was awesome in the games.
Posted 18:43 19th December 2012
Martin Lee says...
Froch had two great fights in 2012 and is an absolute joy to watch in his current form but in terms of SPOTY he is nowhere near. How long was he on display for in 2012? 25 minutes of action, at the most. Wiggins did 20 stages of the Tour De France plus the Olympic time trial, constantly performing at the top level for hours at a time. I know the sports are completely different in that respect but to win the award you need a lot more exposure.
Posted 18:36 19th December 2012
Sebastian Q says...
Froch should have been nominated yes, but the right man won. Froch did LOSE to Ward even if he did put up a good show. And Ward isn't the best fighter on the planet, he's number 2, we all know that Mayweather is.
Posted 16:57 19th December 2012
Alan Shackson says...
Although froch went 12 rounds with ward he was completly dismantled by S.O.G. His recapturing of the world title came against someone who wasn't even in the supersix, and to be completly honest i'd never even heard of his last opponent. This in no way compares to being the first Brit to win the the Tour de France and winning Olympic gold.
Posted 16:35 19th December 2012
Raja Yousaf says...
To win it you have to be the best in the business. Simple. Froch is far from; outclased by Ward. Furthermore he is a cocky arrogant fighter who shines in his home town. Finally he feels Kessler is the main fight for him and not Ward. A classy fighter would want to fight the best.
Posted 16:21 19th December 2012
Danny Symons says...
There is no doubt that Carol Froch has had a great year but at the end of the day what Bradley Wiggins acheived was just much more massive. I love Boxing and Froch as i do Cycling and Wiggins but if you compare as a neutral then Wiggins definitely deserved it. How he was not shortlisted i don't know, deserved that at least.
Posted 15:21 19th December 2012
Ian Davies says...
Saying he should have won may be a bit far but I do agree Mr Froch hasn't received nearly enough recognition outside the boxing world for what he has achieved this year. I mean even in the SPOTY 2012 sport review sections, the little bits in between the awards and speeches where they reviewed the greatest moments of sport of each month, Froch wasn't even mentioned for winning and defending his title in may and november, yet Hatton's failure was. Seems strange that a man who is so highly regarded in his sport, so highly regarded as a person and a role model is relatively unnoticed in other sectors of sport. It's a shame. We could do with more sportsmen like Froch.
Posted 13:37 19th December 2012
Tom Howell says...
Good assessment of 2012, i'd really like to think 2013 will hold a lot of success for our British fighters. Although i rate Kell Brook i do agree the Alexander fight is maybe 1 or 2 fights too early for Kell (i'd like to be wrong though!) I don't know that much about David Price but any new blood in the heavyweight division is a must as it is in rapid decline with the borefest that is The Klitschko's! Finally Frotch, what a great year he has had! Hopefully with a win against Kessler and or Ward next year he could win SPOTY and a few deserved titles too!
Posted 11:14 19th December 2012
Rob Smith says...
No way, a boxer thinks a boxer should've won!
Posted 10:44 19th December 2012
Paul Johnson says...
I completely agree Glenn that Froch should have, as a minimum, been shortlisted for the SPOTY award - his achievements in boxing have been outstanding, and particularly this year. This year has seen many exceptional sporting achievements in this country, and I congratulate them all, but I believe Froch's is up there with the best of them.
Posted 10:23 19th December 2012