David Haye has called Vitali Klitschko out again and while that fight would still be intriguing, I don't think it has the pull it had in the past.
The Briton's stock took a nosedive after he put in such a disappointing performance against Wladimir Klitschko, while Vitali is on the slide and no longer the top fighter in his family, so the lustre has been lost a little bit.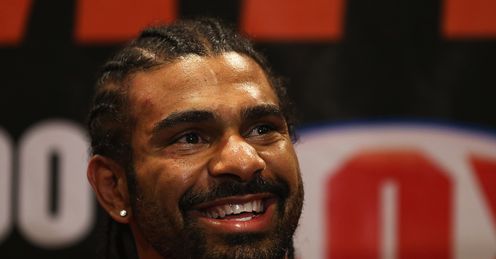 What I'd really like to see David do is lock horns with our two great heavyweight prospects - David Price and Tyson Fury - both of whom are on TV, winning matches and making great strides.
Clashes with them will surely generate more excitement than a dust-up with Vitali and bring some real glamour to the domestic heavyweight scene, which has been severely lacking in recent years.
David fixed his image in the jungle and proved that he is an extremely nice guy.
Glenn McCrory
Quotes of the week
David is still one of the best heavyweights in the world, even though he was exposed by Wladimir, and he remains a huge name.
Therefore, he would only raise the profile of Price and Fury if he stepped in the ring with them and I'm sure their bouts could sell out football stadiums.
I don't think that is in David's mind as he only seems to talk about Vitali, but I definitely believe he is fit enough to go toe-to-toe with Price and Fury because, as far as I'm concerned, he is still a full-time fighter.
He said he was pretty much done after he lost to Wladimir in July 2011, but he knocked out Dereck Chisora in the summer and is still training, and I don't see him lighting up Hollywood, something he said he wanted to do when he hung up the gloves.
I also think people have warmed to David again after his stint in the jungle on I'm a Celebrity... Get Me Out of Here!, in which he finished third.
David's reputation was in tatters after his brawl with Chisora in Munich in February, so appearing on reality TV was a masterstroke; he fixed his image by showing the real David Haye and proving that he is actually an extremely nice guy.
So now he is back in a decent place, my ideal scenario - though I doubt it will happen - would be for him to fight the winner of Price-Fury, with the victor then facing Vitali for the world title.
Talent
This could be a huge year for Adrien Broner.
The WBC lightweight champion, who has won each of his 25 professional fights, 21 via knockout, has been hailed as the Second Coming and the next Floyd Mayweather, which is mega praise indeed.
People want the 23-year-old, who has a real wacky streak, to be the next star of American boxing, and I think he looks like a real talent and someone who could definitely be a multi-weight world champion.
The American's next test will be against Welshman Gavin Rees, whom he defends his belt against in Atlantic City on February 16, and it will be interesting to see how he fares against a good solid pro.
Rees has only lost the one contest, to Andriy Kotelnik in 2008, and is a very underrated and unheralded boxer; he won't show Broner any respect and will go in looking for a fight - but if Broner is as good as he is meant to be, he should come through it looking strong.
I have high hopes for that fight but also that Juan Manuel Marquez and Manny Pacquiao square off for a fifth time this year, as their bout in December, which Marquez won after knocking out his opponent in the sixth round, was a belter.
It would be a shame if they didn't clash at least once more so we could gauge whether Pacquiao really is done.
Comments (16)
Rob Mudriczki says...
The Klitchko brothers have dominated the Heavyweight scene since Lennox Lewis. Why would Haye fight Price? If he won and retired then people would still say that he lost at the highest level at Heavyweight. I think McCrory has lost perspective here. If I was Haye I'd fight Wladimir again and take more risks. Wlad is a great Champion and has honed a very successful style to avoid getting hit but he still has a suspect chin and with that in mind can be beaten!
Posted 11:47 10th January 2013
Paul Smith says...
Lol at all you David haye haters I agree he should have gave more in the wladimir fight but he is our best heavyweight by miles. chisora took vitali all the way and troubled him in points of the fight and haye destroyed chisora who is a true heavyweight and a lot bigger then haye if haye was abit more willing in the wladimir fight to get on the inside and risk getting hit there is no doubt haye would take either brother out fact!! As for Tyson fury haye would out class him by miles far faster hands better footwork and has way more power and price is not ready for haye yet why rush price in to these big fight s so early as he will if haye don't dethrone wladimir you wait and see
Posted 21:57 9th January 2013
Nick Berry says...
IHaye is at world honours level and fighting for the WBC title (the title held by the likes of Ali, Tyson etc etc) is the true way to put glamour back in british boxing. There is absolutely no sense in Haye fighting Price or Fury. If he wins, then they are both out of the equation for fighting either Vitali or Vladamir. If Haye loses, then he is a small heavy weight against bigger men and the press will say he should have lost, Also, Haye against Vitali will make Haye between ¿10m and ¿20m - against Price or Fury probably around ¿1m and not for a title. So why would Haye take a step backwards?
Posted 21:56 9th January 2013
Paul Wakefield says...
A lot of deluded David Price supporters on here - Haye is old now but still quite a bit younger than the pensioners Price has been fighting. I agree with Ben Johnson (surely not that one?) that the fights don't make sense, Haye has nothing to gain from them and that's why they won't happen. I hope Haye gets a final fight with Vitali because I think he'll give the old lad a lot of problems.
Posted 19:27 9th January 2013
Jason London says...
I think Haye would kill both them giants, he is a giant killer, not a natural heavywieght, but skills, moves and power he has... once the klictkos go, he dominates the division if he wishes.simple dedication to sport like he has, rewards fighters. These comments seem to come from people who watch the sport.. but have never participated ... huh
Posted 18:58 9th January 2013
Martin Parker says...
I agree Haye should fight Price or Fury instead of chasing a fight against a 42 year old veteran. Haye is all mouth and I for one will never forget the massive let down against Wladimir when he gave it the big I am and then ran away for 12 rounds afraid to take a shot. If you look at Haye's record he's basically faught nobodies all his career. The only top class fighters he's faced he's lost to - Klitschko and Thompson. You can hardly class Enzo Mac, Mormeck, Monte Barrett, Ruiz, Fraudley Harrison or Chisora as class opponents. He's made a career out of fighting poor opponents and running his mouth! Price would destroy him within 4 rounds!
Posted 17:31 9th January 2013
Andrew Hall says...
David taylor, mark jones, im sorry but you two obviously know absloute squat about boxing. Your talking about the david haye that unified the cruiserweight division here, ok he chocked against klitchko but theres no denying he is one of the best boxers of his generation. Just because you dont like the bloke doesnt mean hes not a good boxer. He would finish fury in a couple of rounds, and although im a massive fan of price, haye would also take him. Haye and price are good friends and have sparred quite a bit, im sure they both know who would win and thats why they think there's no point.
Posted 16:42 9th January 2013
Joe Luxton says...
I cannot see David Haye taking on another domestic opponent. He has stated on more than one occassion that there is only one fight out there for him - The Klitschko's. Haye must go all out for Vitali, after all Vitlai's not getting any younger and this could be his last chance land him. It's Haye's best chance to beat a recognised, world class opponent and land a highly regarded heavyweight belt. Haye to fight Klitschko, Fury to fight Price - everything else should wait.
Posted 16:36 9th January 2013
Danny Pilkington says...
Your right Glenn, Haye has rebuilt his rep with the jungle thing but he may come unstuck against Price as I think Price is the real deal. Haye will say that he won't fight Price because he's not at world level yet but I reckon its because he does'nt fancy it!
Posted 16:05 9th January 2013
Muhammed Khalid says...
Agreed a showdown between David, Fury and Price would be great for British boxing, but the question remains are Fury and Price prepared to risk their reputations, I mean David is no pushover and is a massive risk, maybe a challenge to early for Fury and Price. I'm sure if Fury and Price pushed for it David is unlikely to turn down the challenge, but neither are and I don't think their promoters would fancy the idea either. If fights between these 3 happened it would be brilliant for British boxing. Adrian Broner is being touted as the next big thing in boxing. I think he still needs to prove himself. A good durable boxer may pull a fight off against Broner we saw this when he fought Ponce De Leon where Broner got the decision yet it should have been the other way, it brought memories back when Floyd fought Castillo in their first fight, I mean should Floyd even have his O, great fighter nevertheless, boring to watch, but each to their own.
Posted 14:24 9th January 2013
Andrew Baker says...
Haye has a chance with Vitali as he is a lot slower now. Haye should take a fight with Fury cause he would KO him in the middle rounds. He should avoid Price though, he's far to dangerous.
Posted 10:48 9th January 2013
Mark Jones says...
He is not in either Price or Fury's league. There is no chance Haye would take those fights as it would be a bloodbath. It is disgraceful that he is, yet again, not having to earn a title shot. Haye was demolished by the poorer Klitschko brother, why on earth would he get a fight against the better one? Make him fight an eliminator or don't give him a shot
Posted 02:04 9th January 2013
Ben Johnson says...
Why would Haye fight either of those two? Fury doesn't have the talent and Price isn't ready yet. His only competitor is Vitali and at 41 he may not be willing to wait for Haye to fight someone else first, especially as he could wait for nothing should Haye lose. Haye has nothing to gain from such a fight.
Posted 23:12 8th January 2013
Martyn Bousfield says...
Never happen . fury is a none starter because haye would knock him out within three . and haye would never fight a dangerous price for such little reward .
Posted 21:32 8th January 2013
Stephen Bell says...
David Haye wont fight Price. I would fancy him to beat Fury, but Price would be a difficult, high risk job for him that might effect how he is remembered if he loses. Only reason he chases Vitali is as Glenn says, he is the more beatable of the Klitschkos and would gain a massive payday out it. Look at the drama he had to stir for a big payday with Chisora, potentially could do that with Fury who likes to mouth off but I think he has his eye on Vitali as it is the biggest earner and he has a good chance of winning against an ageing great. If he wins that, earns a few mill, he can retire saying 'i beat a klitschko' which all in all would sound pretty good for him
Posted 19:44 8th January 2013
David Taylor says...
Haye doesn't want any of these as he would get destroyed by Price and probably struggle with Fury.He is after a pay day with Vitali.I think he is a joke really,he talked the talk against vladimir and look what happened so no doubt the same again.He should fight one of these two and then maybe then a crack at one of the brothers.
Posted 19:18 8th January 2013