The heavyweight division is waiting for a new ruler.
The Klitschko brothers are getting older and no-one else has really put their hands up and shown that they are going to be the man to usher in a new era.
Therefore, David Haye, who is rumoured to be returning to the ring to try and fight his way into another match with a Klitschko, has an opportunity to become the star, something he has always wanted to be.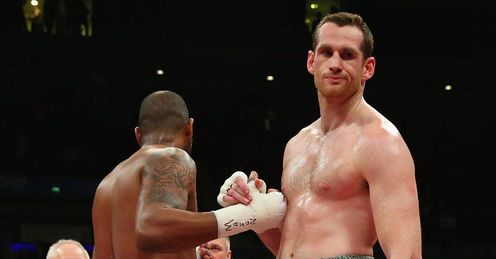 I wrote a few months back that I would like to see Haye fight David Price and Tyson Fury - and reports suggest the latter could be his first opponent - but I also want to see him face some American prospects, like Deontay Wilder and Seth Mitchell.
David is only 32 which is no age in boxing, especially in the heavyweight division where movement is not as vital.\n
Glenn McCrory
Quotes of the week
David is only 32, which, as we saw last week when Bernard Hopkins became world light-heavyweight champion in his 49th year, is no age in boxing, especially in the heavyweight division where movement is not as vital.
So I wouldn't be surprised to see him win another world belt and I wouldn't be shocked if David Price took one, too, despite his shock loss to Tony Thompson in February, where he was knocked out inside two rounds.
Price was on a great run so he will be disappointed to lose his unbeaten record, but in heavyweight boxing one punch from anyone, even if they've been dieting on beer and cigars, can knock you down - something Joe Louis found out when he was decked by "Two Ton" Tony Galento.
I am not that concerned about David's future and if he regroups and makes sure he doesn't drop his left hand as easily as he did against Thompson, he will come back stronger.
Hotbeds
The Klitschkos and Russia's Alexander Povetkin are standing tall in the heavyweight division at the minute, and Mikkel Kessler is WBA super-middleweight champion.
But outside of the cruiserweight scene, which features Cuban-born German Yoan Pablo Hernandez, fully-fledged German Marco Huck and Poland's Krzysztof Wlodarczyk, there aren't too many non-British Europeans making waves.
That's nothing particularly new, though; Max Schmeling is a former world heavyweight champion and there are a few other success stories, but the hotbeds of boxing have traditionally been in the States, in South America (Mexico especially) and in Britain.
The marquee names have come from those parts of the world so European kids have perhaps not had any local heroes to latch onto, but hopefully the success of the Klitschkos will help boost the interest in boxing over there and, in turn, produce more quality fighters.
We must also not forget that while Germany has always had a big passion for the sport, professional boxing in the Eastern Bloc is very new, so it might take another 10-15 years before we see more Europeans hold world titles - but I wouldn't back against it happening.
Question marks
WBO welterweight champion Timothy Bradley, meanwhile, extended his record to 30-0 with a successful title defence against Russia's Ruslan Provdonikov at the weekend, but he still has question marks against his name.
The Californian hit the canvas on Saturday night and did not look entirely convincing en route to securing a points decision, while his win over Manny Pacquaiao in June, in which he handed the Filipino his first defeat in seven years, was undeserved in most people's eyes, including mine.
You can't discount his record, which includes a victory over Kell Brook's next opponent, Devon Alexander, and he is up there with some of the other stars in his division, like Floyd Mayweather and Lucas Matthysse.
But the really big fights, outside of Pacquaio, and the really big paydays are yet to come his way and the name Timothy Bradley doesn't really set the pulse racing.
Sooner or later, I think he could be accounted for.
Comments (2)
Matt Bevin says...
I think people should take a good look at Fury's style and how arkward he is. He can switch effectively as seen against Rogan and has so far kept his 0. Hes dangerous and i quite like the confidence he has and the association with gypsy culture. All these aspects make for great show events not just 2 boxers going at it. I think Haye will get a World title but please, before commenting have an objective look at Fury. Hes actually a lot better than many think and his oppenents are far better than those Price has fought. Anyway, HW division getting air time so all good and exciting.
Posted 09:06 23rd March 2013
Danny Davis says...
I hope David Haye's return fight is against Fury, but I would be really surprised if Fury takes the fight. I expect him to duck Haye (if he is even on Haye's radar) and come out with some of his usual nonsense along the lines of "Why does he deserve to fight me", "I am unbeaten", "Maybe if he has a title and I have a title then it could happen" etc etc. Truth is Haye would destroy Tyson Fury and I can't see Fury lasting more than 5 rounds! I would buy a ticket though for two reasons: Haye brings the excitement to the Heavyweight division that has been missing for years, and secondly I would love to see Fury KO'd in spectacular fashion. Once Fury has been found out then he and Price will have a KO loss on their professional record and then Fury will have to look for other ridiculous excuses as to why he is too good to fight Price!
Posted 16:11 20th March 2013