Carl Froch was in superb form on Saturday night againts Mikkel Kessler - but another super-middleweight caught my eye, too.
Callum Smith, the younger brother of boxers Paul, Stephen and Liam Smith, knocked out Ryan Moore in under two minutes to record his sixth victory out of six since turning pro.
Smith is someone I rate very highly and has shown in his few fights so far that he can dish it out over a few rounds - but so far his opponents haven't been good enough for us to see what his defensive skills and ring savvy are like.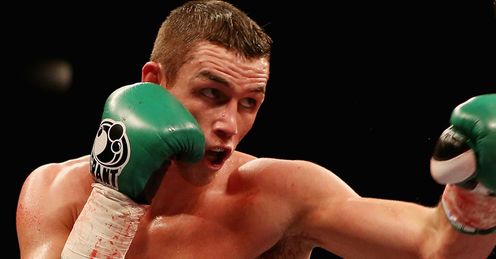 I think Callum should stick to four, six or possibly even eight-round bouts for the time being because he has only fought journeyman and guys who aren't going to throw punches back.
He is still very much an apprentice and not yet ready for the step up to 10 or 12 rounds, and most certainly not for a clash with someone like Tony Dodson, who will face Paul Smith for the British super-middleweight title at the end of June.
Callum has a good physique, a very good jab and can land powerful body shots, too.
Glenn McCrory
Quotes of the week
But he is definitely a real prospect and will be helped no end by the fact he is from a fighting family - even though that might have led to some punch-ups around the dinner table if one of the Smiths nicked the last sausage at teatime!
Callum will always have someone to go to the gym with, someone to watch his diet, someone to help him make decisions, and someone he trusts to turn to for advice; he will be in an environment that is 24/7 boxing.
Plus, the kid is blessed with a good physique - he is tall but lean so he can fight lads smaller in weight - while he has a very good jab and can land powerful body shots, too.
The tools are and you would expect Callum to get to British level at least.
Competitive
Froch, meanwhile, has said that he has four major fights left in him - and I agree with him.
If Carl walks away from the sport now you would have to say that he has had one of the best careers of any British boxer - but he remains so competitive and is now a box-office attraction, so I don't see him bowing out yet.
There are plenty of potential opponents, too; a third clash with Kessler is obviously in the equation, so is the evergreen Bernard Hopkins, while middleweight star Gennady Golovkin - a man regular readers of this column will know I really rate - could step up to face Froch.
But, of course, the standout match is a second crack at Andre Ward, and the thought at the front of Carl's mind now will be what he can do to narrow the gap between himself and the American and, ultimately, beat him.
Froch wasn't destroyed or embarrassed by Ward when they first met in Atlantic City in December 2011, but he knows he was beaten comprehensively by man that is superior to him in most boxing departments - except possibly desire.
Ward is crisper, slicker and as rough, if not rougher, than Carl and while he is not unbeatable - he got very flustered at the O2 when the British fans were giving him hell so that could play a part if he fought Froch in the UK - you would always fancy the Californian.
Still, when a Brit fights in Britain anything can happen...
Comments (2)
David Cronin says...
Glenn you couldn't be more right about Callum Smith, coming from a family that is truly engrossed in the game and looking the best prospect from them all, states just shows exactly how good this lad can be. Seems immensely humble at such a young age, and is someone who wears autism on the front of his trunks raising awareness of it, is testament to the man and family. Can also see him going the old fashion route for things, lonsdale, European, Commonwelth routes to get to the world titles. Needs a step up or two in class (Although i understand he's not fighting again for a few months) and ultimately he'll end up at light heavy-weight and possible fights with Bellew and Cleaverly is something that he can aspire too. This is one man I will watch closely as he can be that good.
Posted 10:03 3rd June 2013
Stephen Cunningham says...
Hi Glenn do you think groves has a chance against froch? Personally i think groves sees the big pay day and generally isn't in the same league as froch, kessler and ward but with only 15 fights or so groves could potentially be up there in a couple of years but seems to be rushing up the ladder too quick.
Posted 10:07 2nd June 2013