I think now is the right time for Amir Khan to move up to welterweight.
There are a couple of dangerous names at light-welterweight - we know that because Amir has been done by them before - and a jump up could give him a new lease of life.
I saw Khan in Bolton a couple of weeks ago when we covered the Gavin Rees-Anthony Crolla bill on Sky Sports and he looked bigger body-wise, and I think Amir is a more natural welterweight than a light-welterweight in that respect.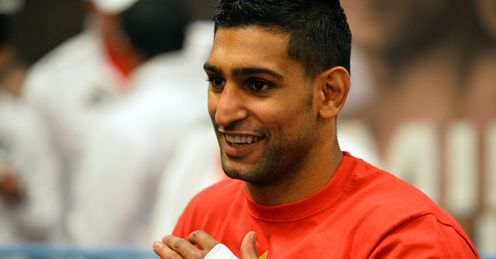 The fighters at welterweight will, of course, be stronger than the ones he has faced in his career so far. But Amir's biggest weapon is his speed and that will make more of a difference against bigger men than it did against guys like Danny Garcia.
A move to welterweight will also keep Khan firmly in the limelight, something he loves, because there are some very good and very well-known fighters in that division, including Floyd Mayweather and now Adrien Broner.
To beat Amir Khan you have to be prepared to push, pull and bully him but that is not Floyd Mayweather's way.
Glenn McCrory
Quotes of the week
Amir is reported to be in negotiations to fight IBF champion Devon Alexander, though, and I certainly think that is a bout he could win after seeing Alexander fight Lee Purdy in Atlantic City.
The American is very good but he wasn't overly impressive against Purdy and he didn't make me think: 'Wow, this guy really is something', so Amir would have a great chance of winning.
Plus, I think Khan is the one person who would give Mayweather trouble; you could never back against Floyd winning because he is so skilful but, for me, Amir would have a 40-45 per cent chance of getting the victory.
To beat Khan you have to be prepared to push, pull and bully him but that is not Mayweather's way - he is too lazy for that - while we also don't know what state Floyd will be in if and when he comes through this very tough fight with Saul Alvarez.
Thoughtful
We didn't learn anything new about Kevin Mitchell, meanwhile, as he returned to the ring on Saturday night at York Hall - except that this new version of him might be a little bit more patient and thoughtful.
But, on the other hand, you could argue that the fact he only beat Sebastien Benito on points means he has lost some of his drive after losing the plot a little in previous years and seeing his career derailed.
I know what it's like to try and get back up to or near the top level having fallen away from it and it is really tough; Kevin is full of beans at the minute after signing for Matchroom but can he keep that momentum going for a long time? I'm not sure he can.
He is talking about world titles but I'm not sure another clash with Ricky Burns would be the way to go; Ricky has got a lot of confidence at the moment and Kevin could struggle as much as he did in the first fight if they met again.
I think Mitchell's aims need to be a bit lower and there are plenty of domestic lightweights he could face, such as Gavin Rees, Anthony Crolla and John Murray, who he had a great fight with a few years ago.
But I think Derry Mathews would a very good fight for him; if you are not up for it against Derry he beats you, and so that match would be a good indicator of how much Mitchell has left in the tank.
Also on Saturday, Chris Jenkins won the light-welterweights Prizefighter, which came as no surprise to me as I tipped him to come out on top for my Sky Bet Charity Challenge with Johnny Nelson.
I read that Jenkins did well in the amateurs and had a pro style - something that if true makes you damn good - and he didn't disappoint, showing that not only did he have a good jab but could get dirty and stop opponents, too.
Jenkins is a good character and I now look forward to seeing him in meaningful fights.
Comments (2)
Ste Finn says...
Khan has no chin its that plain and simple it doesnt matter what game plan you have your gonna get hit at some stage in the fight and a little jab sometimes sends amir on his back. As ricky hatton said this anit no tickling contest.
Posted 22:41 12th July 2013
David Watson says...
There is always talk about Khan's speed, but he doesn't use it and the world class fighters bully Khan. In my opinion Khan has all the skills except listening and sticking to a game plan. I don't think a move to any weight will improve on this. Khan has experience now, he isn't a fighter who is going to change. He has tried new trainers and it is always the same result, he mixes it up, get out worked and gets beaten. Khan should stick to his natural talents jab and move, wear the other guy down and stay out of range. He just won't do it and that is why he won't be great. I think of Ricky Burns and every fight he has a different style he adapts to what is in front of him and fights around this. Khan will never be that good because it is the one skill he lacks.
Posted 11:12 12th July 2013