Tyson Fury versus David Haye is official and it has got me thinking about some of my favourite British heavyweights of all time.
Sir Henry Cooper was one of the most famous and almost a member of boxing royalty; he was a revered fighter who had a wonderful career and rightfully became a knight for his good work outside of the ring.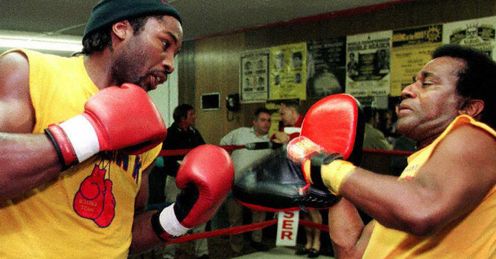 There was also a good crop of heavyweights during my time as a boxer; I was a big fan of Gary Mason, who sadly passed away in 2011, as he was a lovely man and went on to achieve a lot of success domestically.
Derek Williams was talented, too, and so was two-time world champion Herbie Hide - though as Herbie was a very complex and erratic character I never quite gelled with him - but Lennox Lewis has to be my favourite, simply because he was the best.
I think Lennox finds it tough to get himself out of bed, let alone anyone else!
Glenn McCrory
Quotes of the week
Lennox's greatest strengths were his size and athleticism and while his jab was not wonderful - there were times when you could beat him to it and take a bit away from him - it was good, and when he was focussed, he was incredibly hard to beat.
Friendly
Lewis was a bit standoffish at the start of his career and because of that, and perhaps also because he boxed for Canada in the Olympics, it took people time to warm to him.
He wasn't an instant fans' favourite, like Ricky Hatton, but he won everybody around in the end with his friendly character and big-time performances.
However, Lennox's laidback attitude sometimes cost him in the ring - he probably wouldn't have lost to Hasim Rahman and Oliver McCall if he was slightly more intense - and that could stop him from becoming a great trainer.
I think Lennox finds it tough to get himself out of bed, let alone anyone else, and everything he knew and all the success he had obviously didn't rub off onto David Price in his rematch with Tony Thompson.
But whether Lewis and Price keep working together or not, David needs to change something because as my mate Johnny Nelson pointed out, things didn't look quite right in his second straight loss to Thompson.
Price now finds himself behind Haye and Fury in the British pecking order at a stage when I thought he would be ahead of them, and because I don't think he will be happy playing third fiddle you do wonder if he has a future at all.
Instil
Like David, Anthony Ogogo is seeking help from a big name and says he will travel to Philadelphia shortly to train with Bernard Hopkins, which on the face of it looks like a really good move.
I am a massive fan of the way Hopkins has been able to stay fit and keep himself at the top level - he is a current world light-heavyweight champion, don't forget - deep into his forties and if he can instil some of his secrets into Anthony that will be great.
But it can be dangerous to skip around different training camps, especially when you are young, as you really need to be in the same gym, with the same trainer and enjoy a bit of stability and I hope Anthony realises that.
Ogogo beat Gary Boulden on the Sky Live bill in Hull on Saturday and with Kell Brook looking both fantastic and disappointing and Derry Mathews landing an amazing punch to knock out Tommy Coyle, it really was a good evening of entertainment.
The highlight, though, would have to be Luke Campbell's professional debut, as we got to see glimpses that the Olympic champion might the star a lot of us expect him to be when he floored Andy Harris inside a round.
It was a long night for me as my first commentary was at 6pm and I was still in the car park at 1am waiting for Dave Clark - and still in the bar at 2am talking about the boxing I had seen!
Comments (3)
Antony Barrett says...
I remember Lennox Lewis and his trainer being refused entry to a gym in south London early in Lennox's career because they would not sign the book at reception, this was compulsory for all who visited. Lennox did not seem bothered, he was too laidback to care. In his career he was a natural and probably the best boxer this country has produced. He wasn't the best trainer though and I guess this laidback attitude doesn't make him a great trainer. David Price is similarly laidback but is not a natural fighter, accordingly I cannot see how this combination could work.
Posted 13:00 20th July 2013
Jimmy Millican says...
Got to agree with all of what Glenn has to say. David Price working with Lewis is a disaster already happening. David doesnt need to be around friendly, beloved retired boxers. He needs someone who will make him an animal. I remember listening to lenox on Ringside telling Price to get an early night ( when asked about any words of advice), he needed someone to say "rip his head off". I believe Price has lost any chance of becoming a star. I just hope Anthony Joshua sees that listening to Lewis on a training/mentor level is not the way to go.
Posted 00:13 18th July 2013
Larry Franks says...
Your description of Lennox Lewis is overall the way it was. It was apparent that Lewis did very little training but it was also apparent he was very talented and powerful. In regards to his jab being, it might not have been wonderful but it times it was practically staggered Vitali Klitschko time and again in Lewis' last fight. I really like Lennox. He wasn't full of trash talk as we currently have to tolerate from the present boxing champions and contenders. He played chess and more that anything he was just a laid back English gentleman.
Posted 22:44 17th July 2013