Lennox Lewis says he'd put his boxing legacy on the line for $100m and come out of retirement to fight Wladimir Klitschko.
I guess money talks and that's the value Lennox puts on his legacy - but can you put a value on your health?
To me there's no amount of money worth damaging your health for. Lennox has been retired for many years now and he's got children. For whatever money is on offer, those kids would rather have a father.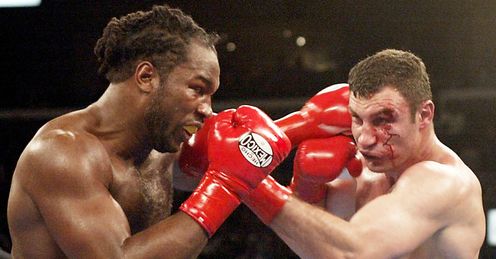 Boxing is a tough business. It's a sport but it's a sport where people get hurt. Muhammad Ali, the greatest of us all, suffered damage and I think it would be foolhardy of Lennox to make a comeback.
Lennox was of course the undisputed heavyweight champion - but that was 10 years ago.
The Klitschkos have been active in that time, training constantly. I don't know what training Lennox has been doing - he says he's six months away from being fight-ready - but I seriously doubt he's been training anywhere near as hard as the Klitschkos have over the last decade.
Boxing is a tough business. It's a sport where people get hurt. It would be foolhardy of Lennox to make a comeback.
Glenn McCrory
Quotes of the week
But the Olympic gold medal winner isn't the first boxer to consider coming out of retirement and he certainly won't be the last. It's very hard to resist a return and it's something I've toyed with and thought about, as well.
We retired boxers miss it. Even though you're not competing anymore you still have that side of you, that part of your personality which needs to do something.
That's why boxers often go down the wrong path or get into trouble - you have an energy in you that boxing harnesses, a wild side. And without boxing it's difficult to be at rest, to be at peace. There's always something inside of you burning up.
For Lennox, his team-mate on HBO, George Foreman, also offers him an example of the success you can have when you return to the ring.
When Foreman was young what let him down was he was wild, reckless and relied on power. But when he came back after a 10-year break in 1987 he had aged and matured and had a different persona. He was more controlled and that made him a better fighter.
But Foreman was 38 when he made his comeback - Lennox is 48.
Money is usually the driving factor behind comebacks but Lennox is shrewd, pretty sensible and I would expect he's kept his money wisely. I'd tell him to forget about this idea.
Impressive
Not least because the man Lennox is targeting is at the top of his powers at the moment. Wladimir Klitschko had little trouble against the previously unbeaten Alexander Povetkin in Moscow on Saturday night, winning 119-104 on all three cards.
Wladimir is beating up the best, making massive paydays and confirming what we thought: the Klitschkos are going to retire at the top of their game. And I think they're closing in on that moment now.
Alexander the Great wept when there were no more worlds to conquer and it's a bit like that for the Ukrainian brothers.
Obviously there are youngsters coming up but the likes of Anthony Joshua - who appears to have the same breeding and mental attitude to be a champion similar to the Klitschkos - are several years away from being able to challenge them and there's nobody at the minute who I'd say would be really dangerous.
They're very sensible, live right and box sensibly, if not excitingly, and they get the job done in a clinical fashion. To me they are the best.
Comments (12)
Dean Overton says...
Totally agree with mcrory on this one. Lewis was one of those boxers that got better with age and in his day was a great fighter but I think 10 years out is too much and he should forget it and enjoy his time with his family. God forbid if he did fight and something happened to him then the media and everyone would be saying he should of stayed away and turned down the fight so my advice would be to do just that, he's got nothing to prove to anyone. Your health must come first.
Posted 17:05 13th October 2013
Anthony Redfern says...
Love to see Vitali against Wladimir
Posted 13:13 13th October 2013
Paul Wilson says...
i think lennox would kick hiis butt based on what ive seen wont be able to lean and push around i also think wilder would beat them aswell
Posted 17:31 10th October 2013
Adrian Shotton says...
Tempting as is might be $100 million would be an enormous purse to raise, lets be honest if the fight was on pay per view we would all purchase it . It could go down as the greatest come back of all time. On the other hand does Lennox realy need to do it, already acclaimmed as one of the greatest heavy weights of the modern era he has nothing to prove and alot to loose.
Posted 16:33 10th October 2013
Lee Double says...
Lewis was a amazing boxer. I think even after 10 years out he would WIN. You don't just forget what you do and he did it well. Come on Lewis I would love to see you lace the gloves again!!!
Posted 16:21 10th October 2013
Daniel Mullen says...
Lennox don't come back you already beat one klitschko why would you want to beat another. You've been out of the sport too long just look at Ricky Hatton and how his comeback turned out
Posted 14:46 10th October 2013
Colin Bates says...
Come on Glenn, for $100M dollars, I would fight Klitchco!!
Posted 14:01 10th October 2013
Alexander Woodhead says...
I agree with Glenn very much on the side of he has been out of training for (x) amount of years.. no-one really knows exactly Lennox seems like the kind of guy to take very very good care of himself naturally. I would be interested to see him give a recorded training session see what he is able to do and how long he is able to do it for. The age I don't think is that much of an issue, Lewis was a technician that stood behind a very very strong jab and picked his opponents apart until they either lost their head and exposed themselves or stood there and just take it (much like the other Klitschko who was stopped on a technicallity, eye damage if i remember correctly) hence due to his fighting style, being a technician allows him to fight much later in life and win, Bernard Hopkins proved that at light-heavyweight, 48 himself if i remember right. All of these things would have to be assessed before we can know. Also we have to take into account the fact that the Klitschko's don't have a very good spectrum of opponents to face and keep their titles from. The decade since lewis retired we have seen that the middle-weight classes are the true 'heavyweights' of boxing as the quality of boxer just doesn't exist at heavyweight
Posted 13:43 10th October 2013
Eliot Stott says...
Got to disagree with a couple of points. Look at Klitschko's opponents since Haye. Wach, Piantea, Momeck. Not great fighters and not the best out there. There are people out there who could cause Wladimir problems in Fury, Wilder and Charr.
Posted 13:40 10th October 2013
Liam Goodwin says...
lennox is mad 2 think he can come back at 48 and beat wlad klitskhcho. i think lennox would have beaten wlad easy in his day he was 1 of the greatest heavyweights of all time in my opininon but not now hes no chance. and whats 2 say wlad wants 2 fight a 48 year old who has not fought for 10 years other than the money whats that doing 4 klitskchos carrer nothing.
Posted 13:39 10th October 2013
Will Norman says...
Lewis was my favourite boxer of all time and I felt when he hung his gloves up he did it to soon but he will always be remembered as the undisputed heavyweight champion of the world so now I hope he stays away its to late for a comeback and I would hate his dazling record to be tarnished. his statistics look better than every other heavyweight boxer to take to the ring
Posted 13:30 10th October 2013
Nick Berry says...
Question for Glen! If you were offered $100 million to fight Vladamir, would you do it? Come on now, be honest!
Posted 13:27 10th October 2013