I've bitten my tongue (or, at least, the keys on my keyboard) through much of the pre-season and the first two rounds of the new campaign but, after what we saw in Week Two, the braces are off - it is time to sink my teeth into the main issue of the day.
And it is certainly not just me. Following a week of games that were officiated as if by overawed groupies - which is not far from the truth, as the NFL actually suspended one official prior to the weekend after learning he was a not-so-closet New Orleans fan - the howls of disapproval of the Replacement Refs reached deafening proportions.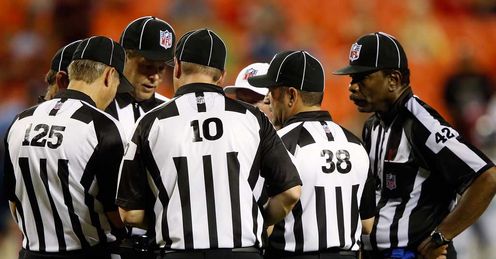 Both in print and on TV, the massed ranks of America's media looked at what was laid out before them and pronounced it offal. Or even awful.
As hard as the newspaper and television folks have tried to stay neutral in the ongoing labour 'war' between the league and the regular officials - who have been locked out since June in a dispute over wages and pension rights - they just about to a man came down on the side of the refs in the wake of Week Two.
Many are just in so far out of their depth they don't know if they should throw a flag or a life preserver.
Simon Veness
Quotes of the week
LIVE ON SKY
New York Giants @ Carolina Panthers: 1am, Fri, Sky Sports 1 HD
New York Jets @ Miami Dolphins: 5.30pm, Sun, Sky Sports 4 HD
Houston Texans @ Denver Broncos: 9.15pm, Sun, Sky Sports 4 HD
The Monday Night game put the tin lid on it, of course. After Sunday saw a series of embarrassing, but relatively unimportant, gaffes from the stand-in zebras, the Meltdown in Atlanta put a huge and unwavering laser beam of a spotlight on the problem. And just about blew the doors off.
A country dissected the remains of an all-out officiating mess - that included a 55-minute first quarter and more players bending the rules than an old lag's convention - and declared it a pile of poo.
That wasn't to denigrate the officials themselves, of course. The men in stripes, drawn from the likes of the United Football League, various high schools, the Lingerie League and, just possibly, the fourth moon of Jupiter, were doing the best they could.
Out of their depth
But many are just in so far out of their depth they don't know if they should throw a flag or a life preserver.
And Monday night's sad parade of botched calls, no calls, incoherent babbling ("penalty on 75, red") and painful, long-drawn-out video replays was Exhibit A in the 'let's get the real refs back in the game' clamour from all and sundry.
Whether the league pays any attention, at least in the short term, is highly doubtful. The Replacements are contracted through the first four weeks of the season and the owners seem deeply entrenched against any compromise in favour of putting the game control back in the hands of the guys who actually know what they're doing.
Yet you have to feel another week of Keystone Cops officiating, especially of the kind we saw in the Falcons-Broncos debacle, will turn even more heads (and stomachs) against the league's position.
And, it will only take one really bad call, the kind that costs a team a game, for things to get seriously ugly. So far, the coaches have refrained - to the point of biting more than their tongues - from out-and-out criticism of The Replacements.
Sure, there has been some bad-tempered muttering from the likes of John Fox - thankfully not miked up on Monday night when, to various lip-reading types, it looked like he swore at several different officials at once - but no-one has so far broken ranks to give this misguided policy both barrels.
Firery encounters
That will be bubbling just below the surface, though, as we tip-toe tremulously into Week Three with a bunch of games that have the possibility of being incendiary whether there is a single officiating mistake or not.
At New Orleans, either the Saints or the Chiefs will wake up on Monday morning with an 0-3 hangover, while the perfect records of last-gasp Philadelphia at surprising Arizona and then those pesky Falcons at suddenly-resilient San Diego will also be on the line.
For Sky viewers, there will be three games of real edge-of-the-seat drama, even for this early in the season, starting in the early hours of Friday morning (1am on Sky Sports 1 HD) when the reigning champs head to Carolina.
The Giants were an improbable fourth quarter drive away from being 0-2 at home to Tampa Bay last Sunday, and will be without a quartet of injured lynchpins in running back Ahmad Bradshaw, wideouts Hakeem Nicks and Domenik Hixon and lineman David Diehl.
Whether Eli Manning can conjure up more late-game magic with one figurative hand tied behind his back will be top of the agenda, closely followed by whether we will see if Cam Newton is truly back to his marauding 2011 self.
Then, come Sunday, sit back and enjoy the latest soap opera New York Jets style as Rex Ryan's men try to shake off the effects of going through the Pittsburgh steel mill. The trip to 1-1 Miami - one of fully 20 teams with an evenly split record thus far - may not seem too daunting, but it is the kind of outing that has 'Trap game' written all over it unless Mark Sanchez brings his A-game (live on Sky Sports 4 HD from 5.30pm).
Finally, to end a three-game set of delicious balance, we get to see if Houston fully merit being one of the Unbeaten Six (Sky Sports 4 HD from 9.15pm). Defensively, the Texans look like they are made of the same stuff as the hard-as-nails San Francisco 49ers, but they have yet to face an offense armed with anything more dangerous than a pop gun (the Dolphins and Jaguars managing just 17 points, total, against the AFC South power).
Certainly the Broncos, at home, are a much tougher proposition but, again will it be Good Peyton or Bad Peyton who trots out to lead them, after Manning did his best Rex Grossman impression at Atlanta.
Several commentators have remarked that the former Colts star looks completely unable to throw a deep ball with any accuracy at the moment, and three interceptions in the first eight minutes told a woeful back-story to the refereeing shenanigans on Monday night.
There will be no place to hide on Sunday against Houston, and all eyes will be on Peyton to see if he can maintain his unbeaten record against the Texans.
And, if things go even slightly awry, it may not just be the Replacement Refs with a lot of explaining to do; the Mannings could be in an awfully similar boat.