Eight years ago I was at the Tournament Players Club in Ponte Vedra Beach at night.
John Daly was singing along with Hootie and The Blowfish on a makeshift stage under a vast marquee, while various members of the media and other invited guests were taking whacking great lumps out of the 17th tee and watching most of their efforts disappear with resounding 'plops' into the water around the Island Green.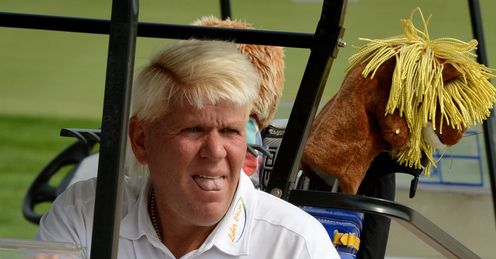 It was a somewhat surreal setting, the Tuesday before Super Bowl XXXIX in nearby Jacksonville, and here we were making a complete porridge of what the Americans like to call "the most famous hole in the world," (forgetting, of course, that there is a little place in Scotland that was making golfers shake in their shoes almost before Juan Ponce de Leon discovered Florida in 1513).
This flattened green roundel in a man-made lake is nothing more than a test of nerve, a gut-check at the penultimate stage of a fiendishly difficult course that has been almost alchemically formed out of prime Floridian swamp
Simon Veness
Quotes of the week
But then The Players Championship, or TPC at Sawgrass to use the accepted shorthand for this tournament, is big on hype and hoopla.
The 132-yard 17th, or Island Green, certainly isn't the most famous hole in the golfing cosmos, but it is the most unashamedly manufactured-for-TV setting, with the galleries - and cameras; all ELEVEN of them - settling in around it much as the spectators did at The Colosseum almost 2,000 years ago, only in this case hoping to see the title dreams of some hapless hopeful being thrown to the sporting lions.
What it highlights, of course, is the desire of Joe Public to see professional sportsmen have sand metaphorically kicked in their faces, to be shown up in the most public arena possible - to fail, totally and unequivocally.
Because there are no half measures with the Island Green, you either hit it or it hits you in a painful place, and not under par, either.
Snappy hazards
This flattened green roundel in a man-made lake is nothing more than a test of nerve, a gut-check at the penultimate stage of a fiendishly difficult course that has been almost alchemically formed out of 415 acres of prime Floridian swamp.
There are no alligators hanging around the 17th green these days, but there are plenty of players who wish they could have disappeared into the murky depths after seeing errant tee-shots end with a watery 'plop' rather than a grassy 'thwump.'
The record for most balls in the water in one round is 50, in 2007, while the one that Paul Goydos hit there in 2008 actually cost him the title, in a play-off with Spain's Sergio Garcia. Yes, that's right. As if the course designers haven't tortured the pros enough in the regulation 72, they make them play it again in sudden-death mode.
Yet, for all the made-for-TV drama and regular media insistence that this is "the Fifth Major," The Players is lagging behind in the sporting headline business Over Here this week. A LONG way behind.
Here we are at Tuesday night, little more than 36 hours before the first brave soul dares to challenge The Stadium Course, and the only mainstream golf story able to break through the ranks of the NBA play-offs, the NHL play-offs, several baseball stories - including Toronto pitcher JA Happ being stretchered off after using his head to field a line drive (and how much would Colosseum regulars have paid to see that?) - and the latest NASCAR shenanigans is the one engendered by Tiger Woods, and whether he would call in a rules violation on TV or not.
I wonder where they came up with the inspiration for THAT question?
Put simply, this tournament has not caught the public imagination in any way, shape or form, thus proving that this most certainly is not the Fifth (or even the Sixth or Seventh) 'Major,' and never will be. America reacts with rapt attention to the Masters, the Opens and the US PGA Championship and, for all the artificial trumpet-blowing and island greens, the level of national awareness this weekend will not reach the mythical levels of 11.
Underdogs
It will, however, gain increasing awareness over the first few days and, by Sunday afternoon, will be at a healthy 8 or 9. It may even threaten a 10 if Tiger is stalking the back nine with intent (although, given his surprisingly poor record on this Pete and Alice Dye-created monster, that isn't hugely likely).
What is more likely is that this year will continue to underline the growing strength in depth of world golf, where the winner could just as well be Derek Ernst, Russell Henley or John Merrick as Phil Mickelson, Adam Scott or Woods.
Indeed, the last four winners of the TPC at Sawgrass, Henrik Stenson, Tim Clark, KJ Choi and Matt Kuchar, are more Supporting Cast than Headline Material, further suggesting Sunday night's winner is unlikely to feature anyone currently in the top 10.
That doesn't cheapen the tournament, of course, but it does serve to further dampen the standing of those sporting pundits who insist that golf starts with a T (for Tiger) and ends with a W (for, oh, come on, you don't need me to spell it out, do you?).
There has been a distinct lowering of the strident tone that was so noticeable before The Masters, when the talking heads rushed to anoint the world No 1 with his 19th and 20th Majors before he had, you know, won No 15 - and which so clearly eluded him in Georgia last month, to the point that some dared to predict he will remain stuck on 14 (there's nothing like media balance is there? And that was nothing like it).
The reality, as ever, lies somewhere in between; slightly to the right of the marker that says 'Competition tougher than ever' and some way to the left of that which reads 'Not the competitor he was before.'
And, while The Players Championship is definitely not in the Major conversation, it is certainly a signpost on the way, with the 17th hole lying in wait to test the final-round nerve of whoever is leading at that stage.
Which brings me back to memories of 2005 and a Super Bowl media event in the chilly February night air, with several hundred eager golf wannabes swishing away in reckless abandon as Daly and the Blowfish pounded out another number. And the steady stream of balls disappearing into the depths.
New England was the ultimate winner that week, edging out Philadelphia 24-21, which makes me wonder if another Bostonian might rise to the top this weekend.
Journeyman James Driscoll has yet to win a Tour event and his ranking of 101 suggests he would be unlikely to break that duck at Ponte Vedra Beach. But his 'Birdies for Boston' fund-raising campaign, pledging $1,000 per birdie to victims of the bombings in his home city last month, has made him a popular figure.
And that would definitely give Hootie something else to sing about.