Last week's column was devoted to the roller-coaster three-year NFL career of former Denver and New York Jets quarterback Tim Tebow.
He's arguably the most polarising figure in American sport (you could put up a good argument for LeBron James or Tiger Woods, but you would lose, on the basis that no-one really doubts the sporting prowess of either of the latter duo).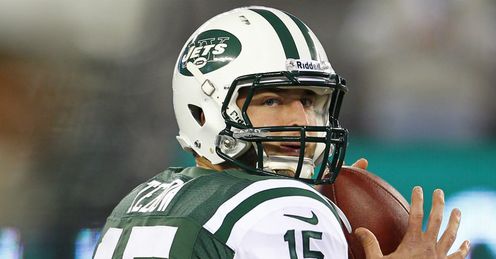 Poor Tim is currently sitting at home wondering if he has a future as a professional athlete or a celebrity appearance specialist (witness recent photos of him with Celebrity Apprentice winner Trace Adkins and US Olympic athlete Gabby Douglas) - and the well-spring of football interest appears to be rapidly drying up.
In assessing how we got to here last week, it became pretty clear some teams are reluctant to go anywhere near the ex-University of Florida megastar simply because of the enormous amount of media hoopla and fan frenzy that now dogs his every step.
Can you spell fluke? If you did in 2011, it might just have been t-e-b-o-w.
Simon Veness
Quotes of the week
And yet he was, after all, the Broncos' first-round pick in 2010, only to be unceremoniously left at the gridiron altar when John Elway was able to arrange a quarterback marriage with Peyton Manning, which no Tebow fan could really argue with (although plenty did rail against 'their hero' being shoved aside after leading the team into the Divisional Round of the 2011 play-offs).
Two subsequent suitors emerged quite quickly, though, with both Jacksonville and the Jets showing interest. Indeed, a move back to Florida seemed to make a lot of sense, and former Jaguars general manager Mike Mularkey admitted to having serious negotiations with Denver although, as we now know, the bright lights of the much-bigger-city proved a greater lure when the player was given his options.
Presumably the Jets DID have a plan for putting Tebow in their own precarious quarterback mix before he arrived because it soon became clear during the 2012 season that the plan, if it existed at all, had been thrown out with the MetLife Stadium trash.
Not only was head coach Rex Ryan reluctant to put Tiger Tim into any kind of option offence, he didn't even want to play him when all his other choices were either hopelessly strapped by injury or just plain hopeless.
When Ryan preferred untried third-stringer Greg McElroy ahead of the nominal No. 2, the writing was not only on the wall for Tebow but in indelible ink in letters 10ft high.
As the fallout for the Keystone Cops, sorry, the Jets woeful season settled in the green half of Gotham, it became clear the punt on the Denver cast-off was largely orchestrated by soon-to-be-ex-general manager Mike Tannenbaum and not the coaching staff. In hindsight, Tebow might have had more playing time staying at Mile High, or ANYWHERE other than under the eye of Ryan.
When the head coach finally gets around to his memoirs (and we can only long for that day, as it could potentially be the most entertaining inside story since Spike Milligan sat down to write about his army days), we will surely discover that only the deaths of every one of his offensive backfield would ever have persuaded him to put Tebow under centre.
Followers
Which brings us right up to date with the here-and-now, and a proper evaluation of where we go from here. It is pretty clear that even the mere mention of his name brings Tebow followers running from miles around, while the religious overtones of his character can be equally troubling (he is certainly not the first player to openly pray during a game and he won't be the last, so let's not fall into that trap).
A player's Christian beliefs are not the starting point for their starting ability. Just to be clear here, it is not Tebow's fault he is held up so fervently by some of his supporters as an example of the right religious 'message.' But, if the Almighty does have serious plans for Tim to spread the good word, why did He allow Manning to go to Denver? But I digress.
My sources here in Florida paint a rather different picture from the one most ardent fans would like to see. And it traces its outlines all the way back to his three largely triumphant seasons as the Gators' triggerman. Look at Florida's series of successes under Urban Meyer from 2005-10 and you see an absolute college super-power at work; high quality recruiting and coaching, an almost insane desire to succeed and an amazing pool of player talent.
Consider this little line-up of footballing precocity - at wide receiver, Percy Harvin, Andre Caldwell, Riley Cooper, Louis Murphy and David Nelson, all of them now solid NFL talents (and super-talents in the case of Harvin).
At running back, Jeff Demps and Chris Rainey, also now starring in the professional ranks. At tight end, New England's mighty Aaron Hernandez. And, on the offensive line, the likes of Marcus Gilbert, Maurice Hurt, Phil Trautwein, Mike Pouncey and his twin brother Maurkice. Every one now a regular performer in the National Football League.
(Are you seeing the connection yet?)
And that's BEFORE you consider the defensive side of the ball, where Brandon Spikes, Carlos Dunlap, Jermaine Cunningham, Joe Haden, Janoris Jenkins, Major Wright and Ahmad Black formed the core of a unit that would have struck fear into ANY opposing offence, let alone the rest of the SEC and the Oklahoma team they brutalised in the BCS National Championship at the end of the 2008 season.
Flawed
At the centre of this mighty machine, the beating heart, if you like, was Tebow, a force majeure of the college football world; Heisman Trophy holder, motivator, winner. But, as pundits would point out, a deeply flawed passer and not particularly quick when it came to the running game.
"But he's a WINNER," cried his supporters. "But he's playing in a team that would probably scare half the NFL!" shouted back the nay-sayers.
And now, three years later, much of the dust of these two colliding forces of opinion has settled and the score is as follows: Tebow - Games started, 14; Games won, 8; Touchdowns, 19; Turnovers, 16; Completion percentage, 47.9%. Unimpressive stats at best for an NFL starter, and, on that last tell-tale figure, fairly woeful.
In fact, in only ONE start did he pass the 60% mark that is the usual stamp of quarterbacking success and, in 2011, he came in 34th (and last) in that category, behind John Skelton, Kevin Kolb and Tarvaris Jackson.
Consider that five of his eight wins with Denver came with scores of 18 (in overtime), 17, 17, 16 (overtime) and 13 (overtime) points, and you piece together less a picture of a 'winner' than a powerful defensive team walking a thin tightrope between success and failure. Can you spell fluke? If you did in 2011, it might just have been t-e-b-o-w.
None of this, of course, will be news to his legion of supporters, who simply insist he just needs a chance to be a Winner once more. Surely he deserves a place ahead of the likes of Jake Locker, Brandon Weeden, the ill-starred Mark Sanchez and the rumoured comeback of JaMarcus Russell?
Not good enough
Yet all the evidence suggests otherwise, that the NFL's talent evaluators have looked at what Tebow brings to the game and NONE of them think he is worth a roster spot. The sample size is still relatively small, but there is enough to go on (including a 2-for-8 game against Kansas City that the Chiefs probably still think they won to this day) for the inevitable conclusion.
Tim Tebow just isn't good enough at NFL level. And, tellingly, he hasn't made many friends within the game. Because, when the likes of coach-turned-pundit Tony Dungy and actor-turned-punchline Chuck Norris are the only significant names calling for him to be given another chance (and not any of his less-famous-but-more successful 2008 team-mates), you know he hasn't impressed a lot of people within the game.
And, if you really think in this win-at-all-costs age that EVERY team is going to pass up an opportunity to add a significant weapon to their ranks because they're worried about the media reaction, I can introduce you to a man selling bridges in the desert.
Yes, he would add fans (and interest) at the gate, but since when did a sell-out crowd equal anything in the 'W' column?
Tebow fans will, of course, blow this off as another slight on their hero, another 'unbeliever' who refuses to see the 'winning' talents on offer. But let me hear another argument other than the 'winner' variety; tell me about his ability to command the line of scrimmage, to look off defensive backs, read blitzes, throw a tight spiral into coverage, bulldoze his way past NFL defensive linemen or check down to his third or fourth read.
Trust me, I've been listening. And all I've heard to date is the sound of silence.
Comments (6)
Howard Krugman says...
Is Tim Tebow just too wholesome a man for the NFL? I'm not saying there aren't other wholesome players, but Tim is a standout. He is an example to all Americans, especially youth. Did everyone forget his standout performance with Denver at the end of the season including a playoff win? The Jets should never have taken him. The Jets ruined his career by not letting him play. I'm sorry, but to all those Tebow doubters, but you just do not win a Hysman trophy and be nominated again for nothing. Not to mention leading his team to a national championship and other winning seasons. Has he really ever been given a fair chance? There are several mediocre quarterback in the NFL that I believe he is better than. What is wrong with expressing a strong belief in God? You see other players crossing themselves before and after a play all the time. Tim Tebow is a proven leader and qualified to play in the NFL
Posted 21:35 31st May 2013
Jojo Jones says...
Amen Brother! I think tebow might be good enough to be a backup, but who wants to take on that circus for a shoddy backup? He was the only backup QB in the NFL to get his own post game press conference for god's sake! I mean, he really has himself to blame here. He wanted attention and now he is paying the price for his media whoring ways. I imagine we will all be seeing him "te-bow" in the near future at the end of his dancing with the stars routine or some such nonsense.
Posted 19:25 31st May 2013
Christian Rhys says...
Your argument for Harvin and the other NFL talents who played with Tebow is somewhat one sided. I'll quote a line from the Bible Tebow used to address his Broncos team, "Iron sharpens iron, so one man sharpens another." During the 4 yr period that overlapped Tebow's tenure at Nease High School, 32 players signed to play Division I football - the first 20 yrs of the school's existence, only a handful. Tebow was regarded by the coach as the catalyst for the talent boom. Now you have to ask yourself, how much influence did Tebow have on his Gator teammates.
Posted 18:54 31st May 2013
Greg Conlentz says...
No quarterback in NFL history has been a super star on his First year, not even Payton Manning! Tim Tebow doesn't fit the NFL mold. You've got to beat your girlfriend, be a drunkard, have tattoo's all over your face, be a trash mouth, and the list goes on to be praised by the NFL and many others. The truth is that Tim Tebow is too good for the NFL. As a beginning quarterback for Denver he did great by most standards but that's where it ends. As far as I'm concerned Tim Tebow is a great NFL quarterback even though he was unceasingly ridiculed, mocked, made fun of, by the NFL and press, he still managed to take Denver to the playoff's. How many rookey quarterbacks have done that?
Posted 01:48 31st May 2013
James Langenmayr says...
Really? All you hear is silence? How about this: How many players do you know that have broken as many records as Tebow did in college? School, conference, and NCAA? Total touchdowns in a season? Passing percentage? Offensive player of the year how many times? Walker award, Manning award, the list goes on and on and on. Obviously you need to do some more research. Sure, he was surrounded by talent, but so is A.J. McCarron. McCarron's stats - they don't come close. Try telling anyone Bama doesn't have just as much talent as Florida did during Tebow's years. Tebow is playing against many of the same guys as he did in college, as you pointed out in your article. Why can he not get the same results? Answer- he can in the right offense if he's given half a chance. And just in case you didn't understand any of this, TIM TEBOW WINS FOOTBALL GAMES!!! Isn't that the point of playing in the NFL? So, before you bash a player for not having the talent to play in the NFL, give an honest effort, and do some background, or find a real job!
Posted 00:32 31st May 2013
Andy Kimball says...
As much as Jerry Jones loves the spotlight and given Tony Romo's history I am surprised that he has not already signed with The Cowboys, I think that Tim would be a nice addition to Dallas,
Posted 15:42 30th May 2013