It's time for a quick join-the-dots game in the US sports world, so see if you can make the connection between these sports figures and institutions:
David Beckham, Adrian Heath, Kaka, LeBron James and Liverpool FC.
Those who read this column two weeks ago will already know we are talking MLS and we are still focusing on the possibility of Sir David starting a team in Miami.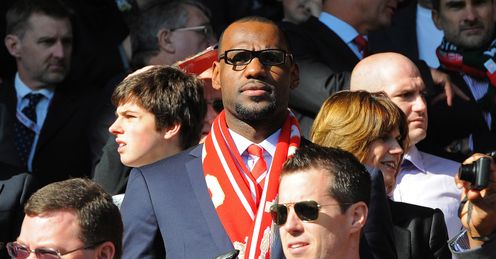 The frenzy of interest in old Golden Balls and his potential franchise-buying has not died down in the least; in fact, it has ramped up here in Florida after the Miami Heat - James and all - paid a visit to Orlando to lay a powerful beating on the home-town Magic.
As a quick aside, last season's NBA doormats (aka The Team Dwight Howard Used To Play For) had started the season with a bit of a flourish, winning three of their first five games and suggesting there might be better times ahead.
Becks has become the Mohammad Ali of soccer, known around the world as a famous face long after his true sporting glory is in the rear-view mirror.
Simon Veness
Quotes of the week
Sadly, like The Silent City of Alaska, it has proved a total mirage, as the Heat managed a 28-point victory while ALL five starters sat out the final quarter. A bit like Manny Pacquiao fighting with one hand tied behind his back and still winning.
Scouting
But I digress. While Orlando was the scene of James' latest victory, it was his post-game comments that grabbed most of the attention (as the on-court action was certainly far from headline material).
The basketball superstar has confirmed he is working on the franchise with Becks, and the former England ace has been urgently scouting some Miami locations for the right to pay a cut-price $25million to start an expansion team there. He is also actively seeking investors to assist with the overall start-up costs, such as stadium construction and player acquisitions, which will comfortably top $100m.
James insisted: "We're working on it. I wish it was easy but we're working on it and we'll see what happens."
If the combination of Beckham and James seems a bit strange, it's certainly as plausible as Joey Essex and I'm A Celebrity. In fact, you could say they are positively made for each other (in both cases).
Becks has become the Muhammad Ali of soccer, known around the world as a famous face long after his true sporting glory is in the rear-view mirror. And, like Ali in his pomp (which lasted for years after his final fight), he draws fellow sporting celebrities like moths to an incandescent flame, even moths with their own superstar orbit like James.
The two-time NBA champ does already have some understanding of 'Futbol,' as he likes to call it, thanks to a low-key tie-up with Liverpool as they share the same management company, and James is officially an investor in the Kop outfit.
And, when asked why he is interested in helping to fund an American team, his answer was more fan frenzy than celebrity culture. He said: "I think the passion is the No.1 thing, the passion the fans have about the game of soccer. It's pretty intense, pretty awesome. I had an opportunity to go to a game in England and it was an unbelievable experience. It's a world-renowned sport."
So the James-Beckham Gang has a pretty firm grip on what it wants to do, and why.
Kaka
Now we throw in Heath and Kaka and the pot starts bubbling very nicely indeed. Heath, of course, is the head coach of "the winningest soccer team in America" in the past three years, with two titles and one near miss as boss of Orlando City in the US Pro League (even Beckham's former club, the Los Angeles Galaxy, can't beat that).
The Lions have also just been confirmed this week as the 21st franchise in MLS, to open play in the big league in 2015 at the same time as New York City - which is probably the only time the City Beautiful will ever be inextricably linked with the Big Apple.
Orlando have been building towards this for three years, slowly and patiently, under the on-field direction of Heath and the off-field guidance of fellow Brit Phil Rawlins, who remains a director of Stoke City (what IS it about teams with 'City' in their name all of a sudden, and does it mean Coventry, Exeter and Leicester can expect big things this year?), plus the recent financial input of Brazilian millionaire Flavio Augusto da Silva.
Hence MLS expansion is all the rage in Florida right now, especially after Da Silva insisted at Tuesday's inaugural celebrations that he wants to bring "a special star" to kick off the Lions' debut season in 2015, a star who undoubtedly begins and ends with a Ka.
The Brazilian striker's contract with AC Milan ends in 2015 and, at the age of 33, he would be tailor-made to provide the kind of Latin flair the league has long craved, and which the Lions are now perfectly poised to deliver as Brazil is a huge market in Floridian terms, for both business and leisure.
You probably don't need me to remind you Becks and Co have an end-of-year deadline by which to set their (fut)ball rolling, and the advent of Orlando City as a near neighbor and rival - with or without Kaka - has certainly upped the ante in those terms.
Pressure
Local pundits are already asking how Rawlins and Co could pull off a successful MLS bid while Beckham is still at first base (which partly goes to show how much they DON'T know). But just because there is the usual degree of ignorance in Sports Jock Radioland doesn't mean that it DOESN'T add to the pressure on the Miami franchisers.
James's comments merely confirmed what I wrote last time, that South Florida is a tricky proposition for a new sports team to negotiate, and there is still a lot of "due diligence" - as they like to say - for Becks and Co to be able to match their rivals-to-be further north.
All of which speculation has led to more sporting intrigue of the 'They wouldn't DARE not do a deal with our Dave, would they?' variety.
The answer is only partially 'No', despite the fact Sir David of Beckham has an enormous amount of goodwill stored up in MLS ranks and the league also has a six-year deadline in place by which to increase their number to 24 teams.
Because, while the simple ownership name recognition would be enormous, there remain significant drawbacks to the Miami location (albeit, it should still be perfectly suitable for Victoria's shopping and fashion habits), and these may not be overcome anytime soon. And Orlando have proved you don't necessarily need big-name stars to make things happen, just a sound business plan and fervent fans, which encourages the likes of Atlanta, Indianapolis, Detroit and Minneapolis, who remain in the mix for franchises Nos. 22-24.
The urgency of the year-end deadline for Beckham's $25m bid remains in place - for now. But there are also hints the league MAY be able to find ways round it, either by extending it as a 'franchise-in-waiting,' or by a small increase in the buy-in fee.
However, for the time being, the City Beautiful can certainly claim it has a distinct edge over its flashy big-name rival. And, for once, it has nothing to do with Walt Disney World - even though that is where the Lions will play in 2014 while their new stadium is being built and their current digs, the cavernous Citrus Bowl, is being heavily refurbished.
Yes, that's right. For one season, we truly will have a Mickey Mouse team. And even Becks and James combined will be hard-pushed to beat the Disney magic.