Ricky Hatton is back out in Las Vegas preparing for another crack at the pound-for-pound title.
In the build-up to May 2 you can follow the Hitman's every move with his exclusive fight diary on skysports.com.
Scroll down for Ricky's latest entry as we take you right behind the scenes...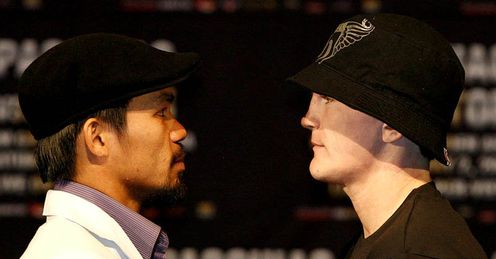 Wednesday, April 30
First thing this morning it was the usual run around Sunser Park, then back home for a breakfast.
Today was a big day in the grand scheme of things - the big head-to-head press day where I get to meet Manny Pacquiao again.
I have been watching Manny on 24/7 and the like, and he seems to be a genuinely nice guy.
I know the so-called experts have got me down as the underdog, but I am sure they aren't seeing the same fight as I am.
Ricky Hatton
Quotes of the week
HATTON v PACQUIAO
MGM Grand, Las Vegas
Saturday, May 2
Live on Sky Box Office, Ch743
Live on Sky Box Office HD, Ch 752
Call 08442 410888
Click here for details
But come Saturday all the niceties will be put to one side when we meet in the centre of the ring, just the two of us.
I really don't see this fight going the distance, I just see an exciting fight and I see myself winning it.
I know the so-called experts have got me down as the underdog, but I am sure they aren't seeing the same fight as I am.
After the press conference - which was live on Sky Sports News - I went back to the apartment to rest, have a meal and then a massage.
Then I signed a few autographs for the merchandisers. One of the items is a Union Jack suit that I wore for a photo-shoot with The Sun newspaper in front of the famous Las Vegas sign.
After the fight, I will be auctioning the suit off for the Help for Heroes charity; I want to raise some money for the lads and lasses in our armed forces because they protect our country and do us proud.
Comments (7)
Jacob Matthews says...
This definetly should not be billed as a match for the 'pound for pound' title. That would imply that Hatton has won various belts at various weights, beating good champs along the way, which he hasn't. Ricky Hatton can play in the premier league, but as Mayweather showed, he is not champions league material. Since that fight he looked awful agaisnt Lazcano and beat the one handed Malignaggi, which does not count. As for the "size" and "strength" difference, Manny weighed in at 143 for the oscar fight and has never looked so sharp, so there is not a real difference. Any doubters I invite you to watch the Oscar fight then straight away watch the Malignaggi fight. Then you'll know. Manny to win on points OR by TKo in round ten
Posted 18:08 30th April 2009
Robert Sunners says...
My two favourite boxers in the world right now go toe-to-toe on Saturday, but I can only see one winner. Manny has amazing hand speed that will no doubt get him a few rounds but I can't see Ricky being hurt by him. Hatton in the ninth, all the best to Ricky, don't know how you're managing to understand a word Floyd says!
Posted 18:02 30th April 2009
David Cross says...
Go get him ricky, You will do us proud as always and knock him out in 5, His speed will count for nothing when there aint any power behind it. After this simple win you can have another crack at mayweather. Good luck.
Posted 17:33 30th April 2009
Lee Gresham says...
Manny won his first world title in the Flyweight division and he is now fighting at Junior Welterweight. Even in defeat, Manny would still be a better pound for pound fighter compared to Hatton who has struggled badly when moving up a weight division. To be the best pound for pound fighter Hatton will have to win this fight and then move back up for a rematch with Mayweather.
Posted 16:15 30th April 2009
Stephen Crawford says...
Wat a fight this is going to be, There so like each other, explosive, powerful, heart like a lion, and proud of their countries. I dont think this is going to be about boxing skills, I think its going to be about who wants it more. The whole world is in for a real treat. But come on hitman do it for britain, we all believe u can do it . :)
Posted 15:15 30th April 2009
Rob Harris says...
Best of luck for Saturday Ricky, prove the doubters wrong and bring home the P4P title. Have a few Guiness for me to celebrate afterwards!!
Posted 14:33 30th April 2009
Bobby Mills says...
Hatton to take PacMan to school. Hatton in round 8
Posted 12:53 30th April 2009