Last weekend was a bit like a football match: a game of two halves.
On Saturday I was fishing the Lower Thames Championship, an event re-incarnated last year by organiser Dave Harper.
The match scene downstream of Oxford has suffered dramatically since the mid-1990s, when huge shoals of dace dominated catches, making the river just about the fairest anywhere, rewarding the anglers that got it right, almost regardless of where they drew. Then cometh the cormorant.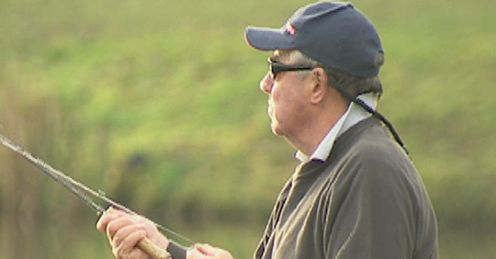 The European invaders, phalacracorax sinensis arrived from the Low Countries and found our fisheries much to their liking. The p. carbo-carbo, the common marine cormorant had already been present due to ever-cleaner skies and declining fish stocks in the North Sea and English Channel and they waged war on the dace stocks. Once the dace had all but gone, so had the anglers.
Perfect really for fishing the pole but with the close proximity of the road, the pole stayed in the bag before it was shattered into a zillion bits by a passing Chelsea Tractor, of which there was no shortage.
Keith Arthur
Quotes of the week
Although dace are still not back to pre-cormorant numbers there are enough now, along with roach and, especially, perch to provide most anglers with the chance of a few bites in reasonable conditions so the time was right for the match to come back.
Last year just over 100 souls turned up, greeted by a soft ground frost and fog - conditions any river angler will tell you are the kiss of death. Fish were almost non-existent apart from one monster shoal of bream at Sunbury, plundered by Suffolk angler Mick Hanks to the tune of 170lb+
This year's event saw a similar sunny day but a mild night and warm temperatures produced better sport. I was lucky to have a ticket and with the river in decent trim I was at a loss to work out where the best pegs would be.
I was 100% certain of where I didn't want though and as I couldn't make the draw on time due to radio commitments, my peg was dipped out of the bag by organiser Dave.
He pulled me 21 at Laleham which I thought would put me on an area I know as the green where the shallows stretch out into the river, pure gravel bottom, virtually paved with gudgeon. OK, I know they're not big but it's possible to catch 100 an hour and 10lb+ weights are well on the cards.
To cut a long - and inevitably sad - story short, I wasn't there but on the one area I really didn't want, as you may see on Tight Lines, right where the river meets the road. Silkweed on the bottom, no gravel and a straight drop into nearly 12ft of water.
Perfect really for fishing the pole but with the close proximity of the road, the pole stayed in the bag before it was shattered into a zillion bits by a passing Chelsea Tractor, of which there was no shortage.
Huge congratulations to Ian Young, who won the event with a dozen bream from the same shoal as Mick Hanks won the 2008 event. Unlike last year though there were some decent roach and dace catches for those who drew well at Molesey, plus a few at Walton. Chertsey and Laleham were disappointing but I don't think many went biteless, which was the norm in 2008.
Hopefully next year will see some pre-match rain, a decent flowing and coloured river and the fish are shared around more. Even then my peg, the blue boat at Laleham, will be far better suited to someone else: I've paid my penance.
Brightened up
On Sunday the weekend brightened up no end as I met three youngsters at Les Webber MBE's Angling Projects lake for a bit of a fish.
Two of the boys, Callum and Kai, haven't had the best of times lately with a very sick father in hospital but mum Sarah brought them along with step-brother Sam to cheer them up a bit.
They have been fishing at a commercial fishery, heavily stocked with carp and are used to catching more or less just carp, on the method feeder.
Angling Projects lake isn't like that but whey were greeted by one of Les's helpers, Alan, who'd caught a fantastic 26lb common carp during the night and had sacked it so the lads could see what a gravel pit carp looks like. It was absolutely pristine.
During the day they each had a go with my gear while waiting for their carp rods to 'go off' - Callum and Sam, the two older boys had their rods on bite alarms, their usual practice.
The youngest of the three, Kai, sat with me and we were soon catching perch and, naturally, the others wanted to join in. Between them they caught perch on the whip, elasticated pole, waggler and even a little shad softbait that they found in their tackle box.
Once they were sated, I had a go and managed a personal best bream of 8lb 6oz, in the heat of the day and the height of the sun! I'm not certain that I would have enjoyed becoming Lower Thames Champion much more.
Keith answers your questions
Do you want some tips or advice from Keith Arthur? To send him a question, please click here: skysportsclub@bskyb.com
Keith answers your questions
SCOT THE LOT
Hi Keith, I like watching the show and the hints it gives but there's been nothing in the last two weeks on Scotland. There are more and more anglers taking up coarse fishing in Scotland and any helps or hints would be good thanks. Scott Walker
KEITH REPLIES: Hello Scott. It's an extremely difficult task to mention more Scottish fisheries than we do; the person responsible for compiling our Fishery Focus is about as Scottish as they come and leans towards favouring his home nation, haha. There aren't that many coarse fisheries that can warrant attention as 'typical': lochs have no comparable waters south of 'The Wall'. We regularly feature the sea angling and Magiscroft and Broom Water coarse fisheries have both had pretty regular reports that, of course, we'll continue to do. Maybe we'll try and obtain some kind of report from the Loch Ken Festival - but many of these events are kept pretty quiet by those in the know! If you have some venues we could mention, please let us know: Ross will be even more delighted than me!
ISLE BE WANTING SOME TIPS
Hello, I live on the Isle of Wight. Do you have any hints or tips on where i should go fishing? By email.
KEITH REPLIES: Dear Mail, or can I call you E? I've never visited the Isle of Wight but my good pal Nigel Botherway has just bought a 'holiday residence' (caravan) there. He suggested this site: http://www.isleofwight-fishing.com/ I think you'll find it just about covers everything you need to know. Cheers, K.
'WOOD YOU HELP?Good afternoon Tight Lines, I have just recently got into fishing at the age of 28 with some friends. We all live in the south east London area and have tried various lakes in Kent (Monk Lakes, Elphicks, Dartford). I was wondering if you knew of any in the south east London area. I live quite close to South Norwood Lake which has fishing, but I don't know anything about it?? Kind Regards, Steven Haines.
KEITH REPLIES: Hi Steven, Norwood Lake, as I always knew it but it's the same place, used to be great fishing, with BIG roach and good skimmers, always caught shallow. Unfortunately the reason for the fish feeding shallow eventually led to its demise: putrid silt on the bottom eventually caused a massive de-ox and most if not all of the fish died. It has been restocked and the silt treated and has responded quite well but it's not as good as it once was. It used to be free fishing but it's about £4 a day now I think. I'd try a pole (if you have one) or simple waggler tactics, with maggot as bait, or maybe if you are more carp-minded, do some observation and see if you can find any fish close to the surface. They won't be easy! Burgess Park in Camberwell also has an angling area.
Tight lines,
Keith
Comments (2)
Nigel Holley says...
Hi Keith. Can you please tell me on which occasions I should use a fixed lead rig and a running rig. They obviously have their place, but I can't work out when to one or the other. Also can you explain why I should use a braided hooklength for leger fishing, for carp or Barbel instead of using mono. Thanks. Nigel
Posted 18:43 29th March 2010
Gordon Taylor says...
Hi Keith, Another scottish coarse angler here. on the note above about the mention on scottish coarse fisheries i was wondering if you ever get a chance to discuss the ayr stike event which is the biggest match fishing competition in scotland with a first prise of £3000. another thing , the competition has many qualifiers and some are at Springwater fishery in Dalrymple near ayr. this is also the venue for the final of the event. springwater is an up and coming coarse venue which has been on the go for a few years now but under the management of former scottish internationalsit shore angler willie scott its definately on the rise. last year was one of the "silent " years which seem to be so common on fisheries once carp have been introdueced then after a year or so they seem to vanish, which seemed to be the case again on springwater last year. hopefully this season will see them return with a bang. the venue holds quality roach, rudd, perch , bream, skimmers, chub , carp and crucian carpallong with gudgeon and ells as well. the 2010 Ayrstrike qualifiers are underway and obviously struggling with the weather, but , if you havnt already mentioned it (im sure you might have) it is well worth a look as £3000 is not to be sniffed at in the match angling fraternity. all the best for 2010 and tight lines Gordon Taylor.
Posted 20:30 6th January 2010