I am back on old territory this autumn, having been invited to take part as a member of fishery boss John Raison's team in the Gold Valley Winter League.
It doesn't seem that long ago when the newly-formed Gold Valley League was attracting a dozen teams of twelve anglers, with other teams on a waiting list. What started the decline I don't know - it wasn't the fishing, nor the cost of the matches - but with five years the league had folded. It wasn't dominated by a single team; everyone caught fish on every match and the payout was excellent. I suspect there was just a general falling-out-of-love with winter leagues - or to give it the full title: Angling Times Team Championships.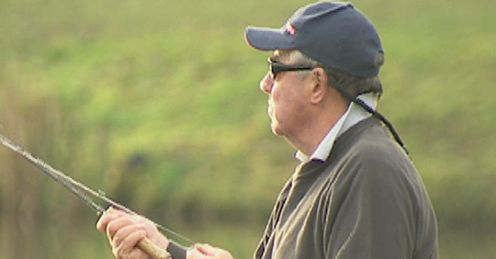 But now it's back although currently running with just five teams of ten anglers, with two of those teams qualifying for a semi-final with the chance of competing in the Grand Final at Peterborough next summer. Although many anglers all over the country yearn to fish the final, in my eyes these days it is a booby prize: an expensive match where little is caught by most and the big teams with access to star names and big bait budgets: bloodworm and joker dominates and that's not a cheap way to fish, especially when several practices are usually required.
Now with 50 anglers fishing, the chances of me drawing that peg again on the next match are pretty remote. Although not a gambler, I reckon it at something like 2,400/1 and oh, how I wish I'd had a bet because there I was the following Sunday: peg 29, Syndicate.
Keith Arthur
Quotes of the week
I must just emphasise that is a personal view: my circumstances have changed and I simply can't afford enough time to my match fishing these days so my technical level has dropped, making it impossible for me to compete any more in the very top divisions of match fishing.
Variation
Back to this year's league. With one match to go my team, Farnborough AS, is laying in second spot in the table, just one point behind the leaders but only one in front of third place. That means a first or second spot in the coming Sunday's final match will see us in a semi. The current leaders, Browning Crowsports have made it known that if they finish first, they will choose the semi-final on the Kennet and Avon Canal, with the winning team given that privilege of choice. From my team's point of view, that's very handy as we would have chosen the other match, at Kent's prolific Monk Lakes Fishery.
The story of the league so far through my eyes has been one of massive variation. The first match I would describe as average: an average draw on the Canal Bank of Gold Lake, with three carp: two caught legering using a bomb rather than feeder and small PVA bags of pellets, plus some loose feed and another carp on the waggler over the same feed. I added a few skimmers to that on pole-fished pellet and had a second-in-section result.
Each match is decided on section points for the team result, with top weight gaining five points down to one for last - or zero for a blank. The teams' scores are then tallied and top team on the day gets one point, down to five for fifth. Moderately confusing I suppose but that's how Angling Times want it. Individually, highest weight wins overall, highest weight in section wins section money - unless they are in the overall payout, when the next highest weight wins by default.
Last
If your eyes are now slightly glazed, ignore the last paragraph as the technicalities play no part in my story.
The second match draw put me in a peg on Syndicate Lake that I've had some success from before but only in cold weather when I've had bags of roach. It's a poor spot for carp and so it proved as despite commitment to the carpy cause, I mustered just a single carp bite and landed the fish, an average sample of around 5.5lb. However, the roach shocked me by not being there - or at least not feeding if they were there. Not one single bite did I achieve on my roach line, just a solitary perch and lone skimmer on a longer pole swim. Result: last in section.
Now with 50 anglers fishing, the chances of me drawing that peg again on the next match are pretty remote. Although not a gambler, I reckon it at something like 2,400/1 and oh, how I wish I'd had a bet because there I was the following Sunday: peg 29, Syndicate. I knew there were few, if any, roach to target but had the comfort of knowing there was a chance of skimmers and a slim prospect of a carp. Slim was out of town, as they say, and I was a carp-free zone. Half a dozen small skimmers made the total of my catch, 4lb 10oz but thanks to an angler not showing up I attained the heady heights of 2 points.
How pleased I was when John Raison told me that I wouldn't be drawing that peg on the next match - Skybet may have been saved a few quid too - as it wasn't being used. On arrival I was pointed back to the Canal Bank of Gold Lake and a half-decent peg towards the far end.
Envelope
I got off to the worst possible start when the first carp I hooked on the waggler escaped when the line parted at the float, not only losing the carp but also a £3.50 float and £2 weighted attachment system. I forced myself to calm down - the alternative was to throw my gear into the lake - and tackled up a slightly different set-up, again with a waggler. I also prepared a bomb rod and two pole rigs: one for fishing at 5 metres for roach and perch, the other at 13m for skimmers. I fed casters short and soft pellets long.
I caught a roach, then a perch and a skimmer on the short pole whilst pinging some pellets out onto my waggler/bomb line but soon gave up enjoying myself as everyone close by had caught at least two carp fishing out there. I joined in the long casting band and started catching carp of my own, the first one being around 10lb, but I was playing catch-up.
Carp came steadily but when I had 8 or 9 in my net, a new problem appeared on the horizon. Gold Valley has an entirely sensible rule that no more than 80lb of fish can be in any one keepnet. My carp net had probably 60lb at that time and there was still 90 minutes fishing remaining - and those 90 minutes, at the end of the match, are usually the most prolific.
I had two choices: walk back to my van for a third net or return my small fish and use that net. My brain went into overdrive and it came up with the decision to return the roach, perch and bream as I'd probably catch a carp bigger than their total weight in the time it would take to walk to the car park and back.
That proved to be the case and the final session gave me six more carp - including another 10lb+ fish, my third of the day. When the scales came I had won my section with a super weight of 115lb but an angler on Middle Lake had bagged 170lb. The bad news for him was that he'd transgressed the 80lb net limit and been disqualified so I took the victory - and thick, brown pools envelope to boot.
Least said the better about the penultimate match, back on Syndicate, albeit not on the same peg but diagonally opposite and with a howling gale and driving rain blowing straight into my face, a solitary bite and lonely bream of 2lb was my reward.
I now await Sunday's match with a mixture of relief and hope: hoping for a good peg and relief that it's my last chance this year to be on peg 29.
Keith answers your questions
Do you want some tips or advice from Keith Arthur? To send him a question, please click here: skysportsclub@bskyb.com
Keith answers your questions
MET ITS MATCH?

Hi there! I'm a re-born angler after many years absence just wanted to know is the match scene dead on most angling societies nowadays as when Iused to fish there was always lots of anglers up for matching on local rivers and lakes or do you think carp fishing has taken over the whole style of fishing nowadays? Love the show by the way. Plus what is your opinion on waters being re-opened after a month or too after having problems with khv virus? Graham Dickson
KEITH REPLIES: Hello Graham. The match scene is now mostly concentrated around commercial fisheries, with small fields of anglers travelling relatively short distances. Whether that's cause or effect I don't know but I dread to think what time I'd get home on Sundays when I consider where I used to fish! The Trent and Bristol Avon, for example, were fairly regular venues and much of my river match fishing was done around Oxford. The last two contests I've fished at Rolf's Lake, near Thame, have resulted in a 3hr+ journey home along the M40, despite the fact it's a shade over 50 miles door-to-door, with 45 of those miles on M-way! Sundays are NOT what they used to be, traffic-wise.
Depending on where you live, I'm sure you'll find a fishery with a match calendar - my blog is the bitter-sweet story of my autumn matches so far - and I'm sure you'd be welcomed into the fold.
As for the KHV situation, there are two alternatives: one is to allow fishing as potentially all the carp remaining in the ponds will be infected anyway so time isn't critical when it comes to trying to catch them. They won't be affected though as the disease usually manifests itself at times of stress, such as spawning or poor water quality issues, caused by exterior sources, such as algae blooms creating a de-oxygenation. Other species are not affected at all.
The alternative solution is to drain the ponds, kill all the remaining fish and allow the area to dry out completely. This is obviously very difficult in any water without a concrete base and could take months, if it can dry out at all. If the pond is situated in a water table and filled naturally, it won't ever dry out so the virus, potentially, can remain in any fish that live on. If it can be dried it will be free of virus and can then be refilled and restocked. That's what koi breeders and fanciers do when they are hit but, despite it being a better solution all-round, it is completely impractical from any angling stance as virtually every lake will be part of the water table.
FEED FOR THOUGHT

Hi Keith, I am new to the sport and would like to try feeder fishing. Could you give me some tips in the art of feeder fishing i.e. How to tie them and the best ones to use during the winter months? Thanks, Alex
KEITH REPLIES: Hello Alex. Everything depends on where you are fishing and what species are available. However, knowing a couple of basic set-ups means you can decide which best suits your requirements. There are two types of swimfeeder: those designed to carry groundbait and those designed for maggots. The groundbait feeder will be more-or-less a tube with a weight on one side that attaches to your reel line by a loop of line at one end, that may already have a small swivel on. If not, add one yourself. The most used type today are the 'Gripmesh' pattern, made from strong, pliable plastic with square holes and small 'teeth' inside that grip the groundbait, meaning a light, non-stodgy mix, such as liquidised bread, can be used.
The maggot, or block-end, feeder is also a tube but sealed at one end and fitted with a removable cap at the other, so it can be filled with bait. The commonest types today have a weight at one end and elasticated gum holding the cap on, making it easier to fill one-handed.
For my part I now fish my feeders on a simple 'running rig' so the feeder can slide up and down the line, meaning that in the case of a disaster, and the line breaking, a fish won't be swimming around towing a feeder. I find the best set-up is to first slide a link-swivel onto the main line. Using such a swivel allows you to change feeders pretty much instantly. Next thing is to slide some kind of buffer-bead onto the line. Drennan make a product called 'Swivel Stop Beads' and they are just about ideal. The bead has a small hole at one end and a larger one at the other that fits into the supplied swivels. Slide the bead onto the line, small hole up, then tie the swivel to the end, sliding the bead down over it as a snug fit. All that's left to do it tie on the hook length of your choice - I prefer around 35cm - and then the hook. Excellent ready-tied hooks are now available, so good that even top match anglers use them. Some have hair-rigs too, in case you are fishing meat, corn or pellets when a hair-rig presentation can be best.
You can use that rig with either type of feeder in lakes or rivers and with any kind of bait. Remember that with the groundbait feeder you can add some hookbait samples and plug either end with groundbait and there is nothing to stop you adding loose groundbait - wetted but not squeezed - into a maggot feeder as added attraction.
In winter it can pay to keep feeders small but start the session with half-a-dozen accurate casts to lay a small bed of bait before tying on the hook and actually fishing. Keep the rod at around 60º angle to where the line goes into the water so you can spot bites on the rod tip. And enjoy!
Tight lines
Keith Arthur