As you may have noticed, I slipped off for a few days to warmer climes for a re-charge recently.
My wife and I took the trip to Key West usually reserved for my April 'Boys' Trip', where we fish every day.
The 'Wife Duty' visit sees angling way down the agenda - behind eating, shopping, sightseeing and so on.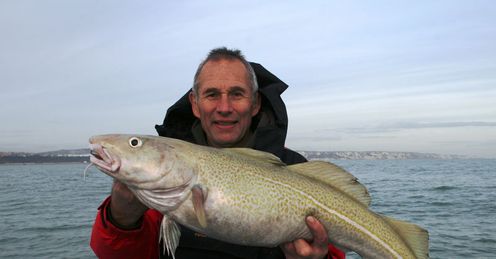 It's a good thing really because having been a pretty regular visitor to Key West since 1994, I only ever see it from the ocean, on our way out to the reef, the Gulf of Mexico, the Atlantic or Florida Bay. I have to say there are some pretty cool things to do as well as catch fish.
Snappers
Now that's out of the way, let me tell you about the fishing. I had one day with Capt Damon Santelli and his regular captain, Jay Miller, aboard the Outcast. I've fished on this 29ft centre-console Whitewater since she was new, bought by Capt Lori Parker. Lori gave up fishing for horses a few years back and Damon bought the boat.
Confident that my multiple weather checks were mostly reliable, we ploughed on and found it was indeed more than choppy but we were determined.
Keith Arthur
Quotes of the week
The weather was brilliant: sunny and hot with a gentle breeze to take the edge off the heat. The water temperature was 26ºC - yes, that's 79º Fahrenheit, in November!! First stop was the reef and we soon racked up a box of big yellowtail snapper.
I better just say this was primarily a commercial trip as Damon is a partner in a lovely seafood shop in Key West, Eaton Street Seafood Market, and our main aim was to stock his chiller.
Once the yellowtails were right up in the chum (groundbait) line, Damon suggested I drop a bait to the bottom as the activity would have interested a few predators. Correct, as usual, and a 20lb+ black grouper was first victim, followed by some superb mutton snapper.
With our quota of 'tails and the bonus grouper and muttons in the boat, it was time for Damon to return and Jay and I to go back out on the recreational half of the trip.
To cut a long but happy tale short, we had a good sailfish first drop, followed by more mutton snappers, a superb 32lb African Pompano a couple of red grouper and two small sharks. We returned tired but smiling...
Hoolie
My first film on my return was a day with Capt Mike Williams out from Dover in search of cod.
Once again, I'll keep it brief. It looked like we had a window in the incessant rain and gales we've suffered recently but when Nigel Botherway and I were just short of the Channel Tunnel, Mike called to say it was blowing a hoolie and maybe we wouldn't be able to go.
Confident that my multiple weather checks were mostly reliable, we ploughed on and found it was indeed more than choppy but we were determined.
Nigel, the camera crew and I boarded the Fire Fox and we set off in the shelter of Dover's white cliffs, with the wind blowing the tops off our wake waves.
As predicted the wind fell and the fish obliged, with Nigel taking the lion's share of our 17 cod - biggest 15lb 14oz - and Mike taking a wonderful 8lb 12oz bass. Nigel even had four cod on the same cuttlefish bait, which the cod definitely preferred over my squid: the dogfish found my bait more acceptable.
I know it wasn't hot, I know the fish don't pull back as hard but there is something about a day at sea, especially in the English Channel. When the fish feed and the sun is out - and it was as soon as the wind died - there is little to touch it.
If only we had sailfish - and tuna - and... oh well, we've got some cod again, so best make the most of those.
Comments (1)
Callum Wray says...
what a great weekend. i would love to fish every day even if the wife was there!!!
Posted 09:44 11th July 2010