It seems such a long time since I last blogged on here - in fact it IS a long time and I don't know why but, yet again, I am returning from a trip to sunnier climes.
Our annual 'Boys' Trip' to Key West usually lasts two weeks but, thanks to an unpronouncable volcano in Iceland, this year's visit was for just eight days, seven of which were spent on the water chasing things with fins - and attitude.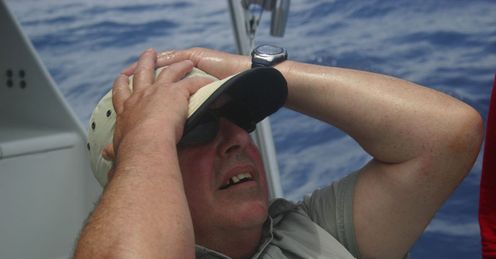 Most of the fishing was absolutely fabulous, in fact I'd say it was as good as I've seen since my first trip in the early 1990s but the standout moments were more or less disasters.
The first came when two of the three captains we hired decided the weather was kind enough to venture 40+ miles out into the Gulf of Mexico to find some shrimp boats - and the fish that hang around them.
It is impossible for me to tell you how drained I felt. Forty minutes, rocking back and forth in the fighting chair, winding fish and 25lb of concrete 900ft, then just fish another 900 - try winding 600m of line onto a reel with NO weight - and it was done.
Keith Arthur
Quotes of the week
Over the past ten years the numbers of shrimpers fishing the Gulf close to Key West has declined. Actually, the decline began long before as Jack Kelly, one of the captains we fish with for tarpon, told me that 30 years ago between 100 and 150 shrimp boats a DAY offloaded their catch at the dock - a dock that is now all hotels and condos.
Last year shrimpers were very hard to find within 70 miles, making the run uneconomical but this year the numbers were up and although we ventured out the day after a full moon, when many boats unload their catches, we called the shrimpers' ship-to-shore code on the radio to find several on the 40-mile line.
The weather report lied, for a change, and instead of '5-8mph' from the north-west, we had 12-15mph, making the ride out, which is north-westerly, a distinctly bumpy one but once we found the boats all that was forgotten.
The boats trawl all night and in the early hours clean their catch, removing the by-catch - mostly crab, small fish and mantis shrimp - and tossing it overboard, keeping the small pinfish and majorra to sell as 'chum (groundbait) in Key West.
In ecological terms this sounds disastrous but it all gets eaten, every last bit of it, either by the fish around the boats or the tarpon when it gets back to Key West as chum.
The first boat we found was surrounded by bonito, a member of the tuna family, and a few genuine blackfin tuna. Blackfins aren't huge by tuna standards; 20lbs is a good fish with the record around 50 but on light tackle they don't half hang on!
The two anglers I fished with on the day, Clive and Steve, both hooked bonitos but I used an 'old Injun trick' as my pal Roy Marlow describes it and hooked a blackfin, repeating the trick second cast too. Clive and Steve weren't that happy, haha.
We decided that five fish was enough, keeping three and returning two, whilst our other boat fared even better, bagging around a dozen, returning most of them.
It was time for a rest so Capt Damon Santelli told us we'd be going to a wreck that had been producing some huge mangrove snapper, fish up to 8lb, which is truly massive for the species. They fight too and the hardest part is to boat them before humungous goliath grouper swallow them, hook and all, and make off with your tackle.
Damon put the boat in gear and one of the engines let out a mighty whine; it had 'spun a hub', the equivalent of burning out the clutch. Clive and Steve transferred to the other boat to have their way with the snappers, while I stayed with Capt Damon to keep him company on the trip back to Key West - at 9mph instead of the usual 35!
The extra power of two 250hp outboards is required to bring the boat on to 'plane' so it skims over the waves rather than plod through them. That hour of fishing was so good, I just wasn't that bothered although staying awake for four hours with no land in sight for 3.5 of them was difficult. I confess to taking the helm for an hour whilst Damon 'rested his back'. When I looked his eyes were getting some rest too...
The other days were spent hauling tarpon, permit, sailfish and sharks, even though I missed out on the sailfish myself, there were several caught. That's with the exception of one day spent searching for the Gladiator of the Ocean, a day I will remember for the rest of my life. I have already written up the story for Angling Times but I make no excuse for repeating it here, as I wrote it, before it's published.
Sometimes it's Just Not Your Day
I could fill most of this week's issue up with stories from my truncated trip to Paradise, aka The Florida Keys but one memory is so fresh, yet bitter, it's more or less all I can think about.
Roy Marlow and I, along with our trusty cameraman Radomir, had been invited for a daytime swordfishing trip from Bud'n'Mary's Marina in Islamorada. The owner, Rick Stanczyk and his brother Scott had arranged the day in conjunction with Andy Newman, whose company runs the PR for the Keys. The only thing we needed was to be at the dock of Bud'n'Mary's at 6.45am. This is the story of the day.
It's a touch over 80 miles from the condo in Key West to Islamorada and I was amazed that somewhere as laid-back as Key West has cars on the road at 5.15am, but it does. The drive along the Keys, towards Miami, was memorable more than anything for the wind, which hit our MPV every time we crossed one of the many bridges. It was from the south-east and as we were destined to be fishing way out in the Gulf Stream, which flows west-to-east, there was every chance it would be rough.
We arrived a few minutes late at the dock; Andy was there waiting, as was Rick but the boat could wait while Rick took us through to his office to show us the pictures of fish down the years, including what he considers his greatest achievement; a wall-full of photos of swordfish, caught in daytime.
Tradition tells that swords feed at night, rising to the surface to feast on shoals of squid, heading to the upper layers to feed themselves but Rick's research led him to find grounds where they could be caught during the daytime, in the canyons of the Gulf Stream, up to 2,000ft down. Other captains on the US Atlantic coast have fished for these mighty fish in the light but always with electric reels; Rick has worked out rigs for 'hand-cranking', as he calls it.
The terminal tackle comprises a size 14/0 hook, baited with a belly-strip of dorado, sewn on the hook to keep it straight so it doesn't spin up on descent, on the end of a long leader of 300lb mono. Above that are three flashing lights, all on removable clips, to attract the fish in the pitch darkness which reigns in the cold water at these extreme depths, then with a 3lb lead fixed to an elastic band that can be snapped off when it reaches the rod tip so the leader can be wound in.
Just that 3lb lead would take forever to reach bottom so Rick has developed break-off weights made of concrete, with angled surfaces that can plane up in the water. There are various sizes but the smallest is over 20lb. Even with that on the line, it took 15 minutes at least for the rig to get down there. The main line is 130lb b/s braid.
Discretion should really have been the better part of valour because as we motored out into the Ocean, the sea was building and by the time we reached one of the offshore sea-mounts to catch some tuna and skipjacks, the seas were 8ft and growing. Another brief stop en route caught us a couple of dorado so we'd have fresh baits.
The 'mate', Hunter, a young man native to Islamorada, created some brilliant baits and three hours after leaving the dock the first drop was made in 1500ft. I timed the descent at 12.5 minutes. The sea was huge, rising 10ft or more and I was as close as I've ever been to seasick.
No bites in an hour, so using an electric drill with a special chuck to wind the rig up, we moved to a deeper spot and dropped again; 15 minutes this time, into 1800ft. The crew were on the flying bridge, I was sitting in the fighting chair, with Roy alongside, with Radomir struggling to contain his breakfast in the air-conditioned cabin of Scott Stanzyck's immaculate 52ft sportfisher, Catch 22.
Suddenly the rod tip, which had been violently nodding in time to the waves, almost imperceptibly flickered, two tiny knocks. Rick yelled: "That's a bite" and Hunter was down the ladder to feel the line. Once they were convinced that indeed a fish was on the bait, the rod was transferred to the chair and I was told to wind it up. Fifteen minutes might seem a long while to get it down there: winding it up takes longer, especially as the concrete weight had failed to break off.
At 900ft I was told to hold the spool while the boat was nudged forward to break the 50lb 'rotten bottom' holding the block in place and sure enough it detached. Now it was me v/s fish.
The cold prevents much fight but as the water temperature increases towards the surface - where it was 82ºF/28ºC - the fish wakes up and it made three runs. On one we were convinced it was going to leap but it stayed just under the surface, thirty yards from the boat. The fish 'lit up', flashing silver and purple, and a huge swirl erupted as it dived again but the drag did its job and I cranked the swordfish back up until we could see it clearly, eight or so feet down, ten feet from the back of the boat.
As swordfish go, it was no giant, probably in the just sub-100lb class, but it would be the first swordfish caught by a British angler on British television.
Hunter had the gaff ready, Ron, a photographer from Sports Illustrated, was clicking away on the flying bridge and then the hook fell out. I don't know why, nor does anyone else. They often lose swordfish but usually right after the bite. Rick said he had never lost one that close to the boat.
It is impossible for me to tell you how drained I felt. Forty minutes, rocking back and forth in the fighting chair, winding fish and 25lb of concrete 900ft, then just fish another 900 - try winding 600m of line onto a reel with NO weight - and it was done. I laid back in the chair with my head in my hands. The experience of a lifetime was over and the Gladiator of the Ocean had a victim.
We had one more bite from what was definitely a much bigger fish but it spat the hook before Roy could even start winding. I think Roy was more relieved than the fish. All that was left was a two-and-a-half hour ride back through 10ft waves to the dock, then the near-two-hour drive to Key West, arriving at the condo just after 10pm. The day had been long, hard and painful - and just plain old unforgettable.
Keith answers your questions
Do you want some tips or advice from Keith Arthur? To send him a question, please click here: skysportsclub@bskyb.com
Keith answers your questions
HIGH STEAKS
I went to my local club lake to try for some catfish. Baits taken were lamprey, fresh steak and fresh chicken. First success was a 3lb tench caught on lamprey! Then a 7lb mirror on steak and finally a 8lb mirror on chicken. I think that very little is written about these three baits for these fish. Are these catches unusual? Maybe I should have tried a bollie for a cat! Graham Newsom, Bedfordshire
KEITH REPLIES: Hello Graham, I would guess that more catfish in UK waters are caught on boilies than anything else. Also that in many heavily-stocked commercial fisheries the fish will eat just about anything. Steak - indeed most meats - are regularly used for carp in one form or another and steak is a great bait for chub. The big problem is you are fishing for a needle in a haystack and being selective for catfish in commercial fisheries is nigh-on impossible - unless livebaiting is allowed and I don't know of one commercial fishery that allows it! The best bet is to use a bait that is too big for carp as catfish have huge mouths and can manage meals that a carp can't. On the River Ebro in Spain the favourite bait is 5 or 6 x 25mm halibut pellets on a loop, tied to the hook as a hair rig. Of course the average size cat there will be considerably larger than most that reside in the UK but if you tried 3 of them on a long hair you would avoid all but the most crazy carp. The pellets are usually available pre-drilled too, so that's a bonus. The only alternative I'd consider would be something like a Fox Armamesh tube, 3ins or so long, stuffed with chicken liver. Good luck! Keith Arthur
PATE OFF THE MENU
Hi keith, When fishing for carp with cat or dog meat what would be the best flavors to go for? many thinks, jim edwards
KEITH REPLIES: Hi Jim, I don't really think it makes a lot of difference but most anglers seem to favour the Lidl 'Coshida' brand, which I think may now have been re-branded as 'Opticat'. The beef one used to be favourite but they now do one that is 'beef pate' so don't go near that; you want the chunks. Second favourite was the fishy variety, I think it was tuna and salmon or similar. It is possibly the very worst bait to use as it stinks to high heaven and makes everything it touches smell in a similar fashion. On the odd occasion I've used it, I've had a groundbait bowl of water and a towel handy so when I bait up I can wash the gunk off my hands. Only feed 2 or 3 chunks at a time and I'd take a spoon to put the chunks into your pole cup. It's really most suited to pole fishing as it flies off the hook very easily when casting. To put the bait on the hook, use a baiting needle: pick the chunk up on the needle and push it through, put the hook in the barb of the needle and pull it through the meat, give it half a turn and pull it back into the meat. And don't be in too much of a hurry to strike. I'd also point out that less is more: overfeeding cat-meat is not only likely to result in less fish but it doesn't do water quality any good either, which is why it's banned on many fisheries. Tight lines, Keith Arthur
Post to your View!
Be the first to post a comment on this story