In 1994 when Sky Sports first showed Fish'O'Mania you could probably have named your own odds against it lasting five years. Well, this week it's Fish'O'Mania 17.
Although my first appearance in the studio on the event was in 1996, I was there in 1994 as my job at the time was a sales rep for Daiwa Sports and they ran a junior fish-in on an adjacent lake while the Grand Final - complete with Daily Mirror grandstand - was going on in the middle of Mallory Park motor racing circuit.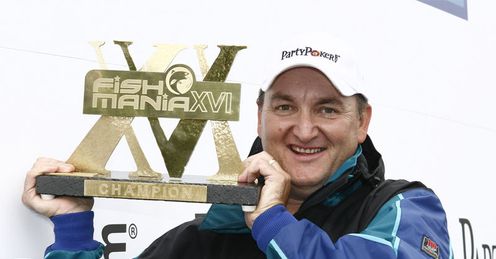 My match fishing career was pretty close to its peak back then so when Charles Colvile - Sky's long-time cricket presenter, ambled through the gate complete with floor manager and cameraman, I was expecting some kind of TV appearance.
I was playing a pretty big carp at the time, around 10lb or so, with several feet of elastic streaming from my pole, with a gaggle of young anglers watching. CC said: "Excuse me but is anyone famous fishing here and catching anything?" Of course I immediately pointed out my then-colleague Bob Roberts who was floatfishing about 80 yards away.
Skimmers
Two good pals were fishing that final: another then-colleague Dave Roberts who was probably too negative to win and an old mate for years in Dickie Carr. Now in his mid-60's (even older than me!) Dickie is still winning matches on a regular basis and he knows he should have won that one, but Ian Turner, one of the events' nicest winners, pipped him at the death by plodding away catching big skimmers while Dickie put his eggs into the carp basket and lost the fish that would have won it with a few seconds left.
By the time Fisho II came around Tight Lines had just started its first series - we're on Series 16 now, where does the time go? - and the Fish'O'Mania producer asked me if I could join the commentary team. It was very short notice and I was already booked to fish the John Smiths Championship at Evesham and with £3000 potential for me, I declined!
Keith Arthur
Quotes of the week
FISH'O'MANIA XVII
12pm, Saturday, SS2 & HD2
Champion of Champions
12pm, Sun, SS2 &HD2
By the time Fisho II came around Tight Lines had just started its first series - we're on Series 16 now, where does the time go? - and the Fish'O'Mania producer asked me if I could join the commentary team. It was very short notice and I was already booked to fish the John Smiths Championship at Evesham and with £3000 potential for me, I declined!
I didn't win the £3k either but when Fish'O'Mania changed its dates away from August Bank Holiday I managed to put both the Wychavon Championship - the Monday match of the John Smiths' weekend - and the big one, the John Smiths, on my CV with wins in 1997 and 1999 respectively.
Now, like a host of others, one of the first dates I want in my diary is the final of Fisho. I wouldn't miss it for anything - even a trip to Key West.
Oversold
Astonishingly Fish'O'Mania now puts more bums on seat boxes than the National Championships: all the team divisions, plus individuals, ladies and junior events, put together. Every qualifier on every venue is oversold by at least 100%, so much so that now entries are allocated by computer-assisted lottery.
The old days of 'first-come-first-served' had so many complaints because the really keen Fish'O'Maniacs, as they became known, would be outside the old Derby NFA HQ before they opened on the day tickets were launched, cash in hand. Indeed one of this year's finalists, Ray Hayward, was always there, first in the queue, so it's really lovely to see him back for a second final.
Whatever the attraction of this event is, it is remarkable. The odds of even getting a ticket are less than evens; the chances of qualifying for the final are 129/1 and then it's 15/1 against winning. Add in the uncertainty of the draw and, well, it's almost aquatic bingo - certainly at least piscine roulette.
But the anglers - and viewing audiences - keep coming in ever-increasing numbers to see whether any of their favourites can win: the Ringer Family maybe, including Steve Cooke who is almost an adopted Ringer - or Steve Jackson or Dave Swain, who have racked up a remarkable tally of final appearances between them. I think it may be 27 or 28 between just six of them.
Weights
Perhaps the greatest final for the match angling connoisseur was the second and last Hallcroft event in 1996 - the first one I worked on - when Dave Pimlott won by just a quarter of a pound from an 18-year-old Steve Ringer in his first final, Steve having a skimmer bream of at least 12oz squirm off the hook with seconds remaining, with Pimlott making sure by catching small roach.
The weights were minute by modern Fisho standards, less than 15lb winning the match and we have had carp of that size being caught recently. But with 13oz separating the top five it really was anyone's match with five seconds to go.
As far as weights go, the battle between Neil Machin and Nathan Watson - so close to being the first angler to win two finals - was gripping stuff. Both were catching carp from the margin of their swim, along the nearside bank. Machin, with the greater experience, seemed to glide the fish - all decent carp, because you don't get massive weights of tiddlers - into his landing net on peg 16, whilst on the opposite bank, on peg 1, Watson was using strong-arm tactics in an effort to skulldrag his fish home.
Pride
Our regular studio expert Tommy Pickering was literally screaming for Nathan to slow down and steady up but he just seemed to get more and more manic, a tactic that possibly cost him greater fame and another £25,000, having won as a 22-year-old in 2002.
This year, for the first time ever, Pickering has qualified. He called me as soon as the result of his match, at Woodlands Lakes, Thirsk, in his home county of Yorkshire was known to say he wouldn't be able to join me and regular presenter Rob Palmer in the studio on the day.
I thought he'd burst with pride and elation. What a day it will be on Saturday if 'Plip-Plop' as he is currently known (we may explain on the day) picks up his unique trophy, as Matchroom provide an individually designed one-off for each final.
Adjustment
Speaking of Rob Palmer, he has flown home from family holidays just to be there in the past and rates it as his third-favourite job of the year, the other two being in his Spanish Football presenter's role: the 'El Clasico' fixtures between Real Madrid and Barcelona.
So, it's all lined up nicely for Saturday. There has been a minor adjustment to peg placings this year: every angler will still have an empty peg either left or right but we've shifted the pegs one place clockwise to improve spectator access, plus there will be two 'stoppers': good class match anglers who will be placed as if they were competing, the same distance from pegs 1 and 16 as 2 is from 3 and 14 is from 15. That removes all vestiges of 'end-peg bonus' as everyone fishing will now have exactly the same unfished space beside them.
With the weather forecast good - for the fishing at least - this year's match could be a classic, even a clasico for Rob's benefit with one previous winner (Machin), five previous finalists, a former World Champion for the first time (Pickering) and plenty of new faces.
What's more one of them will also be taking their place in Sunday's 'Champion of Champions' match - although if Machin wins there will be a fly in the ointment as his spot is already confirmed thanks to his 2006 win. Maybe I should take my kit up, just in case there's a spare peg. The £10k on offer there would come in handy.
I suppose though I will be in the studio with Rob and, on Saturday at least, two-time winner Matt Hall in Tom's regular seat. Matt has the Fish'O'Mania experience to bring to the role of expert summariser and I'm sure he'll do us proud. He's also my guest on Tight Lines on the eve of the Fish'O'Mania XVII final, this Friday. We'll be bringing you the draw, the betting, the practice form and interviews with some of the finalists and maybe some predictions too.
I'll see you then I hope, if not on Saturday and Sunday when you can watch match fishing history being made, as Sky's great football commentator Martin Tyler says with such authority: LIVE on Sky Sports HD2! Maybe next year we'll be 3D - imagine maggots coming out of the screen at you. Mmmmm.
Comments (5)
Andy North says...
I did struggle to unhook a barbel early in the match, but this was obviously not down to the fact that I was using a barbed hook. Clearly at Cudmore barbed hooks are banned, so bearing in mind how important the Fisho final is this would be stupid as I would have been disqualified.
Posted 21:16 19th July 2010
Mike Warren says...
well done to this years winner Nathan i am also from Louth Lincolnshire.
Posted 22:08 18th July 2010
Lynne Harrison says...
who won the celbs fishing comp yesterday
Posted 16:20 18th July 2010
Caroline Robinson says...
PLEASE CAN YOU ASK THE FISH O MANIA PRESENTERS TO SHOW MY HUSBAND A CARP, WE FISH TOGETHER A LOT AND WE HAVE OUR OWN COMPETITIONS AND FOR A FEW MONTHS NOW HE AHS NOT CAUGHT A CARP, I SHOW HIM PICTURES AND TAKE HIM TO A PET SHOP TO SHOW HIM FISH HAHAHA HIS NAME IS DAVID ROBINSON MANY MNAY THANKS
Posted 14:38 18th July 2010
Andy Wood says...
Even though i spent 16 years as a match angler i'm disgusted by the way in which some of the 'fishomania' anglers are dropping large fish from height into their nets, it looks very bad and shows that some of the competitors don't give a damn about the fish, also early on in this years final i watched someone struggling to unhook a Barbel-he was clearly using a barbed hook-is that acceptable these days?
Posted 13:13 17th July 2010