Every Fish 'O' Mania holds great memories for me - even the single one I missed in 1995 - two weeks after the first-ever Tight Lines.
I was asked if I was available - it was an August Bank Holiday event in those days - but was already booked on to the John Smith's Championship at Evesham on the Warwickshire Avon so made my apologies. That could have had a far-reaching effect but, luckily, it didn't and I'm still here.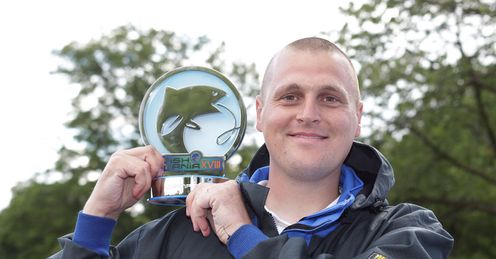 But let's cut to the chase and Fish 'O' Mania 18. My Fisho started on Thursday morning in the office at Sky, looking at the openers, bumpers and inserts that had been produced for the main event and Sunday's inaugural Fish 'O' Mania Home International.
Then it was up to Newcastle-under-Lyme to present Tight Lines live from the Fisho studio on Friday evening, having spent the earlier part of the day with the crew of over 100 checking, re-checking and making sure the facilities all work.
Shane said the prize is 'life-changing', saying he could clear his debts and take his family on a proper holiday that they've never had. In these days when millions are talked of as chicken-feed in some sports, it added a sharp taste of reality and brought a lump to my throat, I can tell you.
Keith Arthur
Quotes of the week
On the day of the match, the Fish 'O' Mania Grand Final, we're all on site hours before the event begins so I went to bed early on Friday having spoken to a couple of the finalists and internationals in the bar - without a single drink passing my lips I might add - ready for the 'Big Day'.
At 7.30am I was doing a resume of the event on the phone to TalkSPORT, where Nigel Botherway sits in for me on Fisherman's Blues then, no breakfast, straight to the lakes.
Foul
So much for the pre-amble - on to the event.
Several of the anglers drew pegs they fancied, a few thought they had no-hopers - something that is unavoidable in match fishing and which makes it the sport it is really.
The weather was truly foul; blowing a hooley and chucking it down with rain for the anglers to set up. First to arrive was Rob Pelling and bank reporter Andy Ford thought that may be an omen as last year Neil McKinnon was first to show and went on to win.
True to his own tradition, Nathan Watson was last to show but not as late as he has been previously and at least we knew he was coming.
The hooter went for the all-in and the action started - slowly. No significant moves were made until weigh-in 5 (I think) when Shane Atkin - a very nice chap who I'd spoken to on the morning and in the bar where he was chatting to his uber-hero, Alan Scotthorne, the previous evening. He had a 5kg half-hourly weigh in and opened a gap.
With Arena Lake proving a tough cookie would that 5kg prove significant? Shane was on peg 1, a slightly fancied peg, better for carp than the (usually) more prolific barbel. For whatever reason the barbel didn't show anywhere in numbers - except maybe for Ladies' Champion Sam Sim who had 6kg of them between 3.30 and 4pm, the final hour of the Ladies' match and penultimate hour for the Grand Final.
Wonderful
Matt Hall, the Fish 'O' Mania double-winner and our Saturday studio expert, and I agreed that the fishing would pick up and the last two hours would be mega. I was asked what would win it and I said 35kgs. I was right too; 35kgs would have won it - with 15kgs to spare!
Another decent half hour later in the match secured that £30,000 top prize for Shane, beating some of match angling's top names in the process. His interview on winning was wonderful. Shane is a care-worker, doing nights. He also does some unpaid care work. He's a happily married man with four kids that could not afford a honeymoon when he got married.
Shane said the prize is 'life-changing', saying he could clear his debts and take his family on a proper holiday that they've never had. In these days when millions are talked of as chicken-feed in some sports, it added a sharp taste of reality and brought a lump to my throat, I can tell you. There couldn't have been a better, more deserving winner.
Excellence
So on to Sunday and the first-ever televised, live international coarse fishing match. How would it go? How would the teams approach the venue, given that the most successful method on Saturday, bomb and meat, isn't allowed on two counts: meat isn't allowed as it is 'un-natural' and only natural baits are allowed on the hook, and the bomb, because it's a float fishing only rule on internationals, except in designated feeder matches, when float fishing is banned.
The first noticeable thing was how little feed was put into the lake in the seven-minute pre-baiting period agreed by the team managers. The second was that most of the teams started fishing shorter poles than the 13m limit (16m limit for Fish 'O' Mania Grand Final).
Almost immediately, right under the studio window, Wales' Andy Amos was into a good barbel where the day before Champion of Champions Nathan Watson had struggled for a bite on the pole. Next to him, after a disastrous start, when a member of the Sky crew accidentally broke a section of his pole (he had plenty of back-up) Alan Scotthorne was catching a small skimmer bream every put-in. And, frankly, that was going on all around the lake.
It was a pure exhibition of angling excellence all round. Every team put out their 'premier league' players and how it showed; from the awesome speed and skill of England's Will Raison - landing a 15lb carp on 2lb line and 'roach' elastic - the classic waggler fishing of Scotthorne, who put at least 2kgs on the scales every 30 minutes in the last two hours, without having a fish over 200gms, and Lee Edwards of Wales had four carp in one 30 minute spell near the end, for 18+kgs, eventually taking individual top weight!
The Scots had their heroes too - Jamie Masson ploughing through the field to snatch second individual behind Edwards, pushing Raison, who had led throughout, to third and Ireland's Willie Wheeler who was dry-netting one hour in, despite all around him catching. He 'won' the last weigh in and finished off bottom.
World-class
Team-wise - the important part - Drennan Team England came from lagging behind Wales after weigh-in one to lead at every ensuing weigh-in and held on to their lead until the very end. Scotland surprised everyone - but themselves I guess - by beating a very strong Wales team with far more experience of Cudmore-type venues into third. Ireland have no barbel to fish for in their home country and precious few carp but they learned as the match went on and certainly didn't disgrace themselves.
England team manager Mark Addy said that the £10,000 prize money, and the £1,000 big fish prize won by Will Raison's 15lb bruiser, would go into the Angling Trust International fund to help the un-sponsored teams, such as the Ladies and Disabled squads make it to their World Championships without having to dig deeply into their own pockets. What a gesture! They win no money on World or European matches and to think of the others first is brilliant.
After every Fish 'O' Mania I get loads of e-mails and communications but never, ever have I had a response like this year, for both events but primarily the International. It was a magnificent example of World-class match fishing and I sincerely hope it goes on next year.
There is always one very special highlight every year that stays with me forever. This year it will be a duet I had, in the studio, with Rob Palmer who admitted on the journey back from the Bengal Lodge the night before that he knew Soft Cell's 'Say Hello, Wave Goodbye' all the way through.
I think we got to the second verse in our duet before we had to work, only to discover that the crew had recorded it. Indeed they played it as a spoof 'opener' just 45 seconds before we went to air, over the show's opener, as if it was real. Maybe it will surface on Youtube one day: a lot depends on the size of the bribe...