We all headed to Manchester on Sunday to take part in a pre-Masters Final tournament, but it's fair to say there was more excitement off the pitch than on it!
The ex-pros put in some great performances in the main event - with Leeds' Darren Huckerby and Rangers' Michael Mols stealing the show. But sadly the same can't be said for us...
Two of the teams we were supposed to be playing against didn't turn up, but after beating Kitbag.com, we lost to 3-1 to Nike Town in the final.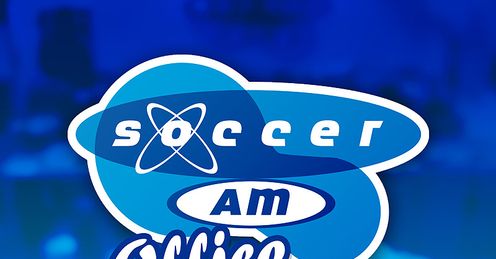 The final was supposed to be shown on the main programme before the likes of Roy Keane and Andy Cole took to the MEN Arena pitch, but sadly it didn't make the cut! Must've just been a time issue or something...
Still, the night out on the town more than made up for it, although in truth we were struggling to find a place to go following the after party at the Hard Rock Café, until we asked for some help on the Soccer AM twitter account.
I basically spent eight hours on a motorway for 20 minutes of football! Our games on Tuesday night are better than that!
A fuming Rocket!
Quotes of the week
Loads of you got back to us with suggestions which were a massive help, but before we could make a move there were a couple of items of business to attend to.
The Hammer
First, Ashley decided he couldn't leave the Hard Rock Café without telling former Rangers star Jorg Albertz (who scored a couple of crackers in the final) that he was "the original Das Hammer!". To which a non-fussed Jorg simply replied "yes, yes I am."
Meanwhile back at the hotel, Lavvers convinced himself he couldn't go out without having a haircut and persuaded the work-ex Ossie to cut it for him! In case you were wondering; no Ossie does not have any hairdressing experience!
A bizarre night got a little stranger after half of us left Mojo and found ourselves in Stuart Holden's Porsche! Stuart was on the show last season, and in the words of Harry Redknapp he's a top, top, top lad!
With training the next day he called it an early night, but not before finding a place for James, Max, Ashley and Ossie to go to. And after dropping the boys off he told them not to hesitate to call him if they didn't like it and needed to be picked up! Once again, a top, top, top lad!
It's all a bit of a blur from that point in, but there were reports that Lavvers and Max danced the night away into the early hours of Monday morning.
Odour
While, Bobbie returned to his room and decided it would be a good idea to wake James up and give him some career advice, before deciding that he wanted to sleep in the same goalkeeper top he wore earlier that day!
Needless to say, but he regretted that decision in the morning when he was awoken by the smell of his own body odour!
But not even that could ruin a great night and he made himself feel better with a tiramisu and Strawberry milkshake for breakfast! We're hoping that's some sort of hangover cure and not a staple in his diet!
Not everyone had a great time in Manchester though, and Rocket who was still seething on Tuesday morning!
"I was supposed to drive up with Chris and then he sends me a text saying he wasn't going anymore and that I 'needed to take responsibility for my baby'!
"The train was too expensive by that point so my girlfriend drove me up there and we drove back the same night. I basically spent eight hours on a motorway for 20 minutes of football! Our games on Tuesday night are better than that!"
Whatever happened to 'it's the taking part that counts'!
See you on Saturday!