Happy New Year!
Hopefully seeing us in HD for the first time on Saturday didn't put you off your cornflakes!
And don't worry you're not the only ones still getting used to our new studio. We're all still getting our heads around it too, while Rocket has ceased the opportunity to get his own changing room now there's a bit more space!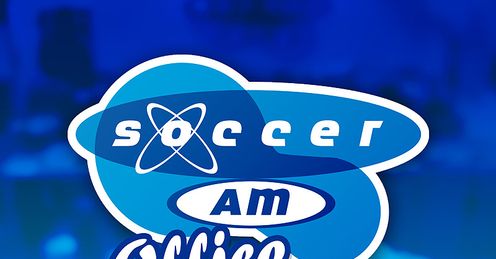 James (broken leg) and Baby Elvis (dizzy spells) are both back after spells on the sidelines and it's a bit like having two new signings. They're both fighting fit again after being cleared to return to the office, but if Chris Ashton has his way we're not sure if Baby Elvis will be for much longer.
The England rugby union star will be on the orange sofas this week, alongside Dietmar Hamann, Seann William Scott and Noel Gallagher and he's already been telling us how much he's looking forward to tackling Baby Elvis!
Why don't we just get Noel Gallagher to smash me over the head with a guitar?!"
Baby Elvis
Quotes of the week
Soccer AM is all about tradition and on the odd occasions we let egg chasers on the show they like nothing more than to inflict a little bit of pain on the Tottenham fan!
Naturally Baby Elvis wasn't happy about this, but, as we told him, who are we to deprive the 14-and-a-half stone Northampton winger the simple pleasure of crushing someone much smaller than him?
"It's just not funny anymore is it!?" We begged to differ but we let him continue.
"I mean I haven't done any exercise in about six weeks so I'm at a disadvantage already. While we're at it why don't we just get Noel Gallagher to smash me over the head with a guitar?!"
Now why would he give us a good idea like that!?
Wars
Baby Elvis might be preparing for the wars, but Lavvers has already been in them after being forced to Take One for the Team at Reading last week!
He upset Royals left-back Joe Mills when he came on the show a couple of weeks ago, after mistaking him for his brother and Leicester defender Matt!
Joe was adamant that Lavvers should have to visit him and his Reading team-mates at their training ground for payback and boy did they make him pay!
Both Joe and Noel Hunt caught him square on his backside but Lavvers obviously didn't leave a lasting impression if Noel's tweet is anything to go by.
"Just watching @SoccerAM starting to giggle already about it. Sorry Big Sam but it had to be done for all the bros in football!!"
Erm Noel, its Scott... not Sam! He is big though so we can see where the confusion might have come in!
Anyway we'll see you on Saturday!