The Lions are now back in Johannesburg following their reality check in the baking hot Royal Bafokeng Stadium on Saturday in Rustenburg.
The combination of altitude, and temperatures in the upper 80's, proved to be quite a challenge. So too of course did the Royal XV, who relished their once-in-a-career opportunity to play against such esteemed opposition, and hats off to them.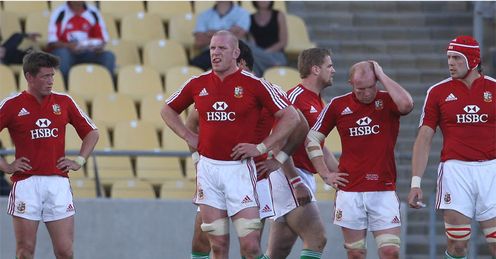 I was standing on the side of the pitch when the Lions trooped off after the final whistle, and the effects of the heat were all too apparent. Ronan O'Gara looked as though he'd just spend three hours in a sauna while wearing four overcoats. The Lions physio' Phil Pask, who knows what he's talking about, gave the conditions a 9/10 score for unpleasantness.
Andy Powell's hand is also fully on the mend. We asked how he pranged it in the first place, and it turns out it was nothing to do with an insect bite as first reported, but resulted from accidental contact with someone's head in a training session. All I can say is that the owner of the head must be made of something akin to granite.
Phil Edwards
Quotes of the week
LIVE ON SKY SPORTS
Golden Lions v Lions
5.30pm, Wed, Sky Sports 2 & HD2
Knowing your rugby, I'm sure you'll agree that Lee Byrne stood out in what was, quite frankly, a worrying and error-strewn display. His immediate riposte following the Royals' third try saved the day. It meant that the opposition didn't get the breathing space they craved to try to close out the match, while it gave the Lions the impetus to go on and secure a victory that had seemed beyond them. That, for me, was the key moment of the game. Rest assured that the magnitude of the task out here has been drawn in to sharp focus.
Wounded
Anyhow, the guys are delighted to be back in their five-star accommodation following a brief stay in a rather interesting lodge on the outskirts of Rustenburg. I was chatting to a few of the backroom staff last night and they made the place sound like the Bates Motel in the film Psycho, only without the positive customer feed-back. A return to more luxurious conditions ought to speed up the recovery process for the walking wounded, of which there are quite a few.
James Robson, the team doctor, read out a long list of ailments at the Sunday morning press conference. Keith Earls, who was accidentally crushed by a prop forward early in Saturday's match (not to be recommended) has a very sore shoulder as a result. This puts his rather disappointing performance into some perspective. Attack Coach Rob Howley reckons the Munster centre will bounce back and be a better player for his experience. I'm sure he's right.
Elsewhere, Paul O'Connell has a small but painful corneal abrasion (a scratched eye-ball to you and me) but there's no suggestion that it was caused by foul play. Martyn Williams has a humdinger of a black eye, while quite a few of the others have minor problems such as blistered feet and so forth. But the player currently way out in front in the race for 'the most bizarre injury on tour award' is Stephen Ferris. He strained a calf muscle stepping off the team bus and can expect a substantial fine at the first court session as a result.
There was good news concerning both Leigh Halfpenny and Andy Powell; Leigh is almost back to full fitness and has been kicking impressively back home in Wales. We expect to see him out here shortly. Andy's hand is also fully on the mend. We asked how he pranged it in the first place, and it turns out it was nothing to do with an insect bite as first reported, but resulted from accidental contact with someone's head in a training session. All I can say is that the owner of the head must be made of something akin to granite.
Accelerator
As I write these words, I'm watching a number of the guys enjoying a round of golf at a stunning course about half-an-hour's drive from their hotel. I know that back home it's commonplace for hooters to sound a warning to players in the event of approaching lightening, but a local press photographer has just told me that over here, there are golf courses that use klaxons to let people know when one of the so-called big five (lion, elephant, buffalo, rhinoceros and leopard) are about to invade the fairways. Needless to say this can put even the best of players off their stroke. It's then that you get in your buggy and floor the accelerator. That's if you want to avoid the cut!
In golfing parlance, you could say that the Lions recovered well from the rough in their match against the Royal XV on Saturday, but will need to improve their game substantially before playing the Golden Lions at Ellis Park. This Super 14 side might have had a dismal season, and seen their coach sacked as a result, but everyone's expecting them to be well up for the match on Wednesday.
Talking about good recoveries, someone in the bar last night reminded us of one of Jason Leonard's golden nuggets from a few years ago. Some brave individual apparently had a dig at the team he was playing for, after which he promised that they would "rise once again like a pheasant from the ashes". When it was pointed out that he should have said "phoenix from the ashes", Jase replied: "I knew it was some or other posh bird beginning with an eff".
Comments (8)
John Doe says...
johan and carl get it right at least, British and Irish Lions, 14 grand slam winners picked to go on tour, British and Irish Lions. Personally i hope the lions win every game on this tour the same way, FIGHTING to win, instead of the 100pt routs we see in some of the opening games of previous tours. S.A seem to just have no respect for the lions and i will guarantee you will regret that. S.A are one of the best teams out there at the min but New Zealand on their day and just not in a world cup 7 times out of 10 will beat you. confidence is 1 thing but cockyness can and will be thrown back in your so quickly. bring it on Drico, Bowe, Byrne, Paulie and co. Geech you are and always will be a legend Believe!!!!!!
Posted 01:36 3rd June 2009
Carl Robberts says...
Niel Martin be very carefull ,i was there in 97 and yes you beat us 2/1 but it was in different circumstances as we had a coach who was a great springbok player but was a nobody as a coach and the springboks will always be better than you and funny that its four rugby nations against 1 and you invented the sport and you are about as handy as a ashtray on a motorbike ,we are going to hurt you Brits .
Posted 16:34 2nd June 2009
Neil Martin says...
I've heard all this before "World Champs" Living in S.A It fills my heart with warmth just to listen to all the S.A fans. What happened in 1997 Do any South Africans remember? South African always live in this little Bubble..... World Champions 2007 let's make it World Cup 7's Winners (Ooops What happened, quarter Final Knock out) Yes WALES Won He he !!!!!! What does that tell you !!! It's whoever plays better on the day ;0) Cricket - the same thing !!!!!!! 2 Games at high Altitude 1 in Durbs.... SARFU has done everything in it's power to give the Boks the Advantage !!!!! Who will YOU blame if you lose to the Lions ??????? Remember 1997 - He he he "I'd rather be a Lion than a BOK"
Posted 13:38 2nd June 2009
Johan Van der merwe says...
World Champions , Super 14 Champions, world - class players,look at the size of our ball carriers plus South African conditions with our crouds. Do you British honestly think you have a chance, except for England's World Cup 2003,your'll have never matched up to southern hemisphere teams and that trend will still continue.
Posted 11:02 2nd June 2009
Shane Hartley says...
10 bulls players have been named in the springbok squad,with the forward pack and traditional style of rugby South Africa will adopt I see nothing but a 3-0 whitewash and Lions left egg faced.
Posted 10:49 2nd June 2009
Max Baillon says...
A scrappy display for the Lions and a real eye opener. There are some positives to take away from the game. The last 20mins saw a bit of get up and go from the boys and a few phases put together without the unforced errors. The first games are always the toughest on tour and lets just hope the boys can iron out the mistakes and put in a solid display on Wednesday.
Posted 12:24 1st June 2009
James Cox says...
Lions weren't impressive but I don't hink one can read much in that.The Bulls were beaten 36-12 by the Highlanders 8 weeks ago and the Highlanders can't really be compared to the Chiefs who were humbled on Saturday.It's all about momentum and confidence and should the Lions get that - and they have time to do so - they'll be very tough opposition - but if they don't they might be in some serious trouble! Should be very good to watch though!
Posted 11:31 1st June 2009
Barre O'neill says...
I thought it was a good opener for the Lions. It will be an eye opener of what's to come. I think it will be really hard the next couple of games for the Lions, but once the get used the weather, they will be ready to hammer the Boks!
Posted 10:08 1st June 2009