As I'm sure you'll remember the Lions were rather hoping South Africa would be under-cooked going in to the first test in Durban. As it turned out, the only thing remotely raw about the Springboks was the aggression they displayed at scrum time.
Phil Vickery has dished it out to various loose-heads over the years, but found himself well and truly on the receiving end at Kings Park on Saturday. Given a torrid time of it by Tendai "The Beast" Mtawaria, England's 2007 World Cup captain trooped off to the tunnel (and who knows where besides in terms of international rugby) just five minutes or so into the second half.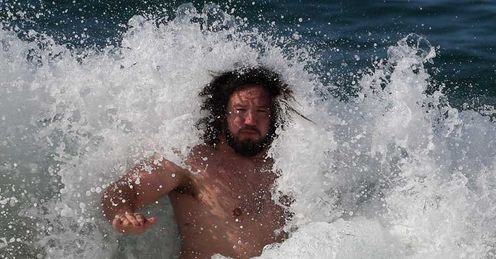 Some were saying afterwards that he ought to have been replaced a lot earlier in the match, and it was hard to disagree with them. Sport at this level can be cruel. Adam Jones steadied the ship when he came on, and will probably be asked to tame the beast once again in Pretoria, along side hooker Matthew Rees.
The trouble was that by that stage of the match the Lions were a distant second on the scoreboard, and although they played by far the better rugby on the front foot, and scored more tries than South Africa, they just failed to produce what would surely have been the biggest come-back since France versus New Zealand at Twickenham in 1999.
Intimidating
Having gone one-nil down in the series, the Lions have a mountain to climb in more ways than one. They now face the prospect of having to win, way up on the high veldt, in the bear-pit that is Loftus Versfeld. This place has been voted the most intimidating rugby venue in the world. It is even worse than some rough old grounds in the Forest of Dean, not to mention Rodney Parade in the old days.
Loftus Versfeld is the place where large men with dubious facial hair scream (in Afrikaans) for the destruction and utter humiliation of their country's opponents.
Phil Edwards
Quotes of the week
LIVE ON SKY SPORTS
South Africa v Lions, 2nd Test
1.30pm, Sat, Sky Sports 1 & HD1
It is the place where large men with dubious facial hair scream (in Afrikaans) for the destruction and utter humiliation of their country's opponents. South Africa's win rate there is 71%, the same as it is at the seemingly impregnable Ellis Park. So, nothing to worry about over the next fortnight then.
On the other hand, there were plenty of positives to take from Durban, not least the fact that by the end of the match, South Africa were well and truly on the ropes. By this stage, John Smit and Ruan Pienaar, both of whom had been replaced, were summoned back from the bench, by fair means or foul, to help keep the rampaging tourists at bay.
The Lions must, and will, avoid any thoughts that the series has already slipped through their fingers like grains of sand. They know the Springboks will be a better outfit next Saturday having had a game under their belts, but they should also be brimming with self-belief after producing some scintillating rugby.
Intrepid
The Lions will also know that they can, once again, expect a fabulous level of support from fans, most of whom have jetted in from all corners of the UK and Ireland. I say most, because some have driven to South Africa. I met four intrepid lads in a beaten-up old Landrover who bounced and lurched their way to Durban from Malawi. Before you ask, that's four and a half thousand miles (they did get a bit lost at times) which is legendary dedication to a Lions tour as I'm sure you'll agree. What is even more impressive is that only three of them drive. As I write this, they're probably about half way into the marathon 20 hour drive from Durban down to Cape Town for Wednesday's match against the Emerging Springboks. This, to them, is the equivalent of the rest of us popping to the corner shop for a bottle of milk.
Anyhow, we are already in Cape Town having taken the wusses' option and flown here on a Boeing 737. This evening we have all been invited to a knees-up by one of the tour sponsors at The Vineyard, an extravagantly luxurious hotel close to Newlands. We just hope we have more luck reaching the place than one of our colleagues who was staying there in the week of the Western Province match.
After a long and tiring day (if you see what I mean) he emerged from a nightclub in the city centre, flopped in to the back of a cab, and gave the name of his hotel before passing out. An hour later he was woken up by the cab driver in the famous wine-producing town of Stellenbosch and asked: "Which of the vineyards here do you want mate?"
Comments (13)
Paddy P says...
To David McKeown, i tihnk your being a bit harsh on POC there. He has not been playing as well as he can, but he showed up better that AWJ on saturday so if anyone was to be dropped it should be AWJ. Also POC carries alot more that most second rows, yeah he could try stay on his feet more than hit the deck but he gets top marks for trying. His work rate and line-out ability are invaluable and where the other second rows might be slighly stronger in different areas, POC is the best all-rounder so always starts for me!
Posted 20:39 25th June 2009
Mal Meninga says...
its not about shane or moyne - the biggest call Geech's should have made was telling O'Connell that he would NOT be starting the first test. As in the semi final of the H/Cup when the team isn't functioning he struggles to get to grips with what is going wrong and how to turn the performance round. i would go with his munster partner in crime and A W Jones. BOD to skipper the ship
Posted 13:17 24th June 2009
Etienne Groenewald says...
A number of Lions supporters seem to think that the Lions can still win this series but I am afraid that simply won't happen. One has to remember that this was the first test for the Boks in almost 8 months and the first time most of these players have played the old Northern Hemisphere rules. We have been playing the new ELV's for the entire Super 14 and it takes some time to get used to old rules again. It was clearly evident that the Boks were rusty and the fact that the Lions couldn't beat us even though they had proper warm up matches, shows the difference in class. I honestly believe that if Pieter De Villiers (moron that he is) makes the correct decisions in starting Jacque Fourie instead of Adi Jacobs for Saturday's test, we will win comfortably. We have to sort out our midfield defense as it was shocking this week. Jean De Villiers can't defend two lines and Fourie will allow Jean to concentrate on his channel alone, which will lend itself to him actually being the creative inside centre that he is. Bokke to win all three.
Posted 11:29 23rd June 2009
Keith R says...
I don't understand some of the negativity from opposing fans. The Springboks and the Lions are two top sides and they will both have their moments to win test matches. On Saturday in the 1st test the Springboks took their chances. It was an exciting game and either side could have won it, the Springboks did win it. The game itself and the course of events has set up the 2nd test superbly. The Lions are down but they are far from out, the Springboks are one up but the job isn't done yet. The possibilities are endless for the next match at Loftus Versfeld, the Lions lost but they were not beaten and the Springboks won but not without some relief at the final whistle. The two sides have had a look at each other and now they will know what they have to do, no surprises, no aces up their sleeves, just a proper contest between two top sides and the team that takes their chances will win. As for the score, if some of you are so confident of a drubbing either way, put all your money where your mouth is and back it up and just see if you don't get nervous.
Posted 10:49 23rd June 2009
Paul Farrow says...
Loads of comments here but none of them analytical! Nearly all suggest picking so and so instead of so and so. This one was rubbish and that one would have been better. Also too much text style typing, which gives me a headache ! If this is the best you can contribute stick to facebook or a bit of twitter somewhere and leave rugby talk to those who understand the game and what exactly is wrong with it both as a spectacle and as interesting contest, which it used to be many years ago. Paul from Llanelli
Posted 22:46 22nd June 2009
James Cox says...
Neil G - not a fan of SH rugby then....? Good luck bro - remember this is not the best from NH - it's a combination of the best of the best and they have only won 1 out of their last 8 tests in the SH .............???????????
Posted 18:52 22nd June 2009
Gerard A says...
I'm reading alot here about ROG has to start the game... The reason we lost was because of the forwards and not 2 missed penalties from jones. The back line works better with jones at 10. It obvious the management dont rate him or else he would have got a run out.. In fact he'll be lucky to make the bench if hook is fit.. Also Martin williams has to start. There were 2 many of the back row showing up as ball carriers when the game called for someone to get down and dirty at the breakdown. I think wallace played ok but his game didn't suit what was really required.Heaslip was non existant but powell is rubbish. Unless they play wallace at 8 , heaslip will start again. Kearney has to start. If Byrne is fit play him on the wing otherwise at full back. In that case if williams shows some spark tomorrow start him otherwise fitzgerald is very accomptlished. Welsh front row. No doubt there. Hines with POC in the second row. More of the same from Roberts and BOD.. Pure class.. Toulon will prob try a double swoop for both of them now!!!!
Posted 14:35 22nd June 2009
David Mckeown says...
That was a game we certainly should have won- they are very beatable. Three things- where is Shane Williams, who's he upset? Where is O' Gara, we all know Jones's kicking can fall apart ( remember the WC03 QF ) , and more than anything where is this giant, dominant, mammoth, inspirational Irish skipper we were all told about? O ' Connell has been more mouse than Lion on this tour so far- his carries are so powder-puff its laughable.
Posted 14:02 22nd June 2009
Sam Shelley says...
Jack Butler.... not irish by any chance??? I think Monye will learn from his mistakes there, he was unfortunate, I don't think ROG is the boy to be honest, best bet would be Hook on bench, the fact ROG didn't come on suggests they don't rate him too highly!! Obviously front row needs to changes, Shaw or Hines needs to be in there somewhere, you can't drop POC but I think it is fair to say that he is not living up to the billing of best lock in the nh. Perhaps Wallace moving to 8 also, as Heaslip was nowehere on Saturday. Perhaps kearney for Byrne if ihe is anyway not up to it for saturday.
Posted 13:38 22nd June 2009
Craig Jordan says...
A game that could easily have gone Lions way, three dropped balls on the try line. Lets get O'Gara in at number 10 though missed penalties and conversions. Although his kicking isnt as strong in play but as a dead ball kicker O'Gara is probably the best kicker consistantly.
Posted 12:23 22nd June 2009
Matt Slade says...
well the lions backs looked sharp and threatening, and only some exceptional boks touchline defence stopped lions marching over for 6 tries. exceptional last minute tackles indeed, steyn almost had croft aswell. but the pack struggled, unfortunately i think alot of the comeback was due to the boks subs. However i cant honestly believe how the ref made some of those decisions in the first half, shocking amount of penalties, and to ping time and time again in the scrum for the same offence is shocking. Admitedly Vickery was struggling with the shorter beast but the angle of engagement was far from straight so many times. the way the scrums have been ruled on this tour have been shocking in my opinion. there seems to be one set of rules applied in the southern hemisphere and another in the northern, remember the amount of shockers from refs on the last lions tour! Im sure Brian O'Driscoll will remember at least 1 of them, but countless penalties at the breakdowns and the ref's being apparently being blind to seeing McCaw offside at almost every single ruck, please lets not have another farce this year, ref it fair and lets see who wins, how rugby should be.
Posted 11:30 22nd June 2009
Muzikayise Buthelezi says...
the 1st test was amazing, but it got even better when the Lions came back. As a Bok supporter this was quite concerning, and therefore i must give credit to the Lions for fighting back. Yes it will be an uphill battle for the Lions but it wont be easy for the boks either. if the boks don't lift up their game on Saturday then we could see one of the biggest upsets in history which would open up series. This would make things very interesting because it would mean that the last test would be a fight to the death. If this scenario were to occur, it would be an entertaining spectacle. So i wouldn't mind if the Lions won at Loftus as this would make the test series even more exciting, because i believe it would bring out all more character out both teams. anyway i hope the springbok win at Loftus, but i would mind either if the Lions won.
Posted 10:27 22nd June 2009
James Cox says...
1-0 to the Boks then - Well done to them for being good enough to put 26 points on a very good Lions outfit in that amount of time.Well done to the Lions for their 2nd half effort.To Pretoria and my beloved Loftus - quite a cauldron and what a fantastic place to play at. Mad fans - even for me - and it should be a special place to be at on Saurday. The Lions should be gratefull for their fans - they could level things at an intimidating Loftus a little.This is a luxury that the Chiefs didn't have in the S14 final.The Boks will be better - they'll have to be otherwise they will lose - the lions just need to steady the lineouts and scrums and they could win it. Expect a better performance from both ...
Posted 08:27 22nd June 2009