It was a very special Wimbledon day indeed.
After 33 years' absence, the Queen was there in the Royal Box, seated just in front of people like Tim Henman and Virginia Wade. The place was rightly sprinkled with other distinguished British tennis players of the past.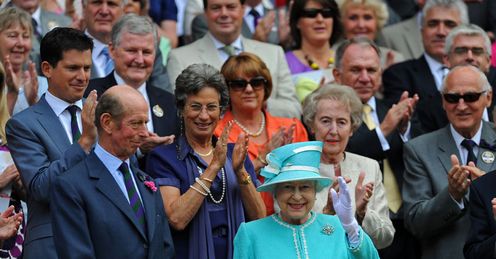 And clearly Andy Murray was the right dish to set before the Queen as he was challenged by a tall Finnish left-hander, Jarkko Nieminen. A fortuitous match-up, I would say.
Nieminen comes across as a spontaneous, uncomplicated aggressor and he looked as if he was intending to enjoy the occasion.
But Murray is the cannier of the two on the tennis court and he has the greater control of the ball too. In no time he rather studiously took the first set 6-3. He never relinquished control of things.
Transformed
Simultaneously on the other main court Maria Sharapova, who insists she has now fully recovered from her serious shoulder surgery, was sweeping past young Romanian Ioana Raluca Olaru - whose name will take years to learn to pronounce.
It is in Grand Slams and the Davis Cup that players find by far the greatest inspiration. Believe it or not, it is not primarily about money.
Gerry Williams
Quotes of the week
Sharapova is one of three Wimbledon singles champions in the women's draw. She is remembered too little for her ability and too much for her grunting.
As I expected, the women's singes at Wimbledon this year has been transformed from last year's doldrums by Sharapova's return to form and the re-emergence from retirement of two Belgians, Justine Henin and Kim Clijsters.
Then, just before 4pm, we all headed out to court 18 because there was the little matter of the conclusion (if ever there was to be one) of the world's longest tennis match between John Isner (US) and Nicolas Mahut (Fra) who had come off court the night before with their business unfinished after 10 hours and the score level at 59-all in the fifth set.
The fact is I couldn't get anywhere near the court, such was the public's interest in this phenomenal.
On the roof of the broadcast centre which overlooks it, packs of camera crews and reporters - as well as everyone else - made it impossible to see a thing.
Tired
I had toyed with the thought that a couple of double faults or a miss-hit or two from these surely weary young men and it would soon be over. How wrong I was. It was the day before all over again.
Then, after 11 hours five minutes and 215 aces it suddenly did end. At 68-69, with Mahut serving, he conceded one point with a tame shot into the net and a minute later, stranded at match point down, Isner arrowed a backhand down the sideline. It was all over.
After it all ended Isner said he felt "a little bit tired".
My final thought on this phenomenal drama is this: the list of the nine longest matches ever played before Messrs Isner and Mahut got locked in combat here this week all happened either in Grand Slam Championships or in the Davis Cup when players compete for their countries.
Of course, Slams and Davis Cup are all the best of five set matches so it follows you will find marathons there. But my point is this: it is in these events that players find by far the greatest inspiration. Believe it or not, it is not primarily about money. Call me naïve, but my case rests there.
Lastly I must note that here was a real sting in the tail yesterday. The Dutchman Robin Haase, all six foot three of him and ranked as low as 151 following at trying injury, led Rafa Nadal by two sets to one.
Nadal muscled it through in the end and I still hold to the view that a semi-final between and him and our Andy could be the key match before the final.
Comments (8)
Leigh Anderson says...
For Scott Hunter, I quite agree with your comments regarding the scheduling of centre court, however, Wimbledon organisers are obliged to place 2 mens matches, and 1 womens match on each of the show courts each day, up until QF stage at least, the beauty of the slams is that failing an event of "Isner esque" proportions, players have the following day to recover and perpare, but with regards to the order of play from a personal point of view, whilst federer is a multiple champion and major pull for the crowds Andy has become the greater attraction on centre, probably since R4 vs Gasquet 2008, personally i appreciate the fact he is on a little later in order to see the match upon return from work, and am sure many fans would agree.
Posted 12:44 30th June 2010
Leigh Anderson says...
For the attention of Ifeanyi Araraume, How can you be so certain that Murray lacks the mental strength to win a grand slam, then go on to tip Soderling ahead of him?. there is a lot to admire in Soderlings game for sure, but just like Murray, when he has reached the finals of slams before, he has been unfortunate enough to face possibly the 2 greatest players of all time, at their very best, otherwise both men would probably have 2 slam titles to their credit. I wouldnt suggest mental toughness will ever be a problem for Murray, and if the serve percentage is up, along with the new improved forehand, he will be a slam champion this time.
Posted 11:34 30th June 2010
Scott Hunter says...
isn't it amazing murray last on centre court again, twice in a row, if i wasn't being cynical i would think that the powers that be are hoping he plays late and is knackered so he struggles, if this was little timbo or canadian greg it would be first game centre court every day, it was bad enough the amount of late games murray got at the french but for it to happen in his home grand slam as well is a disgrace those diplomats at the top should be ashamed of themselves
Posted 09:32 28th June 2010
Nta Arinze says...
No dout, Roger Federer is the man to claim his 7th wembledom title.Roger, come on do it again!
Posted 17:10 27th June 2010
Ifeanyi Araraume says...
I really do not know who will win wimbledon this year,but I know for sure that andy murray won't win it,simply because of they way the british journalist hype him and that fact that he hasn't got the mental strength to win a grandslam,my money is on federer or nadal with robin soderling my dark house.
Posted 10:47 27th June 2010
Rhys Jaggar says...
Well, the way Soderling and Nadal are playing young Murray might be trying to return Swedish bullets.........
Posted 21:37 26th June 2010
Rusty Savage says...
You really dont like Nadal do you? Everytime you mention his name the word muscles is always close by. Nadal played great tennis to beat Haase yesterday. Not his fault he's fitter and stronger than the guy. The guy has bags of ability. You dont beat players like Fededer with muscle power alone.
Posted 12:28 25th June 2010
Takahiro Asai says...
Andy Murray played fantastic yesterday, he looks like he is in his top form and if he can continue like this, this tournament might his first gland-slam title. The other match I was impresses was the match between Isner and Mahut. They played a cracker with 11 hour and 5 minutes. In the end, we must give Isner a credit for his consitant serving, 118 aces and a lot more inreturnable serves.... Incredible
Posted 08:49 25th June 2010