You wouldn't call Yen-Hsun Lu exactly a household name even amongst tennis geeks, but as Londoners were enduring their rush hour journey home yesterday Mr Lu, who comes from Chinese Taipei, was causing the kerfuffle of the day at Wimbledon. He beat Andy Roddick 'just like that' as Tommy Cooper used to say.
Let's put it into perspective. Roddick is the third most successful of today's ATP tour players on grass courts and has three times been a Wimbledon finalist - most recently last year.
The winning weapon was Lu's low-key consistency of effort over the four and a half hours it lasted. Roddick's weakness was his return of serve. He described it with a four-letter word which we won't repeat here, but it won't earn him a conduct violation.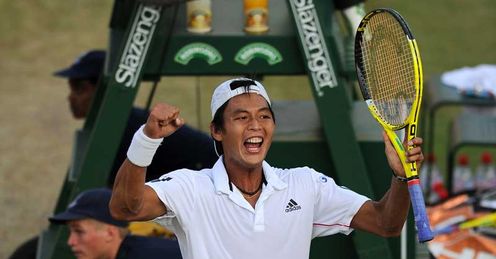 To Mr Lu - who calls himself Randy by the way, although he might now change that after the Fourth Estate explained to him what meaning it can have over here - will now play the third seed Novak Djokovic who out scrapped Lleyton Hewitt in four sets.
Physical
Earlier yesterday Andy Murray didn't always look comfortable against American Sam Querrey. The way I see him, Murray most enjoys the test of the games smooth skills like his match against Gilles Simon the day before. Querrey's game is physical and erratic. He's a big server with a big heart but he doesn't go into the silky stuff.
So Murray had to graft for the points sometimes, but I think it was further evidence of his emergence at the top of the game that he was prepared to do so.
Gerry Williams
Quotes of the week
So Murray had to graft for the points sometimes, but I think it was further evidence of his emergence at the top of the game that he was prepared to do so.
He won 7-5, 6-3, 6-4, which means he will now face the new French personality boy, Jo-Wilfried Tsonga in the quarter-finals. Tsonga is nicknamed "Ali" because there's more than a hint of Muhammad Ali in his good looks.
Yannick Noah turned himself from a Roland Garros champion into a French pop idol and now the public have their eyes on Tsonga and he is living up to their great expectations.
Reinvigorated
What a pity the draw paired together the two Belgian girls Kim Clijsters and Justine Henin whose return from premature retirement has so reinvigorated the women's field here.
Henin began as she always does, like the buzz fly you simply can't swat. But she needed treatment on her right elbow in the middle of the first set and never quite the same again. Clijsters' business like solidity took her through.
We mustn't forget to tell you that our young doubles heroes of the previous day, Chris Eaton and Dominic Inglot, lost yesterday in four close sets to the very good French pair Julien Benneteau and Michael Llodra. So clearly our lads aren't one day wonders.
Finally I bumped into the most interesting couple around the coffee table in yesterday morning's sunshine. The man turned out to be a former centre-half for Hibs, Sterling Albion and Cowdenbeath.
Being a football man myself - well Crystal Palace - I was fascinated. Guess then who they turned out to be? The answer is Andy Murray's grandparents on his mother's side.
I'd never heard anywhere that our young hero had football in his blood. Had you?