Chicago Grey can land the big one at Aintree this Saturday but the race is not short on genuine challengers...
KEY
* - Neigh chance
** - Bray for a miracle
*** - Hedge your bets
**** - Jumping for joy
***** - Chamberlin's chasers
1. Imperial Commander - Given a chance by the handicapper but still a big task and bounce factor is a big concern. His record on his second runs of the season is terrible **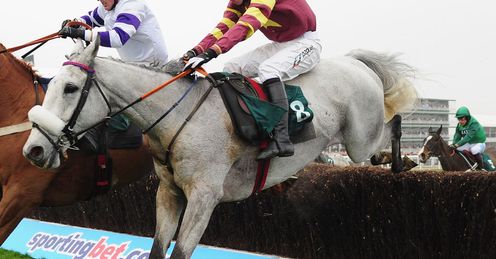 2. What A Friend - Has always been tough to win with and not the force of old *
3. Weird Al - In similar form to Fernando Torres *
4. Quel Esprit - Missed Cheltenham and the Irish National for this. A Grade One winner but his jumping worries me **
5. Big Fella Thanks - More chance of Gary Neville staying the London Marathon trip than him lasting home on Saturday *
6. Roberto Goldback - Has failed to build on his impressive win at Ascot in the autumn **
7. Seabass - Would be a great story if he and Katie Walsh could win. Looks set to go well again and quicker ground plus shorter course will help him stay. However, had no excuse when beaten last year and looks to have a tougher task this time ***
8. Ballabriggs - Great to see him back. Sure to run well and get round but fact remains that since 1899 only Red Rum and Reynoldstown have regained their title **
9. Sunnyhillboy - Brilliant last year but 10lb rise and interrupted preparation this year puts me off **
10. Teaforthree - He attacks his fences like the Sporting Life's editor attacks the canteen servery. His eyes will light up at the sight of the Aintree fences and I think he will relish the test. Should give you a great run for your money ***
11. Across The Bay - Won well after a wind operation at Haydock. Would ideally like softer ground but is a tough and lively outsider ***
12. Join Together - A sure-fire stayer but slower than Michael Shinners. Stats against a horse of this age and may struggle to live with the pace on decent ground **
13. Colbert Station - Lacks experience but his trainer is a master in this race and I know AP was really impressed with him at Leopardstown at Christmas. I'm also convinced that with the modified fences and softer cores this won't be such a demanding test of jumping. Smooth traveller and on the upgrade. The worry is his best form on softer ground ***
14. Forpadytheplasterer - Grand servant but don't think this test suits him **
15. On His Own - Was travelling like the winner before desperately unlucky when squeezed up by Shakalakaboomboom and a loose horse at Bechers last year. My one concern is that he want to get as far back early on as he did last year but hard to find other negatives bar the very short price *****
16. Joncol - Has not won since November 2011 and never achieved what he promised to do **
17. Balthazar King - The ground has come right for him and he goes well fresh. Has missed the winter to be prepared for this. Tough and consistent. Great each-way chance ****
18. Cappa Bleu - Well fancied by some good judges but watching back last year's race, his low jumping worries me ***
19. Oscar Time - Has badly lost his way since that brilliant performance two years ago *
20. Always Waining - Wonderful record round here but doubtful stayer **
21. Quinz - Encouraging return at Kempton but hard to assess. Broke blood vessels in 2011 Grand National **
22. Tatenen - Unusual prep race in the Grand Annual! Would need roller skates to stay this trip **

23. Treacle - Just like Sky Bet's PR guru Dale Tempest. He's too old
24. Lost Glory - Hasn't run since October but is a lively outsider as he's on the upgrade over fences and will enjoy the drying ground. His trainer is a master with a horse like this. Each-way chance ****
25. Saint Are - Built for the job and won well here last season but hasn't lived up to expectations this season and throws in some alarming leaps **
26. Swing Bill - Too high in the handicap to win but does love these fences **
27. Chicago Grey - Revived by a mid-season wind operation and a fascinating contender for shrewd connections, who are in brilliant form. Has dropped to an attractive mark and I love backing a Paul Carberry ridden horse in the National. Will get behind on first circuit but creep in to contention. Massive chance *****
28. Quiscover Fontaine - was still going well when falling at the seventeenth fence last year. Interesting ***
29. Becauseicouldntsee - had a tough race at Cheltenham and has not won since the old king died **
30. Harry The Viking - Finally has his ground, which might revive him, but hasn't looked in top form yet this season**
31. Rare Bob - Ran an eye-catching trial in the Leinster National. Clearly in decent form and stays the trip ***
32. The Rainbow Hunter - In good form, brave and stays well. But will need to improve his jumping ***
33. Mr Moonshine - Inconsistent but is a sound jumper who could run well without troubling the principles **
34. Mumbles Head - Unlike Scarlett Johansson, impossible to fancy *
35. Pearlysteps - Talented but his jumping tends to go to pieces **
36. Auroras Encore - Has shown nothing since second in Scottish National *
37. Ninetieth Minute - Love the name but not his chance **
38. Tarquinius - One of the more interesting outsiders but was disappointing last time **
39. Any Currency - Looks an impossible task *
40. Poker De Sivola - One of the more interesting ones with no weight. Stays the trip and will love the ground but absent since the Becher Chase ***
Prediction
Winner: Chicago Grey
2nd: On His Own
3rd: Balthazar King
4th: Lost Glory
Post to your View!
Be the first to post a comment on this story