Fabio Capello has named the 30 men who could carry England's hopes in South Africa this summer - but now has to whittle the list down to 23.
Seven players will not make it onto the plane to the World Cup and Soccer Saturday pundit Paul Merson admits it will be tough for any of the squad members to miss out at this stage.
However, Merson has looked through Capello's squad and delivered his verdict on the certs, surprises and sacrifices for skysports.com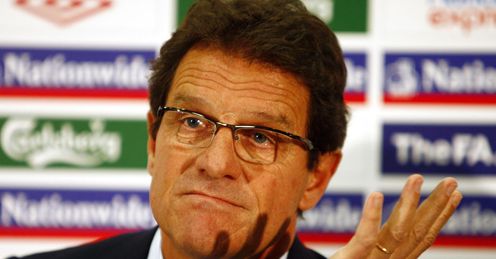 Here are Merson's views on Capello's chosen 30. Tell us if you agree by using the feedback form at the bottom of the page...
Goalkeepers
Robert Green - IN
He was always going to go, but he wouldn't be my number one choice...
David James - IN
I've played with him and I know how good he is. If he makes a mistake he won't hide and will keep coming off his line. He's got the experience.
Joe Hart - IN
You'd be a lucky third-choice goalkeeper if you play at a World Cup, but it's good experience for him. I'd have thought he'll be England number one for many a year.
Defenders
John Terry - IN
He's a certainty to go as long as he isn't injured. But I do think we're blessed with good players at the back.
Ashley Cole - IN
He's a dead cert. The best left-back in the world.
Rio Ferdinand - IN
He's world class in my opinion. He's had injury problems, but there's not many better centre-halves in world football than Rio Ferdinand.
Glen Johnson - IN
He's probably one of the best attacking right-backs in world football and he's got to be on the plane.
Jamie Carragher - IN
I was unbelievably shocked he was included. I can't believe someone who retired in 2007 is going to the World Cup, but he's now the only one in the squad who 100% knows he's going. Capello's not going to put him in the 30 and then bin him. He's got a lot of Champions League experience and that makes a difference, but I'd have taken Gary Neville instead.
Ledley King - IN
I'd take him all day long because he's one of the best centre-halves in the Premier League. His fitness is a question, but he played three big games for Tottenham in 12 days not long ago and he was outstanding.
Matthew Upson -OUT
I don't think he's had a good season at all at West Ham. He's made mistakes, like the one against Egypt, and has been punished for them. You can't do that at the World Cup.
Michael Dawson - IN
He deserves to be in the squad. You like to think that the ones who produce during the season have a chance to play for their country. That's what he's done. I'd take him over Upson because if Ferdinand and Terry are injured, you know he can play with King.
Leighton Baines - IN
He played in the last England game and even though he was a bit nervy I think he'll get in because he's left footed.
Stephen Warnock - OUT
I don't see him going because he didn't play in England's last game. He should have at least got 45 minutes against Egypt. I can see Baines going and Warnock's just a back-up in case one of the other left-backs gets injured.
Midfielders
Steven Gerrard - IN
He hasn't been great this season, but he's still someone who you sit down to watch when his name's on the team sheet. He could win the World Cup for England.
Frank Lampard - IN
If he isn't the best attacking midfield player in world football I don't know who is. He's got more than 20 goals for five years in a row and if a centre-forward did that we'd be raving. He doesn't get the credit he deserves.
Gareth Barry - IN
Despite his injury, he's a certainty to go. If you take Wayne Rooney out of the equation, Barry's the first name on Capello's team sheet. The manager wants his best players for the big games after the group stages - and Barry is in that category.
James Milner - IN
He's come from nowhere and he's going to go. At the start of the season I'd never have thought he would go, but now he's a certainty - and it wouldn't be a big shock if he started.
Michael Carrick - OUT
Capello asked Paul Scholes to come out of retirement, which shows he doesn't rate Carrick that much. Scholes is somebody who sits in front of the back four these days, like Carrick, and I think he'll leave him behind.
Tom Huddlestone - OUT
I don't see him going. He's a great passer of the ball, but I don't think he's agile enough for international football. If England played 4-5-1 he'd have a chance, but I don't see how he can get around the pitch in a 4-4-2.
Scott Parker - IN
I'd take him because he's been the best player in his position this season. He's full of energy and has carried West Ham on his own. I just hope his back isn't hurting from carrying the rest of that team! He's been outstanding.
Aaron Lennon - IN
He's a cert and if I was the manager he'd start on the right wing. He's electrifying and even the best defenders in the world are going to struggle when someone is running at you at that pace. He's a definite.
Theo Walcott - IN
I think he'll go, but he can count himself very, very, very fortunate. Apart from the hat-trick against Croatia, what has he done? What has he achieved this season that lifts him above someone like Ashley Young? He's fortunate to be in the 30 and I think he'll be in the 23.
Shaun Wright-Phillips - OUT
I think he'll miss out. Walcott's hat-trick against Croatia seems to have convinced Capello he's the man, but it's a hard call in my eyes. You can only take so many wingers and Capello may opt for others who can play in more than one position.
Adam Johnson - OUT
He's impressed me, but I can't see why he's in the squad now and wasn't in it before. Has he improved that immensely in the last few weeks? He can only play in one position so I'd leave him out... but he's got a million caps to come in the future.
Joe Cole - IN
He jumps above most of the midfield options because he can play in so many positions. A bit like Milner, his versatility makes him a must. He's a 100 per cent pick in my eyes because when we get down to the nitty-gritty games against Brazil or Spain he can make the key pass or make something happen.
Forwards
Wayne Rooney - IN
He's got to play - and personally I'd play a 4-5-1 with him up front on his own. That includes games against sides like Algeria to make sure we win the midfield battle. Egypt proved in the first half that England struggle when you pack the midfield.
Emile Heskey - IN
He hasn't done anything in the Premier League all season, but he's never let England down. Defenders see the likes of Rooney and Defoe every week, but they don't like playing against people like Heskey and Crouch. I would take him.
Peter Crouch - IN
He's got to go because he's scored a lorryload of goals for England. People say they've come against the smaller teams, but he's hardly played against the big boys. Whenever he plays for England he delivers.
Jermain Defoe - IN
I'm a big fan of Defoe. He's gone off the boil a bit recently, but for me he's still one of the best strikers we have.
Darren Bent - OUT
If he's not on the plane, he's the unluckiest striker in the history of World Cups. He's scored more than 20 Premier League goals for a team that didn't finish in the top half of the Premier League, and has scored more that double what Heskey has. But I think he'll miss out because I don't see Capello taking five strikers.
Comments (457)
Jack Wray (West Ham United fan) says...
parker should go instead of carrack he deserves it more he has been more consistant. heskey is a waste of space bent should go.
Posted 21:19 4th June 2010
Jimmy Whoareya (Sunderland fan) says...
Well Well Well, if you dont take your inform players form the premiership then you wont win nothing,i would like to see an english manager as these forginers dont have a clue about supposedly one of the best leagues in the world...looking at his selection its a joke...i see an early plane home for the lads hope iam wrong!
Posted 23:51 3rd June 2010
Oliver Maycock (Leeds United fan) says...
I think that playing crouch at the start of the match is stupid because crouch is always in the right place at the right time so i think when we are in need of a goal he can be a super sub.Capello should put gerard in strike and play him just behind rooney so he can use his power and pace and partner up with rooney .
Posted 12:21 3rd June 2010
Joewe Lam (Manchester United fan) says...
my starting will be 4-3-3 HART , JOHNSON TERRY FERDINAND COLE , LAMPARD GERRARD CARRICK/BARRY , JOHNSON ROONEY LENNON .
Posted 14:46 2nd June 2010
Geary Lewis (Arsenal fan) says...
I agree with most of Merson's squad except picking Carrick, Milner and Gerrard as they are pretty much the same player. I would only pick two of them and would take SWP definitely, as he is more than a winger in that he can play on the right side of a three man midfield. Yet it matters not who we pick if Capello doesn't sort out the formation which should be a back five consisting of Carra, Rio, Terry and Glen and Ashley as the wingbacks. Ledley King has to play in central midfield against the Spain's and Brazil's for us to hace a great chance, and the front three will take care of itself. We can also play 4-3-3 but no 4-4-2 it inhibits us and we've never won anything playing that way! By the way Sol and Micah should have been in that squad.
Posted 16:52 1st June 2010
Bury Fan (Bury fan) says...
When is capello going to realise that Lampard never turns up for England. He's brilliant for Chelsea but he wouln't be my first choice in midfield.
Posted 15:14 1st June 2010
Kyle Vidamour (Manchester City fan) says...
James,G.Johnson,Terry,Rio,A.Cole at the back, Lennon,Lampard,Barry and J.Cole in midfield with gerrard playing behind rooney...Heskey can always bring his physical game when were chasing a game with crouch whos always got a goal in him.but personally id rather take bent that heskey because he deserves a shot but i think heskey will go.
Posted 14:31 1st June 2010
Man utd fan England alltheway (Manchester United fan) says...
i think heskey shouldn't make it through. walcott and lennon are way better than shaun wright phillips. hart and james with green are choice for GK. joe cole is an amazing player, great goal against jpn. rooney can take england to the finals with gerrard and lampard feeding off him. rio is a great defender and deserves to be captain. he has great experience and can gide the younger players. glen johnson is a rising star as we saw against mexico. he is certainly going through. our biggest rivals in group c is usa. hope it works out for england. all england need to do is attack the ball, not leave it to the last minute.
Posted 14:14 1st June 2010
Carl Mcallister (Manchester United fan) says...
reply to mr stenson,if you are going to knock the england team ,try and get your facts right!Terry crap all season!couple of bad games i agree but since new year has been most consistent centre back in prem.Four or five players in good form?Johnson hasnt been playing well all season,crouch cant get in spurs team,must be watching different league, because think both Coles have ben excellent,Lamps not been to bad,i mean over twenty goals in season!AGAIN!!!!Rio has now played last five ,six games not looked to bad has he,won all games since hes been back for utd and England.Think Serbia and Ghana would not wont to play us,Serbia in disarray Ghana without they one world class player.England quarters easily then who knows.Come on England!!
Posted 13:54 1st June 2010
Danny Smith (Leeds United fan) says...
starting 11 , my choice , :: joe hart , glen johnson , rio ferdinand , ledley king , ashley cole, theo wallcot , frank lampard , steven gerrard, james milner , emile heskey , wayne rooney
Posted 13:34 1st June 2010
Phill Fryer (Manchester United fan) says...
if only we could take 23 wayne rooney's
Posted 13:28 1st June 2010
Darren James (Tottenham Hotspur fan) says...
Theo Walcott was the new Henry, he coud not run a bath let alone a touch line. SWP all day long
Posted 13:03 1st June 2010
Wayne Gaffney (Liverpool fan) says...
England are not going to win the WC. If they get to the quarter final they will be lucky. Crouch should be starting with Rooney, Heskey should be at home playing Fifa 10 on his xbox along with Theo Walcott and Gary Neville. Englands best players are Rooney, Gerrard, Joe Cole and John Terry. If all 4 of them play they will do ok.
Posted 12:55 1st June 2010
Tom Williams (Sunderland fan) says...
i would take scott parker as he has had a fantasitic season for west ham. darren bent for me has to go and he has scored 23 premier league goals. the 2nd top english goalscorer. what has heskey contributed this season!!!!
Posted 12:44 1st June 2010
Ian Hurrell (Tottenham Hotspur fan) says...
Heskey would only go to fall over in the box,but please don't let Lamps take the pens.walcott is a joke,leave him at home where he belongs.Bent is lazy.I don't think it matters who he takes England haven't got the heart to win.
Posted 12:43 1st June 2010
Ian Coult (Sunderland fan) says...
Amazed that no one gives Bent a chance to go to SA. He is the third highest scorer in the Premier League and the second highest if you take away Drogba. I thought Capello said he would pick the england team on form !! Heskey 3 goals this season + 2 cup goals against Bents 25 goals all in just doesnt stack up with regard to Fabios comments. what if Rooney gets injured ( likely ), are we going to play with heskey and defoe or crouch, looks like another tournament of ' what ifs !!! '.
Posted 12:38 1st June 2010
Jack Coyer (Newcastle United fan) says...
My squad would be: James, Green, Hart, G Johnson, Terry, Ferdinand, Carragher, Dawson, King, Baines, A Cole, Walcott, Lennon, Gerrard, Lampard, Parker, J Cole, Milner, A Johnson, Rooney, Crouch, Defoe, Bent. My 7 to drop would be: Heskey (can't score goals for England, can't play for Aston Villa - why him and not Agbonlahor/Zamora?), Upson (has not coped well, in a season that West Ham would rather forgett), Warnock (3rd choice left-back, although could break through in a few years), Huddlestone (a bit inexperienced, and lacked a few necessary qualities against Japan, but should really burst onto the scene in time for Brazil 2014), Wright-Phillips (not been in his usually superb form, would have picked him in any other year), Carrick (lacks the determination that Scott Parker has in the holding midfield role, and lacks the creativity and goals that Gerrard and Lampard have in attacking midfield) and Barry (would be a great pick, but severe doubts about his recent fitness).
Posted 12:26 1st June 2010
Keith Cornish (Exeter City fan) says...
Arron Lennons goals per caps is atrocious.Whats the point of bombing down the wing and crossing to nobody as the rest are still trying to catch up.If england are losing at least Theo can score goals.Remember the Hat trick. Lose Lrennon,Cole, King, Huddlestone, Bent Wright phillips and Dawson Wheres Ian Wright then blame Capello for not liking him so will not play Shaun and how many caps did you win Ian Nuff said
Posted 12:15 1st June 2010
Luke Ellis (Cardiff City fan) says...
I would Leave out John terry i think he is overated dawson is the man to play along side rio. Darren Bent he jus connot play with rooney every time they have played together not one of them have scored. Steven Warnock He hasn't played one minute of the warm up games hasn't had a chance so he will not be going. Scott parker has had a really good season but he has played for england in the warm up and i dont think he could compete for a place in englands midfield Adam Johnson he is young and it would be hard to get in the squad with the likes of theo joe cole phillips possibly milner. i would not take heskey either he just cannot finish Carrick just havent had no game time
Posted 12:10 1st June 2010
Jake Johnson (Sunderland fan) says...
take darren bent because he scored more goals than heskey, crouch, and Defoe and will do well for england
Posted 11:59 1st June 2010