If Chelsea win at Old Trafford they will go top of the table, but they'll still have a lot of work to do to win the league.
However, if Manchester United win the game - or even get a draw - then it's all over. Their last two fixtures are against Blackburn and Blackpool, while Chelsea are at home to Newcastle and go to Everton on the final day. That's not easy.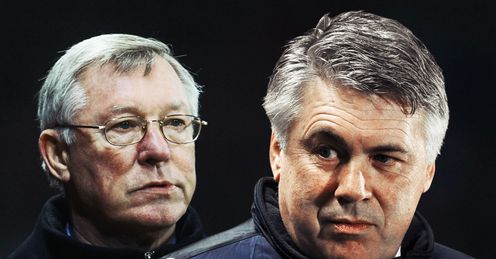 So the title could be decided on Sunday, but only if the result goes in United's favour.
It's worth pointing out that there's a lot of other things riding on this game for different reasons, including the relegation battle. All the fans of the bottom clubs will be watching this one because it could have a big impact on who goes down.
Blackburn and Blackpool fans will hope Man United win, so that Sir Alex Ferguson might play a second string against them. If United sew the title up then they might rotate to keep their players fresh for the Champions League Final.
To be honest, if United don't win the title this year it would have to go down as one of the biggest melts ever. People talk about Newcastle in 1996, but they weren't expected to win it that season. United have done it a million times and it would be a major shock if they messed it up.
Paul Merson
Quotes of the week
LIVE ON SKY SPORTS
Wolves v West Brom
11.30am, Sun, Sky Sports HD1
Stoke City v Arsenal
2pm, Sun, Sky Sports HD1
Man Utd v Chelsea
4pm, Sun, Sky Sports HD1
Final game also on Sky 3D
Watch online with
Sky Player
How to
remote record
But if Man United finish the game level on points with Chelsea, they'll need to score as many goals as they can against those two clubs because the title race could go down to goal difference. That's why fans of Wolves, Wigan and the other teams in the scrap will be hoping for an away win on Sunday.
So this game isn't just about the title. It's also about the relegation battle and the Champions League. A defeat for United would really mess up their preparations for facing the Barcelona machine!
To be honest, if United don't win the title this year it would have to go down as one of the biggest melts ever. People talk about Newcastle in 1996, but they weren't expected to win it that season. United have done it a million times and it would be a major shock if they messed it up.
Last week at the Emirates they didn't seem like a team that was desperate to get something to win the league. They were quite poor and were nowhere near as good as the team that won in Schalke just four days earlier. Ferguson must have been pulling his hair out because his team's form went from one extreme to another.
I think we'll see the normal Man United on Sunday and they're the favourites for the game in my eyes. Remember, they beat Chelsea home and away in the Champions League last month and that will have dented the away team's confidence. I think if Man United get an early goal they have a good chance of winning the game.
It's a fairly easy approach for Chelsea; they just have to go for it. A 0-0 draw is no good for them so they should play two up front and try and cause some damage.
You definitely have to play Didier Drogba, but I'd also throw in Fernando Torres and ask him to repay that £50million in this one game. He's got a good record against United from his Liverpool days, so why not?
I know he didn't play well against them in the Champions League, but he's scored a goal since then and Chelsea are on a roll now. They're much more confident than they were in those European games, so I'd play 4-4-2 and give it a go. They have to come off the pitch thinking that they did all they could.
People say Carlo Ancelotti needs to win the game to keep his job, but I still can't see why they'd want to sack him. He won the double last year and he might end up losing the league on goal difference this year. That's a very good record.
The owner has the right to make his own mind up, but Ancelotti won't be short of job offers if he leaves. People will queue up to appoint him and who are Chelsea going to get that's better? This has been a funny season for everybody and he deserves at least another year.
And if he's getting the sack then why is nobody talking about Arsene Wenger in the same way?
PAUL'S PREDICTION

DRAW - This should be a good game between the two best teams in England at the moment. I'd like to see Chelsea win, but I just don't see Man United losing the game. Chelsea will want to open the game up, but United won't and it could be quite a nerve-wracking affair. I'm going to call it as a 2-2 draw, but there could be a heads-or-tails situation with one of them winning it late on.
MERSON'S MAGIC MAN

FRANK LAMPARD - Since Drogba has come back into form we've started to see the best of Frank Lampard. There will be an interesting battle in midfield and someone like Michael Carrick may have to track him, but if he falls asleep just once then the ball could end up in the back of the United net.
Comments (9)
Adam Pearson (Chelsea fan) says...
Ryan Beattie if you look at the form guide of last 5 premier league games, I think you will find we have won all 5 so how can you say that? We beat West brom in those 5 games, out go them, Everton lost to Man Utd, Fulham drew to Wolves and Liverpool drew with Arsenal. Mysterious. Well done Merse, this muppet trying to pick out mistakes in your blog and he's completely wrong. Haha.
Posted 17:10 6th May 2011
Ancel Sinaswee (Manchester United fan) says...
With Chelsea having to win, Manchester United will be confident that they have players who are quick and can hurt Chelsea whenever they commit players forward. That will be the key game time decision for Carlo Ancelotti, whether to give a little more protection in midfield being wary of the counterattack or if to go with his best attacking lineup. No matter how both teams play it, this should be a wonderful game.
Posted 15:43 6th May 2011
Robert Gaunt (Manchester United fan) says...
man utd are going to win not draw coz utd have better home and away wins against other premier clubs in england and at european clubs inculding that shalke fc thrashing which man utd won that match and cheslea have no chance they'll always under pressure whether it's injury, suspenion or more headaches for the cheslea fc boss i think cheslea should stop whinning and start playing football coz one day man utd fc are going to score 5-0 or something and that's great from a team like man utd coz by the time they have landed 3-2 players at old trafford there will be more old trafford respective victories
Posted 15:35 6th May 2011
Nigel Cooper (Chelsea) (Chelsea fan) says...
Ryan Beattie do your research b4 you make statements like yours. Chelsea have won 8 and drawn 1 of their last nine games noone else comes close in the premiership which is why Merse has said so!!! Chelse to win 2-1 again. For all you united fans going on about lucky chelsea decisions I can only point out stick on penalty decisions against us against Tottenham or against uited in CL at the bridge or home against Liverpool and also you didn't have rooney sent off against Blackpool Vidic not sent off last week and that dodgy goal you were given against Tottenham at OT so all teams get good ones and bad ones like the match at OT last year Drogba offisde Macheda punches ball into the net with his hand. Lets just enjoy the game may the best team win and hope that neither team wins due to a webb mistake ( I suppose that might be asking a lot though).
Posted 15:05 6th May 2011
Neil Ferguson (Chelsea fan) says...
Realistically, not only do Chelsea have to win, but they have to do so by 2 clear goals and that's a very tall order indeed. If one assumes (big assumption in this topsy turvy season) that both Chelsea and MU win their next games against Newcastle and Blackburn and by the same margin, then unless Chelsea go into the final round of matches with at least a +4 goal margin, the title goes to MU. Chelsea will be very lucky to even beat Everton by a single goal but it's not hard to imagine MU scoring a hatfull against Blackpool. It's MU's 19th title I'm afraid.
Posted 14:27 6th May 2011
William Greig (Manchester United fan) says...
Chelsea have found a bit of form of late, granted but their defence still looks very shaky to me . I have a feeling that the combination of Valencia, Rooney & Hernandez will prove too much for the chelsea back four, and i fancy united to win comfortably 3-1.
Posted 14:17 6th May 2011
Adam Pearson (Chelsea fan) says...
I agree massively with you Merse as always. Got to be optimistic and say I think we'll win. However, a 1 goal margin still could quite easily not be enough to win the title on goal difference. I'd fancy us to beat Newcastle by 2 or 3 at home and maybe snatch a 1 goal win away to Everton, but United could quite comfortably beat Blackpool by 5 and Blackburn by 3 (without underestimating these teams that is - of course they could nick points off either of us). However if we score early, United will have to attack and that will play in to our hands. 3-1 Chelsea I think.
Posted 13:40 6th May 2011
Ryan Beattie (Birmingham City fan) says...
The two best teams in England at the moment? I think you'll find Liverpool, Everton, Fulham and WBA are the four best teams in the Premiership at the moment which is the best league in England so how do you work that out?
Posted 13:06 6th May 2011
Adeniyi Obankie (Chelsea fan) says...
I just have a question, can't chelsea go on 4-3-3 information wit the present of "Torres" ?? Mol- Tor- Dro
Posted 11:45 6th May 2011