As ever, you can follow all the Premier League action this weekend on Sky Sports.
We asked Soccer Saturday expert Paul Merson to look at the fixtures and give us his verdict on where the games will be won and lost.
He's taking a close look at the live games but this season he's also having his say on all of the other matches, too.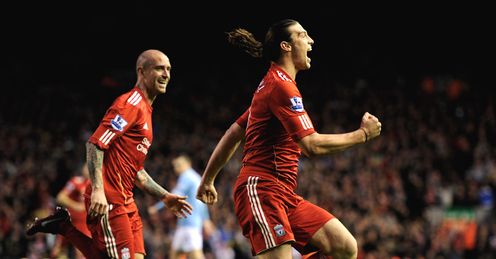 So read on for his shouts and don't forget to let us know your views in the comments box...
Ford Football Special: Stoke v Blackburn
12.30pm, Sat, Sky Sports HD2
I hardly ever back against Stoke at home, but I can't believe how they're playing at the moment. They're all over the place.
I know they've struggled with the impact of playing in Europe, but they had a two-week break before the game with QPR and I thought they'd be fired up, back to the same old Stoke, but they conceded three goals at home.
They're not defending well and I don't think the midfield is giving the back four enough protection. If Wilson Palacios is fit he should play because they need a solid midfielder to screen the centre-halves.
They spent a lot of money in the summer and I tipped them for the top eight at the start of the season. It wouldn't have surprised me if they were where Newcastle are now.
But it isn't gelling and while I don't think they'll go down I have seen better teams than this finish in the bottom three over the years. At the moment it's not the Stoke we know and it's strange to see, but they are capable of turning things around and going on a roll.
I wrote last week that Blackburn had been unlucky this season, but they couldn't have had more luck against Wigan last week.
You could say that late equaliser is a turning point, but at the same time they were playing a Wigan team in poor form. It's not ideal when you are relying on good luck to beat a team like that.
Steve Kean has been good for the Blackburn owners because he has taken all the stick away from them, but I was surprised to see them announce they were giving him a new contract. I'm not saying he shouldn't get one, but why wind the fans up even more?
They'll miss David Dunn after his red card because he's one of their players who can do something out of the blue. They'll still go and score some goals at Stoke because this is a good time to play them... but they'll concede a few as well.
Put me down for a Desmond.
PAUL PREDICTS: 2-2
Super Sunday: Swansea v Aston Villa
1pm, Sun, Sky Sports HD1
I keep saying it, but Aston Villa remain my dark horses for relegation this year.
I know Tottenham are a good team, but Villa were so poor on Monday night. They've got players like Marc Albrighton, Barry Bannan and Charles N'Zogbia in their squad, but they started with Alan Hutton on the right wing, which is very unadventurous.
They were concerned with keeping Gareth Bale quiet and I understand that, but on the other wing Gabby Agbonlahor was spending too much time dropping deep and that simply isn't his game. He's the sort of player you want on the shoulder of defenders chasing balls over the top.
Darren Bent must have been licking his lips when he signed and they had Ashley Young on one wing and Stewart Downing on the other. Now he's not getting nearly enough service.
If Villa play that way again then they will lose again. Swansea are a decent team who will keep the ball, stretch Villa and make chances. They haven't conceded many goals at home, but teams have looked like scoring against them and Villa must try to attack them.
I have been impressed with Swansea so far. You can ignore the Man Utd game because Sir Alex Ferguson was never going to let his team come away with anything less than three points after City's result earlier in the day, but I like what Brendan Rodgers has been doing.
Looking at the way Villa played last week and looking at Swansea's home form, I think I have to back the home team.
PAUL PREDICTS: 2-1
Super Sunday: Liverpool v Man City
3.30pm, Sun, Sky Sports HD1
It will hurt Roberto Mancini's pride if Manchester City drop out of the Champions League, but it might just help them win the title.
They had a difficult group with a strong Napoli team and a Bayern Munich side who are among the top four teams in Europe right now. I expected them to go through, but it was always going to be a big ask in their first season.
This is a team that is just starting out and you have to learn to walk before you can run. They won the FA Cup last season and this year should be about winning the Premier League. You can't realistically challenge for all the major honours at this stage.
If they end up in the Europa League I'm sure they could field a reserve team and do alright - but as long as they are top of the Premier League, their fans won't mind what happens.
As Napoli have proved, this team is beatable. They've hardly been wiping the floor with everyone in the last few weeks and they will be tested by Liverpool. I watched City play Newcastle on Soccer Saturday last week and if Demba Ba had scored a great chance at 0-0 it could have been a different game.
Remember, Liverpool are a big-game team and they rarely disappoint against the big boys. We've seen them win at Arsenal and Chelsea this year and they should have beaten Man Utd as well.
Their fans know their football and they're quite shrewd. If Liverpool set up with a 4-5-1 on Sunday the fans won't get on their backs; they understand that's the best way to play the game.
They lacked pace against Swansea, so I was pleased to see Craig Bellamy in the team at Chelsea and I would play him again here, probably on the wing with Stewart Downing on the other.
You have to pick Luis Suarez, but I'd ask him to come a bit deeper and connect himself to Nigel De Jong or Gareth Barry when City have the ball to prevent them from dictating play. They can't afford to be picked off in midfield. You could then go with Andy Carroll as your targetman who could provide an option up front when things get tight in midfield.
They need to keep things tight, but I think Liverpool are a big-game team and will get a result.
PAUL PREDICTS: 1-1
The rest of the weekend's games
Bolton v Everton
PAUL PREDICTS: 1-1
Everton had a good result last week and need to put a run together, so it's important they don't lose. Bolton would have been disappointed against West Brom and will also have highlighted this as a game they can win. I think it will be a draw.
Chelsea v Wolverhampton
PAUL PREDICTS: 2-0
This is a big pressure game for Chelsea and Wolves will turn up and try to keep the crowd quiet for 20 minutes. Chelsea are low on confidence at the moment, but surely they've got to win this?
Man Utd v Newcastle
PAUL PREDICTS: 2-1
I watched Man United in midweek and they missed Wayne Rooney's X-Factor. Newcastle went to Man City and played 4-4-2, so I think they'll do the same thing again here. I don't think Alan Pardew will complicate things because his players all know what they're doing. They are capable of scoring a goal and I wouldn't be surprised if it's a draw, but I'll go for United... just.
Norwich v QPR
PAUL PREDICTS: 1-2
It was a great win for QPR at Stoke last week and you've got to give any team credit for scoring three goals away from home in this league. Heidar Helguson has been a big surprise and if they can win this they can start looking upwards and not downwards. Norwich are a bit leaky and I don't see Neil Warnock letting his team lose here.
Sunderland v Wigan
PAUL PREDICTS: 2-1
I'm doing this game for Soccer Saturday and I'm pretty sure Wigan won't go there and keep a clean sheet. But they could be dangerous opponents for Sunderland because the pressure is on them to win this. Wigan won't go and keep things tight, they'll play their normal open game, and I see Sunderland winning narrowly.
West Brom v Tottenham
PAUL PREDICTS: 2-2
Tottenham are playing well, but they could have lost their last two away games at Fulham and Blackburn, so West Brom should take heart from that. Spurs are not invincible and aren't playing well enough away from home, so I think West Brom have a chance of getting a draw.
Arsenal v Fulham
PAUL PREDICTS: 3-0
I think Arsenal should win this by at least three - with Robin van Persie getting two. There are no words to describe him at the moment, but the others are starting to play well too. Aaron Ramsey has been excellent, Alex Song has been good and Theo Walcott is playing better than he has for a long time. They're bouncing off Van Perise's example and playing well at the same time.
Follow Saturday's football on Soccer Saturday from 12noon on Sky Sports News HD and then see extended highlights on Football First from 8.25pm on Sky Sports HD2.
Comments (29)
Josef Roberts (Liverpool fan) says...
i think liverpool has a good chance at keeping it 0 0 as we are tied with MC for best defensive unit at the moment.... maybe if we convert a little better in the MC game we can win who knows YNWA
Posted 23:07 26th November 2011
Alec Gee (Manchester City fan) says...
There's a lot of bitter MU fans out there! You claim you're so good and we truly silenced you. (6-1) Can't believe you'd want Liverpool to win - you have short memories of a couple of weeks ago! You can't cope with the fact you're not doing so well at the moment!
Posted 22:01 26th November 2011
Alex Newby (Manchester United fan) says...
I think Man City will give Liverpool a good game but home advantage for Liverpool and i think they will win 2-1 but only just, I'm thinking they may win very late in the game. Manchester United should beat Newcastle I don't see why not but they will give us a run for our money. Manchester United 3-2 Newcastle United.
Posted 13:45 26th November 2011
Kwame Andoh (Manchester City fan) says...
I think the winning spree for Man. City will continue. The match will be difficult but City will surely prevail. One nil for us.
Posted 13:39 26th November 2011
Jason Smith (Aston Villa fan) says...
Just a moment here paul, your saying the way villa played against spurs must mean we are going to lose, of course, to swansea.. Now a football match is like a relationship, it's never the same game twice! So I'm pretty sure we won't play like we did against spurs, because wasn't you lot on sky sports a few months back praising Villa for the way they played against blackburn, these pundits are very forgetful.. of good performances!
Posted 11:32 26th November 2011
Ross Smith (Newcastle United fan) says...
i think newcastle could go to old trafford and get something after watching man u in midweek they are a few central midfielders short of a world class team, cabaye will rule the midfield today. come on the toon cause an upset. merson you are a legend on the skysports panel and you have some words of wisdom
Posted 10:35 26th November 2011
Jamie Clayton (Liverpool fan) says...
chelsea wont beat wolves they cant beat anyoneat the mo
Posted 09:54 26th November 2011
Dave Johnson (Tottenham Hotspur fan) says...
I'm sorry, but there is surely a high chance that we'll beat WBA? Despite WBA playing well this season, as we saw when they played Man U and chelsea, but even though we performed under par performances at Fulham and Blackburn, we still won these games. Unfortunately, theres a high chance that Jermaine Defoe and Raphael Van Der Vaart won't travel to WBA. But we have won a number of games this season without Jermaine and Raphael's performance on monday against Villa was poor to say the least, hopefully he'll get a well-deserved game off to recover from his injury and be back on amazing form for our Europa league match in the weel. COYS!
Posted 23:55 25th November 2011
Abebe Beso (Liverpool fan) says...
liverpool 2 - 1 man city. done!
Posted 21:30 25th November 2011
Terence frederick Shellito (Chelsea fan) says...
We must beat Wolves saturday if we fail I do not see how we can win anything this season I just feel there is something not quite right with the team perhaps Ballack is right.
Posted 21:09 25th November 2011
Alan Buttrick (Manchester City fan) says...
Liverpool have a great record against the top teams,im sure there fans are optimistic that they can beat city at anfield on sunday,city have only won there twice in 55 years,but im hopeful that the blues can change that,after suffering the 2-1 defeat in italy im sure they are keen to get back to winning ways,and where better to do that than anfield
Posted 20:45 25th November 2011
Graham Trotter (Sunderland fan) says...
As a Sunderland fan I know how much a win would really help us but we need to do it small or make an impact so my prediction is Sunderland will keep a clean sheet. so it'll either be Sunderland 1-0 Wigan, Sunderland 2-0 Wigan. Sunderland 3-0 Wigan
Posted 19:26 25th November 2011
Manny Gill (Arsenal fan) says...
i am sure arsenal will carry on the great results and beat fulham 3-0. rvp getting all the goals
Posted 18:50 25th November 2011
Michael vel Vel (Liverpool fan) says...
Iam a Liverpool fan. Hope Liverpool will get a result from this coming sunday match with MC. If everthing goes right there is a very big chance Liverpool to win because Liverpool is the "big team winner" goit because "you will never walk alone"
Posted 17:55 25th November 2011
Sumeet Kumar (Newcastle United fan) says...
I reckon he has got the west Brom and Tottenham prediction wrong i think west Brom will win 2-1 and Newcastle to draw 1-1 against Manchester united.
Posted 17:50 25th November 2011
Paul Coey (Manchester United fan) says...
i think liverpool can get in citys faces and beat them 2-1 (fingers crossed)...man u will beat newcastle 2-0, hope vidic and rio are back in the centre who can control from the back and feed the wingers leaving attack after attack....
Posted 15:38 25th November 2011
Paul Clark (Tottenham Hotspur fan) says...
think `pool well capable of at least a point v`s city,also think the toon could take a point off utd,as for the Spurs,if and its a big IF they keep a clean sheet then its three points off the baggies. coys
Posted 15:31 25th November 2011
Joshua Eason (Newcastle United fan) says...
iam a newcastle fan and am delighted with the progress we have made this season so far,but think chelsea will be lucky to win at home when they play wolves like,i think the toon will finish top7 i think. My top 7 for this season is MAN UTD 1ST MAN CITY 2ND CHELSEA 3RD LIVERPOOL 4TH TOTTENHAM 5TH ARSENAL 6TH TOON ARMY 7TH :)
Posted 15:16 25th November 2011
Arthur Albiston (Manchester United fan) says...
I won't go as far as singing YNWA Mohammed, but it's not often that I want Liverpool to win a match. This weekend is an exception :)
Posted 15:10 25th November 2011
Robert Sorrentino (Tottenham Hotspur fan) says...
Winning away and playing badly has been characteristic of most PL winners and contenders. Spurs are now winning these games which a few season ago they would have probably lost. THFC are much better side now Merso. It's time to upgrade your opinion of THFC. PS stop overrating RVP he's no better than RVDV. But keep bigging him up though it'll make it even more funny when he leaves.
Posted 14:33 25th November 2011