You can follow all the Premier League action in the build-up to Christmas on Sky Sports.
We've got three live midweek matches for you with Blackburn v Bolton (Tuesday), Wigan v Liverpool (Wednesday) and Tottenham v Chelsea (Thursday).
We asked Soccer Saturday expert Paul Merson to look at the fixtures and give us his verdict on where the games will be won and lost.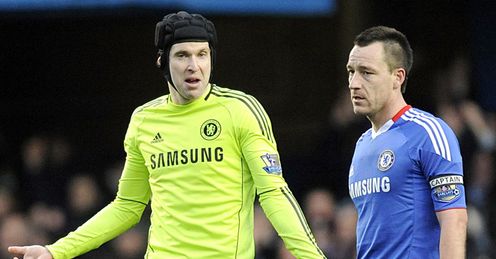 So read on for his shouts and don't forget to let us know your views in the comments box...
Blackburn v Bolton (7.30pm, Tue, Sky Sports HD1)
PAUL PREDICTS: 2-1
To describe this game as massive would be an understatement; you can turn the lights out on whoever loses this. Bolton are five points behind Wolves in 17th and could end the night eight points behind them. They're getting cut adrift and would need three wins to get out of it - and they've only won three all season! Owen Coyle doesn't seem to get much stick, but if Steve Kean loses this I don't think he'll still be there on Boxing Day. However, I think they will beat a Bolton side that's all over the place.
Wolves v Norwich
PAUL PREDICTS: 2-1
Mick McCarthy will look at this game and think his side have to win it. You can't even contemplate them losing at home to Norwich. However, I watched Norwich against Everton on Soccer Saturday and they are decent. They'll go to Molineux, play 4-4-2 and have a go. They'll be relaxed and all the pressure will be on Wolves, but I'm going for a tight home win.
Aston Villa v Arsenal
PAUL PREDICTS: 0-3
I think Arsenal looked alright against Man City and are clearly a much better team than they were at the start of the season. A bit of bad defending let them down, but otherwise they did well. As for Villa, it's lucky they beat Bolton or else they'd be in severe trouble. They haven't looked like scoring in four of their last five games - so that shows you how bad Bolton must be because Villa can't muster a shot normally. I'll go for a comfortable Arsenal win.
Man City v Stoke
PAUL PREDICTS: 3-0
This will be a good game because Stoke are flying. They went through a patch when you thought they might be in a bit of trouble and then bang, they've won four on the trot. However, I can't see many teams beating Man City, who bounced back from that Chelsea defeat really well against Arsenal.
Newcastle v West Brom
PAUL PREDICTS: 1-1
Newcastle have hit a little patch where they're struggling to get a result, almost the opposite of Stoke. For me, West Brom are dangerous on the counter-attack with players like Peter Odemwingie and Shane Long at their disposal and they should be able to do some damage on a big pitch. I am going to go for a draw here.
Everton v Swansea
PAUL PREDICTS: 3-0
I watched Everton on Soccer Saturday and they are the perfect example of my phrase 'bag of Revels'. In parts of the game they never look like scoring and then all of a sudden they get going and they look a different class. There were parts of the game that make you think they could be in the top six if they played like that every week. If they get ahead of steam I don't see Swansea being able to live with them.
Fulham v Man Utd
PAUL PREDICTS: 1-1
This is a hard game for Manchester United because I think Fulham are a decent football team; they can give anybody a match at home and I think they'll get a result. I've seen them a couple of times at Craven Cottage and they have lively players up front such as Clint Dempsey and Bryan Ruiz, who scored a great goal against Bolton. They should cause Man United problems.
QPR v Sunderland
PAUL PREDICTS: 2-1
Sunderland did well against Tottenham and are looking more solid under Martin O'Neill, but I'm going for a QPR win - simply because they have to. Don't get me wrong, Sunderland need the three points, but if QPR don't win this at home they're in for a long season. They're the team that's sliding down the table and they need to put a cushion between themselves and the teams at the bottom. Home advantage could decide it.
Wigan v Liverpool (7.30pm, Wed, Sky Sports HD1)
PAUL PREDICTS: 0-2
Wigan were outstanding against Chelsea and deserved their draw; I didn't see that one coming! If they keep playing like that they will give anybody a game, but I still fancy Liverpool. They're a strong team, as they showed against Aston Villa at the weekend.
Tottenham v Chelsea (7.30pm, Thu, Sky Sports HD1)
PAUL PREDICTS: 3-1
Chelsea fans used to call it Three Point Lane, but things have changed a bit now. I wasn't impressed with Chelsea at all on Saturday, it was a bad result to go to Wigan and draw - and in the end they were lucky not to lose it. I can see Tottenham beating Chelsea - and I see them doing it comfortably as well. If you can't win at Wigan then you can't win at Tottenham!
Comments (6)
Larry Jacobs (Manchester United fan) says...
This Arsenal apologist never ceases to amaze me. Arsenal will have a comfortable win against Villa but United will draw with Fulham?! How did you figure that Paul? United are far better than Arsenal, mind you. Just look at the table.
Posted 02:49 20th December 2011
Elijah Handley (Liverpool fan) says...
Stoke are normally poor away and have zero chance of stopping City on their travels in my book. 4-0+ obliteration - Aguero with two, Silva with one, Super Mario with another - Silva will set them up magically At St James Park, Newcastle should win. They're capable of making Europe if they can find their early form because I see Chelsea and Arsenal dropping places. 2-0, Ba getting both Everton will be a draw I think. Goalless since Swansea keep a lot of clean sheets and Everton have forgotton how to score. United should thrash'em as much as I'd love Fulham to rob them of points, despise the mancs. 3-0 or 4-0, Rooney scoring two, Nani with one, Jones nicking one from a corner maybe? QPR have had some bad days but anyone who beats Stoke at Brittania can beat Sunderland, home or away. Merse has it bang on I feel for Wigan, the way they play deserves better than where they are atm. But this is my club we're talking about so anything less than victory is unacceptable even though we have a tendency not to beat the small teams. Merse is bang on again I think. Call me crazy - Andy Carroll will start the game and knock one in with his head in the first half/early second half, and Suárez will dance around the defenders and add the second late on. Hate Chelsea with a passion and Tottenham are my favourite cockney club. Want Spurs to take all the points and I think they will but I think Merse is wrong this time - it's gonna be tight but Spurs will win, in the same fashion as we did against the blues with a late winner. 3-2 i think - Adebayor will open the scoring, Lampard will equalise from the spot, Chelsea take the lead with Torres, Bale will equalise, a Chelsea player gets sent off like they always do then Van the Man will bang in the injury time winner. I do love it when Chelsea lose, hence all the detail, apologies for rambling on Come on the mighty reds!
Posted 00:49 20th December 2011
Elijah Handley (Liverpool fan) says...
I think merse has the Blackburn/Bolton one right, but I want Bolton to win. If Rovers lose, maybe the owners wil come to their senses - a team who loses at home to the bottom team really need a new manager. I do like McCarthy and want Wolves to win and think Merse has this one right. Definetely has the Arsenal game right - if not 3-0 then it will be more and RVP will get two at least. Villa have just been poor recently
Posted 00:29 20th December 2011
The Red (Manchester United fan) says...
I am very surprised no one has mentioned James Mc Carthy as a possible transfer target for the major clubs after a very good 2nd half performance against Chelsea at the weekend, some of the passes where reminiscent of a young Paul Scholes. I would have him at United in January
Posted 17:47 19th December 2011
Steve l Biles (Wolverhampton Wanderers fan) says...
.... if you can't win at Wigan, you can't win at Tottenham ....... unless you're Chelski - 1-3.
Posted 16:20 19th December 2011
Marcus Brendling (Tottenham Hotspur fan) says...
As much as i would like to agree with Mers i cant. I dont think it will be that easy for tottenham. Chelsea are still a top 4 side and can beat anybody as proven against Man City. I hope Spurs do win but I would take a draw. The only advantage Spurs can hope for is Terry to be injured and Luiz plays. Drogba always does well against Spurs so hopefully he wont play but im sure he will as torres wont start. So im hoping for a 2-1 win for Spurs but i think it will finish 2-2
Posted 15:32 19th December 2011