As ever, you can follow all the Premier League action this weekend on Sky Sports.
We asked Soccer Saturday expert Paul Merson to look at the fixtures and give us his verdict on where the games will be won and lost.
He's taking a close look at the live games but this season he's also having his say on all of the other matches, too.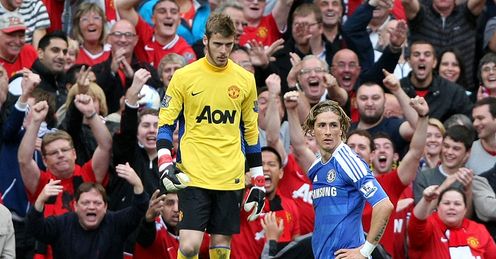 So read on for his shouts and don't forget to let us know your views in the comments box...
Ford Super Sunday: Newcastle v Aston Villa
1pm, Sun, Sky Sports HD1
Newcastle are above Liverpool and Arsenal in the Premier League and they're starting to remind me of the time Everton finished in a Champions League spot.
But I just have a funny feeling they might lose on Sunday.
They've been scoring the first goal and riding their luck in some games. I don't know how they managed to beat Blackburn, that's a football match they should never have won, but they defended very well, they restricted the other team and Tim Krul didn't have to make many saves, apart from the penalty.
Everyone will now turn up and expect them to beat Villa at home, but I don't think Newcastle are playing great football and I don't see it happening.
Demba Ba could be involved again, but he'll have lost a lot of pride at the Africa Cup of Nations. His country, Senegal, finished bottom of their group without winning a game and I wouldn't be surprised if that knocks him a little bit.
Also, Aston Villa are good on the counter-attack as we saw against Arsenal last week. They also played very well in the second half against QPR and I just think they will be a threat to Newcastle.
I haven't been impressed with them this season, but they've been decent in the last couple of games. If they'd got through the first 10 minutes of the second half at Arsenal without conceding a goal then I think they'd have won the game. They might even have picked Arsenal off again. If they play like that against Newcastle they won't be too far away.
Charles N'Zogbia produced his best performance in an Aston Villa shirt in midweek and he always seems to do well against Newcastle, as we saw in his Wigan days. Maybe that will be the case again.
I don't know why, but I just have a feeling this game won't go the way everyone's expecting.
PAUL PREDICTS: 1-2
Ford Super Sunday: Chelsea v Man Utd
3.30pm, Sun, Sky Sports HD1
The fixture list is going to make things very interesting in the title race this season.
The games seem to come in spurts for Man United and Man City. One of them will have a tough run, while the other has some kinder games and then it swings around the other way.
This is a big couple of weeks for Sir Alex Ferguson. I expect Man City to beat Fulham, so the pressure will be on Man United to close the gap on Sunday by getting a result at Chelsea. They've then got to play Liverpool next weekend and do the same.
But if Man United are there or there abouts with six or seven games to go then I expect them to win the league because they have a much kinder run-in - and also because they've been there before.
Man United aren't playing great at the moment, but they do it every year. They know how to win football matches and it's a credit to everybody at the club that they keep doing it year in, year out.
Wayne Rooney will be massive for them. You can get by without him for a game or two, but if he's missing for six or seven games that would really hurt them. Whether he plays or not, I expect Man United to have a go at Chelsea because that's the only way they know.
For Chelsea it's all about staying in the top four and getting in the Champions League. That's not certain for them with Liverpool, Arsenal and Newcastle all on their tails.
I watched Chelsea against Swansea and they were not great, not at all, but I'm starting to feel sorry for Fernando Torres. He's not playing in front of Steven Gerrard, the best midfielder in England, any more. Even though he's at a big club, the service isn't great and he's feeding off rations.
He doesn't get seven or eight chances per game and I've seen teams like Blackburn create more than Chelsea do. Sometimes a striker is only as good as the people that are providing for him and I'd like to see them play Daniel Sturridge up there with him to help him out more.
This is still a hard game for Man United though and they can't take it lightly. If they can come through this then it will be a big worry for Man City in the title race, but I think it will be very tight.
We could see a draw here and at the time Man United might see it as damaging to fall two points behind City, but by the end of the season it could be one of the points that nicks it for them.
PAUL PREDICTS: 1-1
Monday Night Football: Liverpool v Tottenham
7pm, Mon, Sky Sports HD1
Tottenham will definitely be in the top four this season, so they might as well go for it in every game and see if they can get in the title race.
Both teams need the points here - Liverpool are still looking to get in the top four - so this should be a great game between two teams playing some great football.
Liverpool have just beaten Man City and Man United and smashed Wolves away. I know they got well beaten at Bolton, but they're a big-game team and they will be up for a game like this.
It was very important that Andy Carroll scored against Wolves because that's what they bought him for, to score goals! Dirk Kuyt has also got a couple of goals this week but he's been there long enough for them to know he's not an out-and-out goalscorer; he's a workhorse who'll work his socks off for the team.
And Steven Gerrard will make a difference if he plays. He's the class act of the Liverpool team and he's a big-game player.
Tottenham beat Liverpool very easily earlier in the season, but it will be much, much closer this time. It's a hard one to call, but it should be entertaining and I expect both sides will open the game up.
I'm going for the draw - in fact I'll go for a Desmond - but I don't think either team will be totally happy with that.
PAUL PREDICTS: 2-2
The rest of the weekend's games
Arsenal v Blackburn
PAUL PREDICTS: 3-0
This is a big game for Arsenal. If they win this they're still in the hunt for the top four, but if they lose or draw you're looking at Thursday night football at best. I think they'll win this game to put pressure on Chelsea, Liverpool and Newcastle. Blackburn were bang unlucky against Newcastle and should have got a draw at least, but if you miss penalties and you miss chances you're not going to win games.
Norwich v Bolton
PAUL PREDICTS: 2-1
Bolton have started looking like the team we expected them to be at the start of the season. Nigel Reo-Coker has pushed them forward through some hard times, he's made runs from midfield, and he's been one of the reasons why they've improved. Norwich have been punching above their weight and the defeat to Sunderland was the first time I've seen them play really poorly, but I think they're decent at home.
QPR v Wolves
PAUL PREDICTS: 1-1
What a crucial game this is. Wolves tend to play better away from home when there's less pressure on them, but QPR have brought in a lot of new players and will be hoping they can gel quickly. I don't think either side can afford to lose this one, so I'll go for the draw.
Stoke v Sunderland
PAUL PREDICTS: 2-0
Sunderland are flying, but they've got a big FA Cup game against Middlesbrough in midweek and I think that will make a difference. They've earned the right to put all of their eggs into the FA Cup - they're not going to go down - and this might be a game too far. Everyone knows how highly I rate Stoke at home and they should win.
West Brom v Swansea
PAUL PREDICTS: 2-2
This should be an open game. Both of these teams like to pass the ball and play football in the right way. Swansea have beaten Arsenal and nearly beat Chelsea, but in between they were well beaten by Sunderland and Roy Hodgson will have noticed that. I think we will see lots of goals in this one.
Wigan v Everton
PAUL PREDICTS: 1-2
After beating Man City you would expect Everton to go and beat Wigan, who have been struggling badly. I think Wigan will target this game as a have-to-win because either Wolves or QPR or both are guaranteed some points this week. We could be waving goodbye to Wigan if they lose this game - and I think they will.
Man City v Fulham
PAUL PREDICTS: 3-0
Man City haven't looked like the team they were at the start of the season, but I still think they'll win this game. The most important thing is that the fans stay on their side. If it's 0-0 after 20 minutes of the game we might see them getting restless, but they need to get behind the players and stick with them. Fulham will go there and shut up shop, but I think the league leaders will have too much.
Follow Saturday's football on Soccer Saturday from 12noon on Sky Sports News HD and then see extended highlights on Football First from 8.25pm on Sky Sports HD2.
Comments (10)
Gordon Young (Chelsea fan) says...
Who will be fit enough to play will probably determine the outcome of Chelsea v Man U, Whether Man U fans think Chelsea have been lucky or not, they still have the best record against United than any other team. Can't remember the last time Terry, Lampard and Drogba did not play against Man U, actually I'm quite happy, look forward to see the future, Luiz/Cahill in the center of defense. Bertrand against Valencia ! unless Bertrand ups his game 100% he will have a rough time. I pray Ivanovitch plays instead of the liability of Bosingwa as a defensive player. A difficult game to call neither playing well. A 1-1 draw
Posted 19:39 3rd February 2012
Andy Scott (Bayern Munich fan) says...
Mark Coughlan what are you on about mentioning Scholes in the same bracket as Gerrard, Modric & Silva and then complaining about bias with all the Man U bias this implies. You're comment is so idiotic. And it is plain for anyone to see Liverpool are better with Gerrard, what would you prefer from them Henderson & Adam? Get real.
Posted 19:33 3rd February 2012
Andy Bill (Everton fan) says...
Some interesting predictions. To be fair most prem games come down to a dodgy penalty or a two footed challenge that one player gets red carded and one gets away without even a foul. How many time my coupon has been down because of inconsistant refereeing (although 99% of the time the ref gets it right!) I feel the toons luck can continue and City are feeling the heat so a draw for newcastle and a 1-0 win for City. Oh and a 2-0 win finally for Everton! But what do I know! (dont say nothing!)
Posted 18:53 3rd February 2012
Alex Wall (Chelsea fan) says...
I'm gonna have to agree with Homzie D, as much as i hope Chelsea win, i cant see anything other than a comfortable win for United. With all Uniteds returning players, and Chelseas diabolical run of form, i'm gonna go for a 0-3 away win.
Posted 18:46 3rd February 2012
Steve James (Fulham fan) says...
Paul Merson's prediction of 3-0 to Manchester City will end up being incorrect. Last time he used that scoreline we ended up drawing 1-1 away to Chelsea. Jol has vowed to attack City and make life difficult for them. I can see us sneaking it 1-2, but then again, I have to say that. COME ON YOU WHIIIITES
Posted 18:22 3rd February 2012
Mark Coughlan (Manchester United fan) says...
Steven Gerrard best midfielder in England?, such Bias. Its simply not true, not any more with Silva and Modric and Scholes still around, in fact I would go as far to say Liverpool, play better without Steven Gerrard
Posted 18:11 3rd February 2012
Homzie D (Manchester United fan) says...
Really Merse? A draw for United? We have had terrible luck down there specially in 4 League games in 4 years.... It is time our luck changed for the better at the Bridge....I'm going for a narrow 2-1 away win. City will also get a 2-0 home win opening up a 3 point gap by the time we play on SUNDAY. We welcome back Young & Cleverley who were brilliant at the start of the season and with Rooney back to boost our injury laden squad, we should feel confident going down there and picking up 3 points....Come Sunday evening, It will be Manchester 4 West London 1 (City 2 Fulham 0 and Chelsea 1 United 2). Liverpool v Spurs should be interesting with the Reds winning 2-1 thus, ending title hopes for Spurs (Sorry Spurs fans). I'm going for home advantage and also the Anfield factor where the atmosphere will be electric!!! Spurs do have the players to win but that woun't happen. Other than these 3 games, I agree with your predictions!
Posted 15:48 3rd February 2012
Stephen Smith (Manchester United fan) says...
I agree with you here Paul, I think that a point down there on Sunday wont be a disaster in the long run. I honestly think we can go and win like we did at Arsenal 2 weeks ago, but it will be very close. If we take at least a point then beat Liverpool at Old Trafford next week we are bang in the right place going into the run in, if we're still there after a trip to White Hart Lane I think we will win the league. More twists n turns to come though I feel.......
Posted 14:19 3rd February 2012
Kevin Lowe (Newcastle United fan) says...
Me thinks Mr Merson is rather hoping Villa beat Newcastle for Arsenals sake! Demba will be itching to get back on the score sheet, the Toon Army will be in full voice, Cisse will be looking to make an immediate impact. Sounds like we have the usual suspects worried and grasping for straws!! Even if it doesn't work out this year, we will have given them all something to think about! Great fun.
Posted 14:04 3rd February 2012
Stephen Nufc (Newcastle United fan) says...
I'm sure Paul Merson hates Newcastle United, he never gives us any credit and predicts that we will lose every week. Maybe one week he might think that we will win.
Posted 13:02 3rd February 2012