As ever, you can follow all the Premier League action this weekend on Sky Sports.
We asked Soccer Saturday expert Paul Merson to look at the fixtures and give us his verdict on where the games will be won and lost.
He's taking a close look at the live games but this season he's also having his say on all of the other matches, too.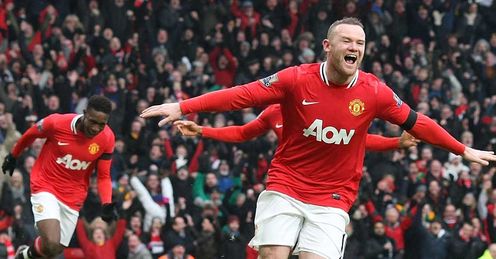 So read on for his shouts and don't forget to let us know your views in the comments box...
Ford Super Sunday: Wolves v Man Utd
1pm, Sun, Sky Sports 1 HD
If Manchester United had been playing away at Swansea last weekend there's no way they would have lost.
It was a shocking result for Manchester City, but United have been in these situations before and have come out on top. If they'd been in that game they'd have made sure it stayed 0-0 so that they stayed top of the league.
That's the difference between the teams that have been there and the teams that haven't. Experience is priceless and last weekend summed it all up.
United are top of the league now and there's no way I can see them slipping up against a Wolves side that have had two shocking results in their last two games against Fulham and Blackburn.
They'll need to keep Wayne Rooney fit, though. It doesn't matter how many times you've been there, you still need your go-to man and he will need to keep scoring goals as he has done in his last few games. Ashley Young has bounced back and is playing well again, but Rooney is still the main man.
United's next six games are absolute gimmes and the way things are going, you wouldn't be surprised if it was all over by the time they play Man City at the end of April. I think if Sir Alex Ferguson can beat City to the title with this team it would be one of his greatest achievements.
Don't expect to see him resting any of his best players with 10 games to go either. These players will all be on a beach in nine weeks' time, so there's no point rotating at this stage. That policy backfired for them in the Champions League this year and he'll have learned from that.
You sometimes get funny results at this time of year, but not from teams that are playing with no confidence. Wolves are a bag of nerves at home at the best of times and I can't see how they can beat Manchester United.
They will probably need to set up with a very defensive 4-5-1 system - and straight away their fans will be on their backs because they're not attacking. It's a catch-22 situation for Terry Connor and I can't see anything but a Man United win.
PAUL PREDICTS: 0-3
Ford Super Sunday: Newcastle v Norwich
3.30pm, Sun, Sky Sports 1 HD
Newcastle have done great to get to where they are, but they aren't having as much luck as they were at the start of the season.
They were 1-1 in the 93rd minute at Arsenal with the ball by the corner flag, but they still managed to lose the game. They shouldn't feel too hard-done-by, though, because they've had a great season. I definitely had them down for the bottom half, so they've exceeded my expectations.
I fancy them to beat a Norwich side that were second best against Wigan last week, but got away with a draw. It was a shock to see them on the back foot in that game.
I wouldn't say teams are sussing them out; they're a flowing football side, but they're a team that looks tired. They have to play to their maximum every week to win games and if they slip below their standard they could lose to anybody.
But I've watched them at Old Trafford and at Anfield they've had a go wherever they've gone. Fair play to them for that. I wonder if their eyes were opened by Ian Holloway and Blackpool last year?
So they will have a go at Newcastle; Norwich are in a position where the players will want to play some good football. They'll go and express themselves.
But Newcastle should be good enough to pick them off and I'm expecting a very entertaining game.
PAUL PREDICTS: 3-2
Saturday's games
Fulham v Swansea
Swansea fully deserved to beat Man City last week and for parts of that game you'd have thought they were the ones that had spent hundreds of millions of pounds. They're all confident on the ball and they have been a credit to the Premier League.
It will be tough for them at Fulham, who thrashed Wolves in their last home game. They got beat at Villa last week, but they are very good at home and will press Swansea all over the pitch.
It'll be interesting to see how Pavel Pogrebnyak plays because he barely kicked the ball last week, but they have a class act in Clint Dempsey. He could play for any of the big boys - and I'm sure they'll be sniffing around in the summer.
I'm going for an open game and a home win.
PAUL PREDICTS: 2-1
Wigan v West Brom
Wigan keep surprising me. One minute they're absolutely atrocious (against Swansea) and the next they go away to a hard place like Norwich and play them off the pitch. They should have won that game easily last Sunday.
If they win this one they will climb out of the relegation zone, but West Brom are a hard team to play against. They got beaten at Man United last week, but they well beat Chelsea the week before - it should have been more than 1-0 - and have been in great form.
Wigan need to win, but if they push forward too much they could get stung on the break.
PAUL PREDICTS: 1-2
Comments (32)
Alix Lawrence (Manchester United fan) says...
To the West Ham fan bemoaning the easier run in ... we just got out of a spell of games where we played Arsenal Liverpool Chelsea and Tottenham ...... WE WON 3 DREW 1 no offence but it doesnt matter when you play the so called big teams ... you still have to play them, n if we had lost all 4 of those games we wouldnt be top of the league now would we ? moron, stick to your own club and stick to your own league, last time i checked west ham weren't a premier league club so get promoted and then comment, you dont see me commenting on championship teams and their fixture lists because we arent in that league so it doesnt concern me PS we did badly in europe because we played badly simple as that, At United its always been league 1st, europe 2nd, whats the point in being crowned champions of europe if your not even the best team in your own country ?
Posted 14:20 17th March 2012
Graham J (Manchester United fan) says...
John L - Sorry but you are talking nonsense. OK, we have an easier run in than City but did you see the fixture list we have just come through over the last month or so? Utd could easily have been out of the title race altogether by now - The league is won or lost over 38 games not just the last 10.
Posted 14:05 17th March 2012
Dave Collins (Manchester United fan) says...
John L., and another thing. Surely playing teams that are fighting for their premiership survival is tougher than playing mid-table teams with nothing to play for. If anything United have tougher games against teams desperate for 3 points. In the space of 4 weeks United had to play Liverpool at home and Arsenal, Chelsea, Spurs, Newcastle and Norwich away from home. If you think that's the FA doing us a favor then I can only assume that you don't really know what you're talking about. Stick to the Championship mate. There's probably a good reason why yous are down there.
Posted 14:03 17th March 2012
Dave Collins (Manchester United fan) says...
John L., Paranoid much? So 3 CL finals in 4 years isn't doing well in Europe!? Also, I'd love to know what stone-wall decisions have incorrectly gone in United's favor this season. If anything, we've been on the receiving end of some shocking decisions. Most notably Newcastle's peno at Old Trafford. If not for that we'd be 3 points clear.
Posted 13:58 17th March 2012
Keith Swindells (Manchester United fan) says...
dear john L, ur right about easy games city have played theirs and find themselfs a point behind us. as for the fa making things easy for us ur avin a laugh.
Posted 13:04 17th March 2012
Dan Jones (Wolverhampton Wanderers fan) says...
John L, West Ham fan, it is obvious that you are a blindsided poster who has so much bias against Man Utd that you don't see the truth. Last season with 11 games to go they had to play Chelsea away, Liverpool away, Arsenal away and Chelsea at home. 4 games from 11 against the big four. Hardly an easy run in. Similar the season before. This is the easiest run in they have had for a long time but still with banana skins lying around. As for Europe, United haven't done well because they are a weak side in a weak league and Europe found them out. Referee bias is a myth and to disprove your European theory, please explain how in 2008, 2009 and 2011 United competed in the Champions League final winning once and losing twice against the greatest ever club side, Barcelona. I'm a Wolves fan and think we will lose tomorrow. But United are very beatable. If only Wolves could play without shipping goals so easily we would run them close tomorrow.
Posted 13:01 17th March 2012
Richard Bowd (Manchester United fan) says...
What does it matter all teams have to play each other. just look at the teams mufc have played in their last 8 games.
Posted 11:43 17th March 2012
Michael Field (Manchester United fan) says...
John L, Your tin foil hat is obviously firmly attached. Are you seriously saying the FA *knew* at the start of the season, who would be where on the table come March the next year? Nut bag. Each team plays every other team twice. By your logic Manchester City are only 2nd because the FA & PL gave them an easy start to the season while MU played all the hard teams first o_O?? There's no conspiracy here, you better teams.
Posted 11:37 17th March 2012
Nigel Legg (Manchester United fan) says...
Easy run in? Are you serious? City away, Blackburn away and Arsenal, Liverpool, Spurs and Chelsea in the last 6 games that could have been the end of Uniteds season but pulled through. You obviously aren`t a football fan!!!!
Posted 11:12 17th March 2012
Abdallah Mohamed (Manchester United fan) says...
to John L big man its funny coz when utd were trailing city by as many points nobody said anything.now that city has lost their handsome lead you want to come with all that talk of utd being favoured.if city had stayed on point they would have still been in the lead but you cant blame the pl or the refs for city dropping points.the ref doesnt score goals or defend for a team.i can tell your not a kid so come on think about it before writing something down,it only makes you look like a fool.
Posted 11:01 17th March 2012
Dan Jones (Manchester United fan) says...
All teams have to play each other the same amount of times, regardless of what order they come in. United have just had a tough set of games and came out of it looking prettty good, now its City's turn to show they can do the business.
Posted 10:48 17th March 2012
Salford Red (Manchester United fan) says...
Oh John L, what a muppet. Absolute classic. FA want United to win, so even though everyone has to play the same teams twice, United always get the easier run. Does that mean we had the easiest run at the start of the season, when we basically played the top six in the first 8 odd games. Ah Yes, we were at home, silly me. But doesn't that mean the second half of the season we have to go away to the top six. Uhmm. How does that work out then. Haven't City had mostly home games this second half of the season. Uhmm. United are where they are as they have only lost to one of the top six, home and away. But we still screwed up against Blackburn and Newcastle. Maybe the FA should fine them for trying to beat United. United maybe should fine Uefa for allowing better european teams to beat us. I mean we did have the easier run in Europe as well.
Posted 10:17 17th March 2012
Keith Lawson (Manchester United fan) says...
@John L off your rocker with jealousy again mate? we had our difficult run and it doesnt matter when you play the likes of Arsenal chelsea spurs etc its alwaya going to be hard. You think the Prem League want us to win the title every year? why? i do because i support them, but nobody else would ever wish a team to dominate the league since 1992 not even the so called fixers in the prem league as you suggest come on united 20 times here we come
Posted 10:02 17th March 2012
Chris P (Manchester United fan) says...
@ Jonn L. What a stupid thing to say. The fixture list is decided by a computer. By your theory, we should all be complaining at the run of fixtures United have just come through in comparison to City's fixtures. In regard to the Champions League, it is clear that A) United are not good enough at the moment to compete in Europe and B)Fergie underestimated the opposition greatly with his team selection all the way through the competition.
Posted 09:17 17th March 2012
Mark Ives (Manchester United fan) says...
John that really is an idiotic comment, do you truely beleive the FA rig fixtures in favour of united or is this just another preconception fueled by your hatred of United? Never mind we just came through an incredibly tough set of fixtures or that no matter how you look at it everyone has to play everyone. Im sure you remember that last season United played arsenal and chelsea in the last 4 games, riddle me that.
Posted 08:05 17th March 2012
Iain Mannion (Manchester United fan) says...
Nice to hear your comments John not abitter west ham fan are you . as for easy runs we have just played arsenal spurs liverpool chelsea over the last six weeks . and reached three of the last four champioms league finals as you say without the help of uefa why not concentrate on your owm team and stop being so bitter look foward to playing you in the premer next season even if it is only for one season
Posted 07:26 17th March 2012
Andy Willson (Manchester United fan) says...
John L What a stupid thing to say. Over a season you have to play 19 teams both home and away. In our 1st 10 games we played Spurs, Arsenal, Chelsea, Liverpool, Everton and Man City which was far harder than Citieh who only played Spurs, Everton & us out of the top 7 or 8 sides in the league. They should've put some distance between the 2 sides but failed to do that and that's why they'll be chasing our shadow.
Posted 04:46 17th March 2012
Phil Master (Manchester United fan) says...
John L. I can't believe you'd go so far to criticize Man Utd. 3 Champions League finals in the last three years. Is that also part of the Premier League conspiracy. As Paul Merson has noted, the only problem United have had this season in the Champions League, was rotating players too much, and hoping for the younger players to do well in the Champions League. As for the run-in, there is nothing easy about Man U's last games. The bottom teams are as tough as anybody out there. What happened to City last week? How about Blackburn at United. So suck it up young man. Stay in the little league. Though I like Big Sam. Hope you guys come back to the big league.
Posted 04:29 17th March 2012
Cavin Bebe (Manchester United fan) says...
Just a reply to John L , West Ham fan who claims Man Utd have an easy run in .... firstly there is no such thing as an easy run in the premier league...If you look at the last 6-7 fixtures for Man Utd, its been the toughest oppornents through and through and now that because they managed to pull through, suddenly they have an easy run in...Had Man Utd lost 3/6 of those games, none of this easy run notion would have crossed anyone's mind..that being said, all the teams get equal games against every side in the EPL...As for the referees , give these guys a break, Man Utd get their fair share of decisions against them...Blaming the referees, an old excuse to a poor perfomance, its time to cut it out its getting too old
Posted 00:46 17th March 2012
Mark Mclaren (Manchester United fan) says...
John L - You may not be aware but the fact that United have an easier run in is because they have played the hardest possible mid-season......and came out of it on top. There are 38 games to play and there is no advantage to the order in which they come. I suppose the tough end to the season is why West Ham got relegated from the PL? Wrong! Its because they didnt accumulate enough points over 38 games. If United end the season with more points than anyone else they will be deserved champions. 900 minutes to go........squeeky bum time City!!!!!!!!
Posted 23:59 16th March 2012