With the decade at an end, skysports.com has assembled its Noughties' Hot 100 - a century of stand-out sporting moments.
It covers all sports, but seeing as we have so many experts to call on, we asked our commentators and columnists to come up with their very own Top Ten from their sport.
And they have picked out one Moment of the Decade, their own personal highlight, from the Noughties - just scroll down to the bottom and watch the video.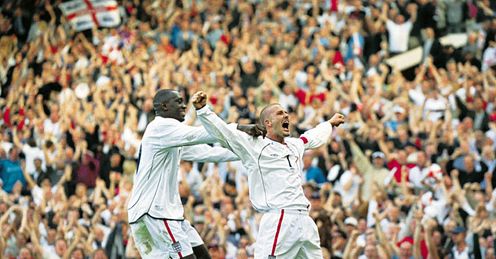 Here, football expert Peter Beagrie gives his selection...
10. Ronaldo's free kick against Portsmouth - 2008
Myself and my son had managed to get tickets in the second tier above the dugout and we had an unbelievable view of this goal. We were literally in the box seats. The ball moved with what I call "swazz" (swerve and dip at the same time) and it moved all over the place. Ronaldo had been doing it with enormous regularity but to see him do it live was something special.
9. Owen's hat-trick against Germany 2001
I am a passionate and patriotic England fan but I never enjoy watching them play, even when we're 2-0 up, because we always seem ready to press the self-destruct button. Remember when we threw it away against Portugal at Euro 2000? There's only two big games I can remember where I could relax; one was the 4-1 against Holland at Euro 96 and there was this 5-1 win in Munich. It was a complete performance from England that night.
8. Di Canio's cracker against Wimbledon - 2000
This was amazing... pure Italian exuberance. Paulo thought he was capable of anything and this goal just epitomized him. He was picked out by a great ball from Trevor Sinclair to the far post and he hit it with the outside of his right foot (any normal person would have hit it with the left) and it arrowed past the keeper into the stanchion of the goal. Amazing.
7. Beckham sends England to the World Cup - 2001
David Beckham is one of my favourite players in the world because he has practised and worked hard on his talent and he carries himself so well as a role model. He had been slaughtered in the press, but with that goal he was a player reborn. Out of adversity you take strength and Beckham has always done that. He single-handedly covered every blade of grass that night, set the tempo and scored that goal. One man doesn't make a team - but on this occasion it did.
6. Maxi Rodriguez's World Cup wonder strike - 2006
This was the extra-time goal that took Argentina past Mexico at the 2006 World Cup. A crossfield pass came to Maxi Rodriguez on the edge of the box, he took it on his chest and he smashed it into the top corner. The defender sat off him thinking 'go on, hit it' and it came out of nothing. It was the purest strike you'll ever see and was amazing from a right-footed player.
5. Stuart McCall's car trouble - 1999
Okay, this is just before the decade started, but it's my list so I'm going to bend the rules. My old pal Stuart McCall was celebrating little old Bradford getting to the Premier League and then embarrassed himself to the world by falling off a car. To this day he's convinced it wasn't him, it was his twin brother - even though he hasn't got one! But like any other proper northern bloke, despite falling from five feet, he didn't spill a drop of his beer. I had to give him a lift to the chiropractor the next day to iron him out! His backbone was like an accordion and he needed stretching out again. Great fun!
4. Windass sends Hull to the Premier League - 2008
Mr Potato Head always writes his own scripts and he certainly did so with a wonderful volley to send Hull up to the Premier League in the play-off final. But what it proved more than anything was that Peter Beagrie was a real loss to the coaching profession! In the week before the game I had been coaching Deano on his volleying technique - but I didn't think he'd get the sort of service that I could provide! At half-time during the Sky coverage we even did a split screen to show how similar the goal was to the practice shots we'd been doing.
3. Liverpool rise from the ashes - 2005
Even though I was an Evertonian, I was screaming at the TV that night. I had been brought up watching Liverpool in Europe, my parents used to let me stay up late to watch Sportsnight as a wee bairn! To see them come back from 3-0 down against AC Milan in the Champions League Final and win on penalties was simply amazing.
2. Lionel Messi's goal against Getafe - 2007
Look this one up on YouTube because it was amazing. Messi picks the ball up on the right wing inside his own half and slaloms past about eight players who all seem to be tackling fresh air! It's a Maradona-esque run until he goes wide on his right foot and lifts it over the goalkeeper. Absolutely magnificent.
Peter Beagrie's Moment of the Decade
Do you agree with Peter's selection? Let us know by filling in the feedback form below...
Comments (24)
Andy Hanlon (Manchester United fan) says...
james, rooneys first league goal was in 2002 which was a couple of years before the arsenal invincibles, though i think he won the penalty for man utd in the game that the run came to an end!
Posted 01:40 5th January 2010
Declan Tobin (Newcastle United fan) says...
Football like a lot of other things is a matter of opinion. Whats good for someone is a disaster for someone else, I should know being a Newcastle fan!!!!!!
Posted 23:11 4th January 2010
Andrew Lampard (Arsenal fan) says...
Everybody has an opinion! And, ummm, James Booth - Everton fan - whilst it was a fantastic goal and heralded the arrival of one of the most prodigous talents England has ever produced, it wasn't the goal that ended 'The Invincibles' run. That ended when the same prodigious talent DIVED for Man Utd at OT. Remember 'pizzagate'?
Posted 17:06 4th January 2010
Josh Keogh (Middlesbrough fan) says...
Everybody has simply forgotten about the greatest comebacks in history! Mighty boro against basel and steaua bucharest to reach the uefa cup final in 06, Quality!
Posted 16:50 4th January 2010
Paul Mink (Liverpool fan) says...
Re Victor Anderson: The Liverpool 2006 FA Cup final should be there in my opinion yes - but there was no 'winning' goal - if I remember it was the leveller and we won on pens??!
Posted 13:37 4th January 2010
Nick James (Manchester United fan) says...
James Booth if you wish to refer to the goals which brought about the end of the "invicibles'" run then may i start you at Old Trafford which is where it was ended...
Posted 00:53 4th January 2010
Brad Oldfield (Wolverhampton Wanderers fan) says...
Wolves vs leicester 03/04? 3-0 down at half time and we still win 4-3, you suck if you dont remember that also arsenals 4-4 with liverpool last season, with arshavin scoring 4
Posted 21:36 3rd January 2010
Ellis Salter (Scunthorpe United fan) says...
wat about last season woolfords winner against millwall at wembley
Posted 20:54 3rd January 2010
Gary Behan (Liverpool fan) says...
ash baggie paul merson has it in his top 10 jaysus lad at least read them all b4 u go spouting ur mouth off
Posted 20:03 3rd January 2010
Syafiq Bakir (Liverpool fan) says...
Urm, isn't this his own opinions? You guys shouldn't have to be saying like, " oh my team should've been in there. " So what? It's his opinions.
Posted 15:37 3rd January 2010
Paul Marshall (Bradford City fan) says...
Why's everybody going on about why isn't this game or that game in here. Remember that these are Beagrie's own personal highlights. If you're that bothered about why a certain game or moment isn't in the list - make your own top 10 list and stop whingeing.
Posted 12:46 3rd January 2010
Ash baggie (West Bromwich Albion fan) says...
HOW can none of the so called football 'experts' not pick the west bromwich albion great escape as one of the top ten moments of the decade ! not only were we bottom at christmas but bottom on the final day and also bottom with around 3 minutes left and still stayed up ! its unbelieveable that none of them have picked this in their top ten !
Posted 11:58 3rd January 2010
Tijani Lateef (Arsenal fan) says...
senegal shocker against france in japan-korea 2002 should be among the list and zizou wonder strike against leverkusen should make the list
Posted 09:26 3rd January 2010
Joseph Marlow (Chelsea fan) says...
what about the Ronaldinho masterclass in 05/06 against real madrid in the 3-0 win
Posted 09:21 3rd January 2010
Sean G (Barnet FC fan) says...
Arsenal Invincibles has to be in every list. You don't know anything about football if you don't think this was one of the greatest achievements ever in football
Posted 04:49 3rd January 2010
Hayden Luxford (Leyton Orient fan) says...
Hey you forgot leeds united's amazing comeback from 3-0 down against southampton in 2005.
Posted 20:58 2nd January 2010
Aaron Pearson (Arsenal fan) says...
Although im an arsenal fan i would have to agree with lee mcdaid on this one as spurs 9-1 win against wigan was fantastic. And would be my first choice.
Posted 20:45 2nd January 2010
Lee Dixon (Arsenal fan) says...
i agree with james booth everton fan wayne roonyes young goal in 2002/03 season should be in there.
Posted 20:39 2nd January 2010
Russel Madden (Everton fan) says...
Defo Liverpool winning the Champions league
Posted 19:37 2nd January 2010
Momo Afi (Manchester United fan) says...
wot about arsenal liverpool with arshavins 4 goals and real madrid leverkusen where zidane scored the best ever champions league goal in the final
Posted 14:19 2nd January 2010