I would love to be a fly on the wall in the boardrooms of football clubs when the powers-that-be are choosing their new manager.
I'd love to know which criteria they use. Which attributes and strengths do they regard as the most important? How important is experience? How important are motivational skills? How important is success in the transfer market?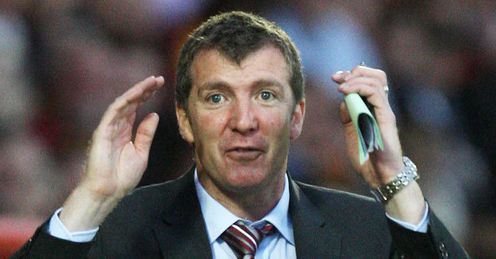 Furthermore, how well educated on football matters are the decision makers? How much are they dictated by financial constraints when making their choice?
Sometimes it's easier to employ a lesser-known manager because you can control them from a financial and a media perspective. Experienced managers use the media well and make them aware when they are working under financial constraints.
The chairman and the director of football obviously want an element of control and want to have a say. Perhaps a bigger name or a bigger character wouldn't have fit the bill.
Peter Beagrie
Quotes of the week
So I look at Peterborough, a club 11 points adrift of safety in the Championship, and I wonder what would have made you an attractive candidate following the sacking of Mark Cooper.
I'm sure a club faced with relegation wouldn't want to tie someone into a long-term deal. So if somebody went in there and said "give me the job until the end of the season and don't give me extravagant wages" it may have appealed to Darragh MacAnthony and Barry Fry.
This is all conjecture and all guesswork, but I wonder if that's how Jim Gannon got the job. I'm sure the former Stockport and Motherwell boss was desperate to get back into management and offering his services on a short-term deal loads everything in favour of the football club.
When you look at his record, I can't think of any other reason why they would give him the job. Perhaps they are looking at the worst-case scenario and relegation to League One because Gannon has knowledge of the lower leagues from his time at Stockport?
It's an obscure appointment, almost as obscure as the previous appointment of Mark Cooper, and I would love to know the criteria Peterborough used to make their decisions.
The chairman and the director of football obviously want an element of control and want to have a say. Perhaps a bigger name or a bigger character wouldn't have fit the bill.
After riding the crest of a wave following two successive promotions, it is a huge ask for Gannon to turn them around. I think the gap is too wide for them to make up, but you never know.
More sense
The appointment of Brian McDermott at Reading makes much more sense.
Sometimes appointing a caretaker manager stinks of a lack of ambition and becomes the easy option from a financial point of view.
But in this instance, Brian McDermott will provide continuity and will not destabilise the club by making too many changes. He has an affinity with the young players, as Brendan Rodgers had, but Brian has been getting the results that Brendan couldn't.
You only have to look at the calibre of opposition Brian has faced in his first nine games. He has faced Sheffield United and Nottingham Forest in the league, plus Liverpool twice and Burnley in the FA Cup - and yet he has yielded three wins, three draws and three losses.
It's refreshing to see how Brian has given the players latitude to express themselves and they dominated for long periods in both games against Liverpool. If he can get this young, vibrant side playing in a relaxed manner with no pressure on their shoulders, then that augurs well for the future.
However, the heavy loss to Plymouth will have hurt and Brian has a chance to get revenge on Argyle in a stereotypical six pointer next Tuesday.
But first they must face Doncaster in Saturday's live game. The last time Reading were live on Sky Sports they were unlucky to be narrowly defeated by Leicester, but if they can pick up six points from the next two games they will climb the table.
The good news for Reading fans is they haven't been cut adrift and teams as high as Bristol City in 10th place could still get dragged into the scrap.
If Reading can start converting their chances into goals, I can see them pulling clear of the bottom three.
Peter answers your questions...
To send Peter a question on the Football League, send an email to skysportsclub@bskyb.com or use the feedback form below...
In June last year we had the two best left-sided midfielders in the country, now we have neither. Downing was understandable, but Johnson is a disgrace, badly managed by Southgate when we struggled from October in the Premier League. The lad wouldn't sign a new contract and who could blame him? Why should he? We had no confidence in him and quite clearly he has none in us. We'll have to wait and see what happens but I am concerned that the three best players we started the season with have all been sold (Huth, Tuncay & now Johnson). Bye bye play-offs. I suppose the only good thing is he didn't sign for Sunderland. Mike (Boro fan)
PETER SAYS: I understand both Newcastle and Sunderland were interested... that really would have added insult to injury for Middlesbrough fans!
I understand your point about him only getting a bit-part role in the Premier League and he maybe should have played a bit more. He's a very talented player, but I think £7million is a good fee and I think he will get a bit of game time at Man City. However, I am surprised Middlesbrough didn't get him back on loan for the rest of the season to help their promotion push.
Middlesbrough were looking the genuine article at the start of the season, but the squad did look light following the departures of Tuncay and Huth. A new manager and an influx of loan signings and players from Scotland has damaged continuity and I can understand why Boro fans are sceptical. I still think they have a chance to get in the play-offs if the new players settle in, but they would have had an outstanding chance with Johnson in the side.
Strachan has only won three of his 15 games and only one of his eight home games. That's not good enough for a team of Middlesbrough's stature. I think Gareth Southgate would have won more than that and maybe the lack of continuity has hit their form, but if Gordon's signings scramble into the play-offs then the chairman will feel justified in appointing him.
To send Peter a question on the Football League, send an email to skysportsclub@bskyb.com or use the feedback form below...
Comments (15)
Dave Weekly (Queens Park Rangers fan) says...
Your first three paragraphs raise some interesting points. Being a Rangers fan, I just wonder how the board at my club chooses a manager as we seem to be getting through a lot of them these days. If they were to take their time, choose someone, give them 3 years to (1) develope a side as in buying new players or moving others on, (2) develope a style of play, and in year 3 (maybe year 2 if you are lucky) let them push for promotion. Having said that, I haven't invested my cash in the club....I am just a loyal supporter
Posted 09:46 17th February 2010
Nigel Bishop (Ipswich Town fan) says...
chairmen have no idea about football both ipswich and qpr r crap since jim magilton left them jim is pure magic
Posted 20:01 12th February 2010
Joe Beresford (Doncaster Rovers fan) says...
Hello Peter, i would be interested to know what has happened to Doncaster Rovers? Since Sean O'Driscoll almost left we have won 2 matches (One being in the cup), Why is this? Have our team been unsettled by this or the calls by the fans of 'plays offs'?
Posted 12:51 11th February 2010
Ray Mchugh (Tottenham Hotspur fan) says...
The majority of chairman have never played professional football,but then they want to make the most important decision of all. Chairman would be advised to employ a suitably qualified football person/s to go through the process of finding the best manager/coaching staff. I
Posted 13:39 9th February 2010
Tom Kent (Peterborough United fan) says...
After seing the change in posh today i agree with the desision. And posh dont have many overpaid pre modonnas. Posh pay out £3million a year on wages.compaird to derby who pay ten times that. we pay our highest paid player, joe lewis something like £4,000 a week
Posted 01:33 7th February 2010
Steve Murray (Stockport County fan) says...
He performed brilliantly at Stockport in extremely difficult circumstances. His record for developing young players was fantastic and maybe at Peterborough he will be allowed to hang on to a few. Tactically he is pretty astute and likes to play attractive football which might not keep them up this year but should see them well placed for next season
Posted 18:15 5th February 2010
Chris White (Manchester United fan) says...
Peter i was just wondering what impact you think Scott McDonald will have on Middlesbrough? Also what is your opinion on Aussie players in the English game, such as Rhys Williams and Patrick Kisnorbo?
Posted 14:12 5th February 2010
Lee Way (Middlesbrough fan) says...
Boro will be lucky not to get relegated with Strachan as boss - he is a disater and you can already see the team falling to bits with his awful signings!!
Posted 12:44 5th February 2010
John Smith (Barnsley fan) says...
If anyone needs showing how to pick the right manager for the job, just ask us. Mark Robins has been a breath of fresh air for our club and the results on the pitch have reflected this. For a long time, Barnsley fans have seen the potential in their squad wasted by poor management and an acceptance that we were overachieving by being in the Championship, but this has changed. We should be the template for any clubs looking to bring a new gaffer in, as we got it spot on this time. http://seeingred-thebarnsleyfcblog.blogspot.com/
Posted 11:19 5th February 2010
Alex Edwards (Stockport County fan) says...
I think it's a ltitle harsh to brand Jim Gannon has an almost 'nothing' manager. He did a fantastic job at County, he only lost it because of the serious financial mess they are in. Motherwell is a different story, because although they had a great start, they went on a bad patch and as many clubs do, they panicked, and sacked the manager. I'm not sure Peterborough are savable at the foot of the Championship, but he WILL do a great job for them next year, Championship or League One. Every manager needs time.
Posted 09:58 5th February 2010
Shaun Farrer (Sheffield Wednesday fan) says...
I would like to know, what Peter thinks of wednesdays chances of staying in the Championship this season, his views on Alan Irvine's appointment, and i feel that sheffield Wednesday is a massive Club with massive support, i know we are in Debt, but why do you think it has taken this long for potential investors to come to Hillsborough, i mean we can and would easily get 30,000 fans per game back in the Premiership, i feel that wednesday is the last sleeping giant in the u.k. apart from Leeds United, forget Sheffield united they have gone as far as they can with the fan base ,, i would be very interested to know your views on these subjects please.
Posted 23:43 4th February 2010
Mack Mclaughlin (Celtic fan) says...
Gannon was likely picked because he rescued Stockport from relegation and then got them promoted. Motherwell didn't support him and they will fail as usual. Gannon is a good manager. Sure it's tough but if he can do it, there will be another feather in his cap. Of Ipswich,Reading, Plymouth and Peterborough - Peterborough have the better manager
Posted 17:25 4th February 2010
Chris Newbery (Stockport County fan) says...
I can see fireworks in the boardroom! - Jim certainly wont be pushed around. However, if he is allowed to manage they may avoid the drop and even if the task is too much this year, they will be back in the championship in no time.
Posted 16:08 4th February 2010
David Wilde (Stockport County fan) says...
Gannon will save POSH he is a brilliant man manager, he won't take any rubbish from the overpaid pre madonnas at Peterbrough
Posted 12:57 4th February 2010
Jason Young (Newcastle United fan) says...
What about the appointment of Chris Houghton at Newcastle. I was disappionted when it was revealed that he would be taking the job full time as i'm sure that there would have been several good managers with experience interested in the vacancy. However look how the black and white army are doing at the moment, some great results, some good january signings, and a good team spirit. Its just what Newcastle needed to turn the team around, and I couldn't be happier at the moment. What are your opinions about the managerial set up at the toon Peter?
Posted 12:50 4th February 2010