The biggest story of League Two during the summer has been the appointment of Paolo Di Canio as Swindon manager - and I'm sure the Sky Sports cameras will be focussed more on him in the dugout than his team on the pitch!
Robins fans will be hoping the Italian can get more out of the players that are already there to complement the host of signings he has brought in.
It has been an intensive recruitment drive with 12 players already joining, including Algerian striker Mehdi Kerrouche, Namibia midfielder Oliver Risser and Etienne Esajas, a flying Dutch winger who used to play for Sheffield Wednesday.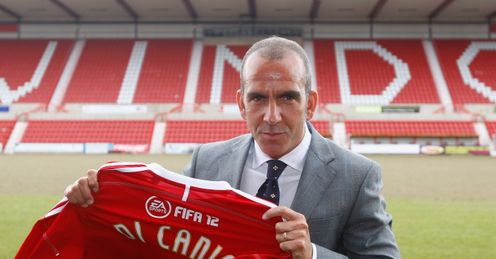 The Swindon supporters - who are used to big-name managers following spells in charge for Glenn Hoddle, Ossie Ardiles, and Dennis Wise - have certainly bought into Di Canio, with 4,500 season tickets being sold.
Whether their side can operate at the very top of the division will depend on how all the new players gel. When you make that amount of changes and you have a manager who is inexperienced at this level, it is always going to be a toss of a coin.
Whether Swindon can operate at the very top of the division will depend on how all the new players gel. When you make that amount of changes and you have a manager who is inexperienced at this level, it is always going to be a toss of a coin.
Peter Beagrie
Quotes of the week
Paul Buckle just missed out on promotion with Torquay last season but he will go again this term as Bristol Rovers boss - and he has recruited well.
Attacker Joe Anyinsah has joined from Charlton and will be a great purchase if he stays fit, while former Shrewsbury target man Matt Harrold has also arrived to bolster the strikeforce.
The Pirates' problem has never really been scoring goals, though; their downfall in every division they have been is their defending.
Experienced midfielder Matt Gill (Norwich), who will serve as skipper, and centre-back Adam Virgo (Yeovil) have been acquired and should shore Rovers up a bit. They play a lovely brand of football and if they are as defensively tight as they should be, they'll be right up there.
Experience
I look at Shrewsbury as another side who should be right in the mix for automatic promotion. Manager Graham Turner will be looking to improve on last year's fourth-placed finish - and subsequent play-off defeat - and has plumped for experience in the transfer market.
Reuben Hazell - a stalwart at Oldham - has headed to Greenhous Meadow; he's a leader, a talker and will organise things from centre-half. Up top, they have also drafted in Aldershot's success story from last season, Marvellous Marvin Morgan, and they'll be hoping he can replace Harrold's goals.
Oxford should also be a major threat this term. They have a very impressive and ambitious young manager in Chris Wilder, who was a team-mate of mine at Sheffield United, while they have also recruited very astutely.
Veteran centre-back Michael Duberry will bring some knowhow to the back four, while Peter Leven - an arrival from MK Dons - will be a general from midfield, as well as a goal threat from both open play and set-pieces.
Those two seem like guys with ambition, determined to make an impact and have not just headed to League Two to earn a living. That will have a knock-on effect on the younger lads in the U's dressing room.
Reigning Conference National champions Crawley will expect to cause a stir. Their squad is big and talented; their manager, Steve Evans, knows this level having been here before with Boston United; and they also have momentum on their side.
Point to prove
Micky Adams has returned to Port Vale and will have a point to prove following a tough time at Sheffield United. He has signed Tom Pope from Rotherham on a permanent basis after a successful loan stint last year, and the 25-year-old could be one to watch.
Speaking of Rotherham, much of their success could depend on whether Adam Le Fondre stays. The goal machine - who has been persistently linked with a move away - should receive even better service this year from summer signing Danny Schofield, who is an excellent creator.
And I'm delighted that Terry Brown will be managing in the Football League with AFC Wimbledon, having spent his life as a fan, player and boss in non-league. Brown did wonderfully well as Aldershot manager in the 2000s before leaving because of his wife's illness and fully deserves his chance in League Two.
A former advocate of long-ball football - typical Wimbledon! - Brown now likes his side to play out from the back. Their aim will be to stay up this year so that they have something to build on for 2012/13.
It should be a very exciting division because League Two could be described as the new Championship - there is so little between the teams. There are that many young managers who are new or relatively new to their clubs trying to put their slant on things.
The sides who find that consistency, and avoid injuries and suspensions to their better players, will be the ones celebrating next May.
So you've heard Peter's views, but what do you think will happen in League Two? Can your team go up? Will they encounter a season of struggle? Who will be your side's stand-out performers? Carry on the debate by filling in the feedback form below...
Comments (9)
Kelvin Morrison (Plymouth Argyle) (Plymouth Argyle fan) says...
Peter Reid's Green Army, on a very low budget he has got some quality players in, playing in the right way nice football, watch out top three. GREEN ARMY !
Posted 16:02 4th August 2011
Pat Hutchinson (Rotherham United fan) says...
I think Beagrie is right on the money here, it will be such a difficult league to get out of. Two strong teams coming up from the BSB Prem, in addition to four strong ones coming down from league 1. The established likes of Shrewsbury, Rotherham, Bradford and Northampton have also strengthened heavily. I'd love Rotherham to go up, but it's difficult to see past Bristol Rovers at the minute, I think!
Posted 11:54 4th August 2011
Daniel Giblett (Southend United fan) says...
Although we're not really touted as a team to win promotion this season, and the fact we have a lack of funds to project flair and quality into our team at this level, we do have managerial experience in Paul Sturrock who is proven at this level and his expertise may prove to be key this season. Yes last season we didn't have the greatest of seasons considering 5 years ago we were a Championship team, but in all fairness to Sturrock he had the big boots to fill of the messiah; Steve Tilson. We only had 4 players tied down on full time contracts when the friendlies started and with the makeshift team we created recruiting 20 odd players, from lower standards of football mid table was a relatively good result. But this season, Sturrock has acquired some quality signings in Jemal Johnson with League 1 experience and Neil Harris, a lifelong supporter who will form a formidable partnership with Corr upfront. With Bilel and Hall really finding their form at the end of last season, and the way we out passed Norwich City at times last week, it'd be a big mistake to rule us out as pushing for a Play Off place!
Posted 21:23 3rd August 2011
Daniel Gardecki (Bradford City fan) says...
I think we will do better than expected this season.I predict we will finish 5th (I'm optimistic) :-) I've been saying for years we need to get the youth into our 1st team but they've never had a chance until now! If I had been the manager 5 years ago is have sold the 30+ year olds and played the youth.I believe if some of them had of been given a chance they would have shone,but our recent managers have always gone with experience over youth.
Posted 19:15 3rd August 2011
David Fearneyhough (Oxford United fan) says...
all oxford fans cannot wait for the games against swindon,that is the buzz around at the moment people queing 3 hours + to get tickets for the game at the county ground.pittman,smalley and duberry look like good signings for us and alfie potter is looking pretty sharpe already and scoring.i think we could push for an automatic promotion place this season if all goes well and hopefully we dont lose 5-0 at bradford this season.
Posted 15:46 3rd August 2011
Jim Bryant (Swindon Town) (Swindon Town fan) says...
There is a really positive vibe flowing arround the County Ground at the moment and Di Canio has certainly injected passion and enthusiasm into the players and club alike. Di Canio has very high expectations for the club and seems to have recruited very well. I've seen several improvements from last year and the cohesion within the squad is impressive. I really believe Swindon will finish in the top three. I'm buzzing for the Crewe game on Saturday! COYR!
Posted 11:19 3rd August 2011
A Smith (Bradford City fan) says...
It would be foolish to rule out Bradford from mixing it with the play off positions. Very important that we have a good start though in order to provide confidence to what is a young squad. Peter Jackson may have just found a few gems in the Scottish lads and expect the team to play with more freedom than last season which should generate more goals. If however we have a poor start I can expect to see us battling it out in the wrong half.
Posted 19:58 2nd August 2011
Nadeem Akram (Manchester United fan) says...
Yes Stuart they could be! Up the Bantams and the Millers!
Posted 19:41 2nd August 2011
Stuart Ough (Bradford City) (Bradford City fan) says...
Hi Peter, I think your old club Bradford could be a surprise package. Yes, we've struggled of late and this year is more of a development year with all the young players we have brought in, but I'm quietly confident of a play off spot! Wish we could have you flying up and down our wing again, though!
Posted 16:47 2nd August 2011