I could think of 50 managers in the English leagues that I would have expected to get sacked before Lee Clark.
So when I saw the Sky Sports News Breaking News ticker announcing that Huddersfield had axed him I couldn't believe my eyes.
Like most people in football, I see him as a bright, young progressive manager who seemed to be doing a very good job.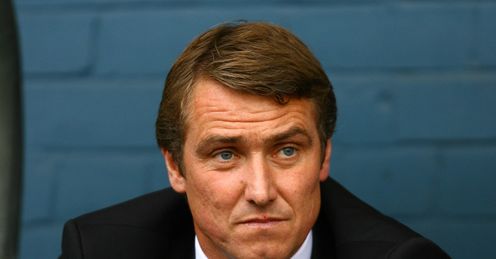 He also seemed to have a good relationship with the chairman, Dean Hoyle; they often spoke highly of each other in the press and they appeared to be in unison when they fended off sizeable offers for star striker Jordan Rhodes
When you look at the cold, hard facts it looks even more surprising:
- Huddersfield are currently in the top four and only four points off an automatic spot.
- Clark's record is P178 W87 D51 L40 and he has an impressive win percentage of 49%.
- The midweek loss to Sheffield United was their first defeat in 10 games.
- Clark led them on an incredible run of 43 games without a defeat stretching from the end of last season into this campaign.
The chairman said he has been looking at the situation for a period of time and made the decision to give the club the best chance of achieving promotion. He obviously feels that's more likely with someone else in charge.
I'm not sure many people would agree. The players have been signed by Clark and you would think their loyalties lie with him.
You have to remember that Huddersfield are competing with some very powerful sides in Charlton and the Sheffield clubs.
If they'd been on their current run in any other League One season they could easily have been in an automatic spot.
Lee has done such a fine job that when vacancies arose at Leeds and Wolves, many people assumed he would be in line for those jobs. Maybe the club started to question his commitment?
I just don't know and I won't know until I speak to Lee directly. I have texted him to tell him about my disappointment and I look forward to finding out what he has to say on the matter.
Reaction
But while I was surprised by the sacking, I was just as surprised by the reaction of Huddersfield fans on forums and on social media sites.
I envisaged a wave of sympathy for Clark, but they don't appear to be shocked by the decision. A lot of them are backing the chairman as he's a fan of the club and he knows what's happening in the inner sanctum.
Some supporters have pointed to the resources that Clark had at his disposal, maybe not in terms of transfer fees but in terms of the high wages that the club paid to players. The fans don't want to see a repeat of the last two seasons when they reached the play-offs, only to fall at the final hurdle.
Supporters of other teams would question this decision, but Huddersfield fans watch their games every week and they don't seem to be as gobsmacked as the rest of us.
These guys go to the games, watch the technical area and follow the team intently. What do they know that the rest of us don't know? I'd love any Huddersfield fans reading this to explain their views in the feedback form below.
Sentiments
Lee has gone on record as saying he is "shocked, disappointed and perplexed" and I share those sentiments.
I hope he will be back in the game soon. He may not be able to walk straight into another job because severance settlements need to be brokered and that can often be a protracted process.
The chairman has publically thanked Clark and his staff for their work and I hope those aren't empty words and they can come to a quick agreement. There's a few jobs available right now and I'm sure a few more will become available over the next three or four matches.
Clark would be an asset to any club. Whenever I've sat next to him in a TV studio he's come across as astute, knowledgeable, driven and passionate. He's also very professional in his preparation.
For those reasons I thought he was the best man to try and finish off the job at Huddersfield and get them promoted. I felt they would have benefitted from some continuity - and then if they fell at the last hurdle yet again they could have taken a look at the situation in the summer.
The chairman has made a decision that has stunned many of us in the game and he will now be judged by his next appointment. We won't know if it's the right decision until we see who comes in and whether or not he can pick up the gauntlet.
Whatever happens, the next man will take over a club in a great position with a fantastic group of players.
Comments (48)
Tony Knapp (Charlton Athletic fan) says...
I was appalled at the dismissal of lee clark.I thought lee done a magnificent job at huddersfield.I have been a charlton supporter since the sixties. proud of it to. you dont get anywhere without stability. it will be interesting to see how they react although simon grayson has a good record at leeds. not many managers get the chance to take over a side that is so high in the league. i think the most consistent teams in league one have been us and huddersfield.so good luck to you and i hope we both are in the championship next season. i hope lee gets an offer soon, we need good young managers and english
Posted 22:45 22nd February 2012
James Reilly (Leeds United fan) says...
Simon Grayson is the man to get you up!!! Lee did a good job put Grayson is a better manager, got leeds up on less money, his first full year at the club and untill they out classed man united in the f.a cup, leeds had the best defend record in england fact. Grayson should still be at leeds, Had bates backed him last year with money they would have gone up. Grayson will have you playing good football and i think you will go up this season. Lee did have three year at trying to get you up!!! facts are facts. You have a great manger in SIMON GRAYSON.
Posted 22:04 22nd February 2012
Jamie Hutchinson (Manchester United fan) says...
I think sacking him at this stage of the season can only unsettle the squad, he was doing a fine job, league one this year has a few big clubs in I.E the sheffield clubs and charlton so expecting promotion as a gimme is naive from HTFC fans in my opinion. Dont expect any miracles this season after hiring Simon Grayson, afterall didnt he get sacked for not achieving potential at a club that should be higher than they are...
Posted 12:52 22nd February 2012
Steve Clarke (Newcastle United fan) says...
Big mistake! you dont sack your manager when you are in such a good position. No matter who you get to replace him, it will fall apart. You should have waited until the end of the season before making such a decision. We cant all be wrong, the whole of football thought Clarkie was doing well, no one was asking for his head! Never mind its down to Huddersfield what they do! I am sure they will be lined up to take the job.
Posted 08:57 22nd February 2012
Andy Johnson (Middlesbrough fan) says...
As a Boro fan i find it amazing to see the negative reaction of these so called Hudderfield supporters, what more do you want? To expect promotion when you have the likes of Sheffield and Charlton aiming for this position is a little silly, your not a big club and after the way you have treated Clark i cannot see any credible manager wanting this position If you want a bad manager, try Strachen fora couple of years, you would be begging anybody to come in after him
Posted 22:28 21st February 2012
David Weston (Huddersfield Town fan) says...
All these "experts" who never watch Town. Since Christmass our football has been dire. No plan,no tactics. Clarke never knew his best team and some of his selections were unbelievable.Signed 44 players in 3 years but things were going awolSorry Lee,decent guy but your number was up
Posted 17:53 21st February 2012
Kevin Cassidy (Brighton and Hove Albion fan) says...
Any of you Town fans saying you have more of a chance of promotion now are nuts. You're also showing that you have no real idea of the game as a whole. You had a lot of draws from winning positions? boo hoo. You have 3 defeats in 55 is it? what more could he do? You don't agree with all of his decisions but they were right, however you lok at it he was doing a great job and deserved more than you lot are showing. Do you think for one minute that Grayson will be able to put that kind of run together? The only winner, in the long term, is Lee Clark. When your team starts to slides, through lack of stability at the most important time of the season, he's gonna look like manager of the century for what he did. He'll be managing in the championship before you get there and good luck to him. One of the best young english managers in the game and you lot are glad to see him go? Fools!!!
Posted 14:41 21st February 2012
Spartacus The gladiator (Blyth Spartans fan) says...
You all whine on about "the money he had" notice none of you Huddersfield fans have worked out if the transfer dealings of your ex boss are showing a positive or negative figure (bearing in mind young Rhodes must be at least worth 3 mill) Anyway, you reap what you sow and you lot aren't getting any nearer the promised land this season, when you are fighting relegation next season think back to this time in your history, 4th in the table and you bin your boss, you are having a laugh.......
Posted 17:15 20th February 2012
Geoff Lane (Leicester City fan) says...
Lee turned down Leicester's money for you lot. Now you've got Larry, an old Leicester City star and fine young manager.... just like the one you've sacked. Never change horses in mid-stream. We've learned that. You're about to. Without your star forward you're just another team. Oh and Peltier figured that out earlier this season.
Posted 16:29 20th February 2012
Adam Mosley (Huddersfield Town fan) says...
I feel pleased about the sacking of clark because he never knew what team to play. He played people in wrong positions and didn't know what to do to change a game. If he give Hunt a chance on the wing he would develop into a winger with his blistering pace when he turns it on
Posted 14:19 20th February 2012
Andrew Haigh (Huddersfield Town fan) says...
Firstly, I disagree whole-heartedly with the decision to sack Lee Clark. I think any discerning supporter would be able to read between the lines here and see that something has happened behind-the-scenes, and maybe Dean Hoyle's financial fears of staying down again with the current squad. Clark did give us a club to proud of, and his record speaks for itself. We've unfortunately fallen just short behind teams like Southampton, Brighton, Leeds and Charlton over the past 3 seasons, and Huddersfield Town's fans are famously impatient after years of languishing below their perceived level. I am disappointed with the Huddersfield fans who have not extended at least a sympathetic arm towards Lee who always spoke highly of the football club and gave us many a highlight. He had every chance of getting us up this season.
Posted 11:28 20th February 2012
Todd Connor (Huddersfield Town fan) says...
All the non-town fans looking from the outside, not having much of a clue about the club or it's ambitions can be quick to criticize Hoyle's decision, Clark had a good record for sure, and I liked the bloke, he's passionate and tries to play a good brand of football. However blinded by the hype of an unbeaten run (which was nice) they fail to see that the main objective for the club is promotion, which Clark had failed and was going to fail to achieve. This is simply because too many games were drawn, too many points dropped from winning positions, he was given a lot of backing and a lot of funding, bought and sold copious amounts of players and it's still looking like the play-offs. Bottom line is the like of Chartlon and Sheffield Utd are where they are due to winning games, something Lee Clark couldn't seem to get trending at Town, therefore we need a manager that will come in and win games. They're a better team than a lot of championship sides, they deserve a winning manager to get them there
Posted 23:05 19th February 2012
Kev Haskell (Huddersfield Town fan) says...
Unbeaten run is a meaningless statistic ¿ too many draws as per comments previously ¿ I would much rather us play a consistent 4-4-2 & lose the occasional game ¿ win 2 lose 1 is better than win 1 draw 2 which is how it ended up for Town. Clark was finished for me after the play-off final. 4-5-1 with novice Afobe up front & our top scorer on the bench till the 80th minute showed Clark¿s lack af tactical nous. Did he not realise Posh defence was third worst in League 1 & they were bricking being taken apart with a 4-4-2? Hoye has made the right call ¿ LC was given the keys to the toy shop with unlimited ££ & full backing. He turned out to be a tinkerman & faield to address the ingrained problems at teh abck in his entire stay. Any successful side is going to hve a settled First XI & we have not had that for 2+ years. Players knew one off performance & they were back on the bench (or worse) Bottom line is after 3 years of LC we are exactly where we were & it¿s simply not good enough ¿ with the hand he was given we should have been pushing Southampton now.
Posted 20:01 19th February 2012
Bobby Hoy (Huddersfield Town fan) says...
I may be in the minority but I am still in mourning. The only way I could make sense of this was if Dean Hoyle had an experienced manager with a track record of success lined up to succeed Lee. It appears there is no plan and the speculation about the people in the frame is laughable. Some Town fans have been complaining about Lee Clark's mis-management; I would like to offer that Dean Hoyle has just made the biggest management error in sacking Lee Clark; and the way he did it was appalling. I wish nothing but the best to Lee Clark and thank him for the commitment he showed to HTFC.
Posted 16:26 19th February 2012
Lee A (Manchester United fan) says...
lets see if the fans of huddersfield town still back the chairman come end of season when thier still in the same league, lose many players eg jordan rhodes and then the only way is down bad decision
Posted 16:00 19th February 2012
Stephen Bates (Huddersfield Town fan) says...
I watch Town every time I go home on holiday, this year I watched the Leyton Orient game 2 points wasted by a poor manager. He was a good judge of a player but tacticaly very poor. I for one am glad he has gone. most of the experts who say the sacking was wrong should read this board. Well done Dean Hoyle. Ps and thank you
Posted 13:19 19th February 2012
Ron Hackett (Birmingham City fan) says...
he should get a much better team than huddersfield with his record , see you in the top flight sometime hopefuly lee clarke
Posted 11:09 19th February 2012
John Wright (Huddersfield Town fan) says...
Most of us feel that for the future success and stability of the club we need to be in the top half of the Championship. The top 5 in league ! are better than the bottom 10 of the championship as recently promoted clubs have shown. It seems increasingly likely that 2 elite leagues will be formed from the top 36 clubs. A modified parachute payments system will almost ensure exclusivity for these clubs. I believe that this is why our chairman has backed Clark extensively over the past 3 seasons. However, his purchases and judgement, have become increasingly worrying & questionable, As mentioned by another poster, at the end of season one, a quality centre back, left back, and midfield general were all that was needed, maybe plus cover for other key areas.Clark's scatter gun approach has done little in terms of improving the quality of the football, the ability to defend a lead, and the benefits that come from understanding one another's attributes in a settled squad. Chelsea have some of the same problems; Man City seem to have eventually overcome them.? Back to Town, our failure to seal our promotion last season was down to unaccountable team selection, and gave us no confidence in Clark's.ability to select and motivate the team for a "crunch match" . For this season our hopes were pinned firmly on obtaining an automatic promotion place, It was galling to see Charlton claim one of these virtually from day one, but, as long as our results were at least as good as those of the Sheffield clubs we continued to live in hope. Recent results have seen us fall behind this goal; the Shefield game was truly a six pointer, another crunch game in which Clark's arrogance saw us take to the field without a midfielder on the bench. Is Clark claiming that Anthony Kay, Scott Arfield Joey Gudjonssen, Tommy Miller and Damien Johnson were all more injured than Oscar Gobern?If so he was unlucky to go!
Posted 17:17 18th February 2012
Andy Whitehead (Huddersfield Town fan) says...
same old town always the bridesmaid.,and not the bride. i back dean all the way. but dean please think carefully before you put someone charge.i dont agree with playoffs.there for we would have been a championship side now.we dont want warnock again.?
Posted 16:11 18th February 2012
Matt Jarvis (Tottenham Hotspur fan) says...
It is clear from the comments of Huddersfield fans that they have no idea about football, but then that is why they are just a small club. Lee Clark did and was doing a great job and had showed great loyalty. There are teams out there who will now benefit from him and he will end up managing in a higher division while you just stay where you are. The only way Huddersfield are going is down after this non sensical decision.
Posted 10:48 18th February 2012