There was a flurry of Championship fixtures over the Easter weekend, but I haven't been able to get this Friday night's showdown out of my mind.
The top two teams in the league - and in the form table - will go head to head and I can't wait to see Southampton and Reading clash live on Sky Sports.
We thought it would be two from three to go up, but after West Ham's home draw with Birmingham there is a six-point gap to third and the Hammers might be out of it.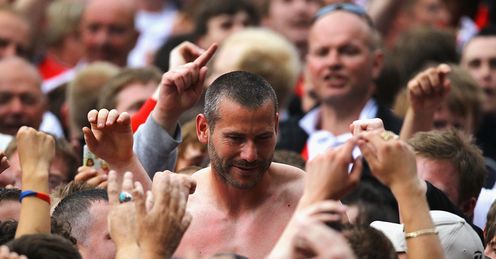 I see both Southampton and Reading going up and as they're only separated by goal difference, this match could prove to be about who will win the league.
Reading have been on a great run and a victory away at the league leaders would give them the belief that they can top the division. Their final three games are against Nottingham Forest, Crystal Palace and Birmingham and the Saints will hoping that the in-form Blues can do them a favour on the final day.
LIVE ON SKY SPORTS
Southampton v Reading
7.30pm, Fri, Sky Sports 1 HD
Watch on the move with
Sky Go
How to
remote record
This game may not decide the title mathematically, but if Southampton win they will effectively have a four-point lead because their goal difference is so superior. Their final games are against Peterborough, Middlesbrough and Coventry - and it will be hard for Reading to make up the gap in only three games.
But the rampant Royals have got into this position the hard way. They've played a lot of the top teams in recent weeks and have beaten West Ham, Blackpool, Leeds and Brighton in their last four games.
So in a way, this is more important for Brian McDermott's side. If they win at St Mary's I can't see the bubble bursting and they might be unstoppable until the end of the season.
Top billing
The Saints have retained their billing at the top of the league following the Easter games. They only got a point against Portsmouth last Saturday - but given the tribalism and rivalry that goes with that fixture it was always going to be difficult - yet they went to Crystal Palace on Monday and took all three points.
Rickie Lambert scored his 29th and 30th goals of the season in that game and they will need him to play well if they want to put some breathing space between themselves and Reading.
Obviously everybody will see him as the pivotal player, but Southampton are anything but a one-trick pony. His goals are one of the reasons for their league position and their superior goal difference, but it's not just down to him alone.
Much is due to the way that Nigel Adkins sets his team out - they are very offensive with two wide players - and also their strength in depth up front. A lot of eyebrows were raised when they signed Billy Sharp, but after a few injury problems it's proved to be a very wise move.
Yet while these two sides like to go forward and play with flair, this game also provides a face-off between the top best goalkeepers in the division. Forget the likes of Robert Green, for me Kelvin Davis and Adam Federici have been outstanding.
Davis has only missed one league game this season and has started in 109 of their last 110 matches. Meanwhile Federici, who was outstanding against Brighton, has played in all of Reading's Championship games and kept 19 clean sheets.
The strikers may get the headlines and are the matchwinners in the eyes of many supporters, but I'm sure the players and managers are aware of how important these two are. They are definitely the best two in the division.
Justifiably
I'm not going to put any pressure on myself or any of the players (because I know some of them read this column) by trying to predict a winner in this game.
All I'll say is that these two teams are justifiably at the top of the Championship. Whether you want to judge it on goalscoring or defensive records, these two have been highly impressive.
Both sides have been under tremendous pressure from the chasing pack, but have covered themselves in glory.
The only question is who will end up on top of the pile on the final day?
A different kind of pressure
Southampton v Reading will take all of the focus on Friday night, but there's another huge fixture at the other end of the spectrum.
The clash between Barnet and Hereford in League Two could prove to be the difference between staying in the league or dropping out of it.
The recent upturn in fortunes for Plymouth and Dagenham & Redbridge has left Barnet, Macclesfield and Hereford cut adrift. It looks like two of those three will go down.
Both sides have been through soul-destroying defeats over Easter and will be desperate for three points on Friday night. Barnet are three points clear of the danger zone, but have an inferior goal difference so there's not a lot to choose between them.
Finally, a word for Bristol City who were the most decisive movers in the Football League over Easter. They seemed to be struggling, but got two big results by beating Nottingham Forest and Coventry. It's massive if you can beat the teams in and around you.
Do you agree with Peter's calls? Who do you think will win the Championship? Who will make it into the play-offs? Share your thoughts in the comments box below...
Comments (15)
Adam Whalley (Reading fan) says...
If anyone has watched West Ham over the last few months, or watched Reading and Southampton, i think putting a lot of money on west ham going up automatically would be a bit of waste. Reading set up to win games and stop the other teams by playing by utilisting a busy and hard working midfield. They defend from the strikers backwards and they can stop most teams using there most effective players through this and also careful consideration from our manager. Itll be hard against southampton as they have the strikers and wingers with the ability and the confidence to possibly unpick our defence (the only team in the league who i think can do this), but is the promotion race over? probably by next saturday we will definately know the result of this league. Southampton and Reading both deserve to go up in my eyes by spending small, and building strong teams, with limited egos, so the title race doesnt seem to important to me, as both teams have proved over a season that they deserve it
Posted 13:54 13th April 2012
Finley Crebolder (Reading fan) says...
Massive game for us tonight. Altohugh I dont really mind about winnig the league I think that if we win tonight we will secured promotion as southampton would be between us and west ham. Whatever happens tonight I think Reading and southampton will be the top two and they both deserve it.
Posted 13:23 13th April 2012
Liam Goodhew (Reading fan) says...
Im going to saint marys tonight, although sky sports coverage has always been good covering the royals, the atmosphere at st marys will be electric and i believe that the two best teams in the division are up there, iv said for years that southampton are a prem club in the wrong league, however as much as i like them i really hope your all upset tonight, good luck to both!!
Posted 10:35 13th April 2012
John Randle (Blackpool fan) says...
Wes Davis, You'd be prepared to lose a lot of money on West Ham going up automatically.
Posted 10:28 13th April 2012
Tara Anstey (Southampton fan) says...
Surely is going to be a tough game for us but I'm confident southampton can get a hard earned win.. If not a draw won't be 2 bad... Westham will be out of the race by tomorrow whatever the result....
Posted 22:28 12th April 2012
Brian O shea (Reading fan) says...
This is the game that will decide who wins the league. Should be a cracker
Posted 21:42 12th April 2012
Tom Darke (Reading fan) says...
I know who I would like to win on Fridays match between Southampton and Reading, and that is Reading. But I must admit, this game is going to be a tough one for both teams. My gut feeling is it will end in a draw, and the fight for top will still be there. Come on you Rsszzz!
Posted 20:13 12th April 2012
Pat Muldowney (Southampton fan) says...
West ham matey, you are having a laugh. The most negative team I've seen all season. One up front at st Mary's was pathetic. Should never have appointed big spam, terrible manager. Saints will beat reading tomorrow. West ham will draw with Brighton. Saints will seal promotion on Tuesday at Peterborough and the league title will be ours after Middlesbrough. UTS and goodbye Portsmouth :-) Nostradamus the Saint
Posted 20:09 12th April 2012
Chris Gill (Southampton fan) says...
Massive game tommorrow night, no matter what happens these two teams have been the best two in the league and both should go up. Sorry West Ham but i attended both of the games, at St. Mary's and Upton Park and you didn't show enough to me other then the Big Sam HOOF. The Royals have been entertaining to watchall season just as saints have been. Come on Bristol City, my dads team will hopefully get the massive three points they need to stay up, a result which will hopefully nail pompey's coffin shut.
Posted 18:24 12th April 2012
Peter Speirs (Southampton fan) says...
Sorry i have written Wet Spam off already, you had your chance's. Tomorrows game is the title decider, gonna be a very tense affair, wouldn't like to call it but a draw would negate any threat Wet Spam may think they still have COYR's.....
Posted 16:47 12th April 2012
Kenny Alder (Reading fan) says...
It's crazy to think Reading had to make up 18 points on Southampton from earlier in the season. Earlier in the season us Reading fans weren't even that confident of a play-off place and now there's a possibility of winning the title. Massive game tomorrow Roberts has been a brilliant signing and McDermott in my opinion is the best manager in the league and one of the best in the country every season losing his best players and getting us close to promotion and this season looks like we could actually do it. Whatever the outcome tomorrow I think Reading and Southampton will both get promoted. Winning the title again would be a nice bonus though
Posted 15:37 12th April 2012
Lee Thomas (Southampton fan) says...
Hats off to Reading, they have had a good run in when it counts, but I cant see us folding now, we have been top for 98% of the season because he kept the same mentality from the end of our promotion push to the Championship. Great Blog by the way and I'm pretty sure that everyones blood pressure is rising by the hour towards Friday and the end of the season. UTS!!!!!
Posted 15:35 12th April 2012
David Clyde (Reading fan) says...
A difficult one to call on Friday. It could go either way, but I can't see Reading playing for a draw as it's not their style. Brighton were good the other night and we rode our luck a little and will offer stiff opposition to West Ham on Tuesday. I think whoever wins on Friday can look forward to the premier next season and likely followed by the other. I'm not sure West Ham will win all 4 games to put the pressure on, particularly as 2 of them are at home and they've not won at home for 8 games.
Posted 14:39 12th April 2012
Wes Davis (West Ham United fan) says...
I don't think you should be writing off West Ham just yet. I'd be prepared to put a lot of money on us going up automatically. Seriously, this isn't over yet.
Posted 14:11 12th April 2012
Richie Brill (Southampton fan) says...
Massive game for us Friday and it's going to be a tough game to call but I think we can nick it. I do believe that whoever wins this game will win the title this season but pretty confident that both sides will go up, with a bit of luck Brighton can do us a massive favor beating West Ham on Saturday and all but cement our chances of going up. At the other end though Bristol City have a fantastic chance of relegating Portsmouth Saturday and promoting us the following Tuesday! All I can say is what a fantastic end to the season it's shaping up to be for us and wish every other teams the best of luck in their promotion/relegation fights and that does include Portsmouth although I think it's too late for them now
Posted 14:08 12th April 2012