Wembley played host to three gripping play-off finals in May.
Football League guru Peter Beagrie was part of the Sky Sports punditry team for each of the showpiece events and saw Crystal Palace, Yeovil and former club Bradford end them in a higher division.
Peter did not want to reserve his analysis solely for the TV cameras, though, and in the paragraphs ahead has given his assessment of the victorious trio - and explained how much he enjoyed this season's action.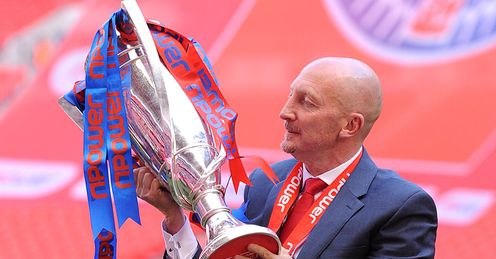 Read on for Beags' take...
Underdogs prove top dogs as Palace prevail
BEAGS SAYS: Not too long ago the Selhurst Park hierarchy were down to the small change and fluff in their pockets, but the Eagles' close-knit band of brothers, urged on by their passionate and vociferous fans, outfought and outthought the usually-prolific Watford at Wembley to guarantee themselves £120million and a place in the Premier League and the club a long-term future.
Ian Holloway was faultless tactically, while his Palace players showed commitment, composure, discipline and a mentality for the big occasion, especially Wilfried Zaha (pictured). The Man United-bound winger was on a one-man mission to go out on the ultimate high and in extra time tempted Watford's Marco Cassetti to make a tackle in his own box and give away a penalty - and cometh the hour, cometh the man.
Kevin Phillips, who had kicked his heels on the bench for much of the game, has been an inspiration his whole career and after a couple of steps placed an unerring finish into Manuel Almunia's top right-hand corner to make the decisive breakthrough. I am, however, sure that this will not be Kevin's final appearance or goal and would expect him to play a role for Palace in the Premier League in the way Teddy Sheringham did at West Ham.
I would like to congratulate the Eagles and their supporters and commiserate Gianfranco Zola and his Watford charges, who may have frozen at Wembley but have showered us with goals and wonderful attacking performances during a remarkable season.
You start at the bottom and work your way up
BEAGS SAYS: Yeovil Town, yes Yeovil Town, will start at the foot of the Championship next term due to alphabetical order but that achievement is every bit as good, if not better, than Palace's. The Glovers' prize cannot compare with the Eagles' financially but the pride and feel-good factor Gary Johnson has brought to the fans of Yeovil is immeasurable.
After leaving Town first time around, Gary could look back with pride at a club he had taken from non-League into League One and thought: 'It can't get any better than this'. But his second coming has brought a style and swagger to Johnson and everyone associated with Yeovil and resulted in the Somerset side being transformed from third-tier strugglers to Championship hopefuls.
A little team and a little manager displayed hearts as big as binlids and showed total disregard for the fear Wembley holds for some teams to produce a memorable performance against Uwe Rosler's first-class Brentford.
Gary will not change his style for anyone and now he has got his mojo back underestimate him at your peril, and while it will take a a lengthy period of time for the cider stocks in the Yeovil area to be replenished, a few headaches and hangovers are a small price to pay for such an enormous achievement.
The fall and rise of Bradford City
BEAGS SAYS: The dramatic demise of Bradford was less publicised but equally as spectacular as their Yorkshire neighbours Leeds, but the healing process can now begin after a season that promised the Earth and delivered. The Bantams enjoyed an incredible Capital One Cup run, slaying giants of the Premier League along the way, before it ended in a glorious defeat at Wembley at the hands of Swansea.
The extra-curricular exploits had a debilitating effect on City's League Two campaign, though, and left them 12 points off a play-off spot with nine games to go, but all the belief garnered from the cup helped them focus and they produced a barnstorming run to snare seventh place.
Bradford lost at home in their play-off semi-final to Burton but defied the odds again to run out 5-4 aggregate winners and secure a second appearance of the season at the home of English football. This time, however, City were not there for a day out and to luxuriate in the surroundings; there was a job to be done and, boy, did they do it.
On-field general Gary Jones barked orders; Andrew Davies matched the physicality of Northampton's Clive Platt and Adebayo Akinfenwa; and the return to form of deadly little-and-large strike duo Nahki Wells and James Hanson ensured the game was over as a contest after 28 minutes, Bradford earned promotion and a happy ending was provided to a fairytale campaign.
And finally...
It has been a privilege to be involved the Football League again this year and it has definitely given us value for money in terms of passion, commitment and high drama.
There is still a huge affinity between the fans in the stands and the guys on the pitch who genuinely care and about their supporters and wear their club's short with pride. I am sorry it is over and, like most fans, cannot wait for it to start again.
I would also like to take the opportunity to thank everybody who has taken the time to write in to this column with questions and viewpoints as without fans football wouldn't survive.
See you next season.
Comments (3)
Steve Parkin (Bradford City fan) says...
Beags, you were a breath of fresh air on arrival at the mighty Bantams to give us the push and the rise to the Premier League. Although you didn't join us until the old division one you gave our team width and flair. I'm hoping to relive them days with a renewed bradford city. We have some young raw players and with the addition of a couple of quality players in key locations watch out the new division one onwards and upwards. Have a great summer.
Posted 10:54 30th May 2013
Drazen Trifunovic (Wolverhampton Wanderers fan) says...
Well done to Bradford city made all the right headlines during the season and to get promoted is just icing on a cake. Hopefully dark days are behind them
Posted 11:32 29th May 2013
Steve Smith (Bradford City fan) says...
Had a thrilling season which surpassed my optimistic hopes for 2012/13 when I picked up my season ticket last July. The quality signings Mr Parkinson brought in made our div 2 and cup campaigns such a positive experience for everyone concerned and the few dips were eased away with determination and team-work. The previous 12 years will not be forgotten quickly but 2013 has helped to put back pride in the claret and amber. But Wembley is a cruel place for losers and in our hour of success, all three play-off winners must remember the thousands whose hopes have been squashed when their team didn't turn up. However good luck to the promoted sides for another great season - can it be repeated next year?
Posted 08:59 29th May 2013