They're the descendants of Viking warriors with names like Erik Bloodaxe, Bjorn Ironside, and Noggin the Nog and they're out to conquer the rugby league world.
Yes, Bjorn the Biff, Isaac the Ice and Kristian the Quick are the new generation of warriors from the far north but thankfully they're just armed with a pair of boots and not shields and great big axes.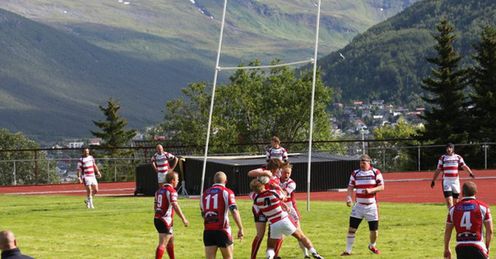 And they're quite happy knocking seven bells out of each other in Norway at the moment although they've already started to conquer other nations.
Norway is one of the newest members of rugby league's European Federation with five sides playing the game during the summer months. Most of those teams are in the Oslo area in the south of the country but in the far north of Norway they're into the game as well.
Northern lights
Tromso is 215 miles inside the Arctic Circle, it's nearer the North Pole than any Super League club but up in the city known for its Northern Lights experience they're playing rugby league. The Tromso Polar Bears are one of Norway's leading teams and they've overcome all sorts of difficulties to get the game going in the land of the midnight sun.
They play on the only grass pitch in the area and that's on a hillside high above the city where, even on a mid-summers day, the wind howls in from the Arctic Ocean and there's still snow on the mountain tops. It makes Mount Pleasant seem like a picnic.
Bill Arthur
Quotes of the week
There's Norway's lack of physical contact sport to start with. Norwegians like skiing, football, handball and golf but, since Erik Bloodaxe and co departed the scene, they haven't really gone in for the big hits.
That could be changing now because there are plenty of young Norwegians keen to give league a go. The Tromso team includes the usual band of enthusiastic exiles. There's Isaac the Kiwi, Tony from Leeds and Lee from Plymouth, who have all been helping to drive the club along but they've been joined by the likes of Joachim, Jorgen and Kent to form the world's most northerly rugby league team. In fact, they claim to be the world's most northerly rugby team in either code. But I'm not going all the way to Alert in Canada to see if there's somebody kicking a penalty goal from the halfway line to check that claim out.
Tough conditions
It's been tough for Tromso to get the team going. They play on the only grass pitch in the area and that's on a hillside high above the city where, even on a mid-summers day, the wind howls in from the Arctic Ocean and there's still snow on the mountain tops. It makes Mount Pleasant seem like a picnic.
Training during the off season in Tromso can be difficult for the team. There are no floodlights at the ground and, with no daylight from November to January, that's a problem. That and the five to six feet of snow that can cover the area in the winter. But they're an ingenious lot are Tromso RLFC and have been known to train in the city's big underground car park to escape the weather. Their players travel through treacherous conditions to get to training and their nearest away game is a two hour flight away down in Oslo.
The Bears have contributed players to the Norwegian national side who recently caused a major upset by beating Germany 32-28 in the European Shield competition at the famous Bislett Stadium in Oslo. Coming up next month for Norway is an international against Sweden. They're already sharpening their axes and polishing their shields in readiness for that Viking derby match.
After that the nights will draw in, and then in some more, until darkness descends on Tromso. Only the beautiful and eerie northern lights will brighten things up for several months. But at least the rugby league players of the far north will be able to sit round the fire and recall the great moments of their season over an ale or two.
At £7 a pint it'll probably be just the one in fact.
Comments (11)
Scott Edwards says...
Guys, The rest of the world are watchin/listening with interest about what's going on up here in Scandinavia. Shouldn't we be givning them a more positive picture of what we're buildning? @Mark, just because you beat us (Sweden) by a very convincing margine doesn't mean you can claim Denmark to be the best team in Scandinavia now can you? BTW how many players in your squad qualified as "Danish"? Mate, it doesn't really matter at this stage, as you know we were happy just to be able to play the game and help you guys get off the ground. Good luck with the next game.
Posted 20:32 20th August 2011
Mark Hewson says...
Warren - keep the comments coming, our guys enjoy a good laugh. By-the-way, I thought you were meant to be the development officer for the WHOLE OF SCANDINAVIA, not merely the Norwegian promoter! Is this conflict of interest something that needs taking higher?
Posted 18:41 14th August 2011
Ben Jago says...
Harry I second your call on Joshua William Skidmore Hornby, It is an absolute honour to play along side such a naturally gifted player willing to put his body on the line week in week out!
Posted 21:53 11th August 2011
Warren Heilig says...
I think you danish guys should pull your head in a bit. You don't even have a team of Danes yet but already claiming to be dominent in this region. You haven't even got 1 club team yet, you have 4 people claiming to be in charge of a so called "board" and a "national side" with less than half the players being from the actual country your playing for. I would suggest before you start claiming any titles you put some of your efforts into sorting out a proper organisation and start building a league from the ground up just like the rest of us have had to do, rather than running off the back of a story about a country that actually plays Rugby League and looking for recognition by slandering the one country in Scandinavia that actually worked its way up to be recognised for its groundwork and growth. Oh and just for the record, if we put our topside out against you, you would be given a very big lesson in humility..... TRUST ME ON IT.
Posted 20:27 10th August 2011
Danish Viking says...
Its a damn shame for Norway when they get their backsides kicked by the danish team in Oct.
Posted 15:43 10th August 2011
Mark Hewson says...
In reference to my previous mail: I hold the position of Chief Executive Officer for Denmark Rugby League (Dansk Rugby League Forbund).
Posted 14:20 10th August 2011
Mark Hewson says...
Norway might be getting some press and TV coverage but Denmark is the best Scandinavian Rubgy League team. This will be confirmed when Denmark host Norway on 2nd October in Copenhagen. Sweden hosted Denmark recently and the Danish team hammered the home team by 52-18.
Posted 14:16 10th August 2011
Nigel Hornby says...
Thanks for the inspiring story...I follow the Polar Bears closely and some of their mighty warriors stay in my flat with my son Joshua, when they travel to Oslo
Posted 10:45 10th August 2011
Joshua william Skidmore-hornby says...
Cheers Harry, trust your own family to be biased. Look forward to meeting you on the pitch Nicholas Milner. I would like to second Nicholas' thoughts. Scandinavia could use all the PR it can get, and Denmark just coming off a Scandinavian upset by hammering the Swedes.
Posted 09:36 10th August 2011
Harry . says...
I believe Joshua Hornby is their star player? An inspiration to all sportsmen.
Posted 00:58 10th August 2011
Nicholas Milner says...
They are playing Denmark on October 2nd. I know, because I will be playing for Denmark against them. It would be great if someone from Sky could follow up the game, we are a younger side than Norway, and all support is golden right now. Any help from SKY Sports in terms of coverage for all the Scandinavian sides would be greatly, greatly appreciated! Looking forward to the Norwegian boys paying us a visit..
Posted 14:44 9th August 2011