Andy Murray's reputation continues to grow week-in, week-out and yet I still get the feeling that his success comes with a bit of a backlash.
How anyone can be negative about what he is achieving at the moment is beyond me but there are those who believe he is only being talked up because he's British.
My message to those people is get over it. Enjoy the way Andy plays tennis because he is not only a winner but an entertainer too.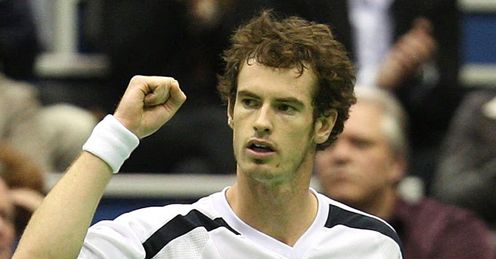 Some of the shots he produced to beat Rafael Nadal in Sunday's ABN AMRO World Tennis Tournament and claim his 10th career title - yes 10th of what is becoming a phenomenal career - were outstanding.
Yes, he still needs to win a major but I believe his success in Rotterdam proves that dream is going to turn into a reality sooner rather than later.
Beating guys like Rafa on a regular basis is all part of the psychological process that will help him overcome that huge hurdle of winning your first slam.
Mark Petchey
Quotes of the week
Beating guys like Rafa on a regular basis is all part of the psychological process that will help him overcome that huge hurdle of winning your first slam.
Maturity
In that context Sunday's win was a big one - not as big as last year's US Open victory admittedly because the Spaniard was hampered by injury - but a clear indication of his growing maturity.
He didn't play his best tennis at the start of the week but he was by the end and that's how the best players go on and become World No 1. His victory over Mario Ancic was nothing short of a demolition.
Most of the players struggled to find their timing in the early stages of the tournament because of the low bounce and the speed of the court, which Rafa described as the fastest he's experienced in two years.
The Spaniard still showed incredible fighting spirit to reach the final and challenge for the final despite being in his least favoured environment and the tour is lucky to have him.
I thought France's Gael Monfils was another stand-out player; the World No 11 is taking huge strides forward every week and he is definitely one Andy is going to have to keep an eye on.
Accessible
In fact, there were plenty of pluses from a week that attracted a good-quality field and healthy crowds. I felt the tournament justified its billing as a '500' event in a new-look structure, which has succeeded in making the Tour less confusing.
By rating tournaments as '1000', '500' or '250' and awarding that number of ranking points to the winner the Tour aims to make tennis more accessible to people who are starting to show an interest in tennis through the rivalries that are developing.
The system is not dissimilar to that used by NASCAR in the US and had to come in because tennis has appealed to too small an audience for too long.
If you are somebody who watches football 80 percent of the year and then switches over to see how Andy Murray is getting on it is only natural to want to know what each tournament means in the bigger scheme of things so I'm all for the changes.
Phenomenal
On a different note, it was easy to see what victory in the WTA Tour Open GDF SUEZ meant to Amelie Mauresmo.
The Frenchwoman has suffered so much heartache in Paris over the years after failing to meet the expectations people have of her every year at Roland Garros that only a pretty hard person would not be thrilled to see her win in that city.
She's really struggled to stick with it during the lean times and I'm sure there were plenty of people telling her to retire but today she must be experiencing sheer elation. It's a phenomenal story.
Comments (9)
Martin Young says...
I cannot believe the parochial nature of my fellow countrymen and women. how can a throw away comment a 17yr old made tongue in cheek in reference to a football tournament be taken as an anti-english stance? The comment itself was made on the back of a question asking who he would support seeing as Scotland were so rubbish ! I for one applaud Andy Murray for his ability to entertain tennis fans, with his shot making ability off either wing. Whether it is flat, loaded with top spin or his sliced in half back hand i don't believe there is any tennis player in the world who has such an array of shots and is consistent with them. What I'd like to see is Andy becoming more aggressive on his own serve by coming in quicker to end points and to improve the direction and spin of his second serve. If he does this there is not a player in the world who will be able to touch him on the hardcourts and he will surely become a force on grass in the near future soon. True tennis fans appreciate great tennis irrespective of where a player is born, but lets be grateful that a true world great is emerging from these shores.
Posted 10:52 17th February 2009
Martin Brown says...
How can anyone say whether they like him or not, when they are just a viewer!!!!!!....I like him because he's British,Scottish or whatever, but mainly because he will likely bring a slam home in next couple of years....And because he's a fighter, proud of his roots, proud to be Scottish and id say proud to be British....Who else is carrying theGB Tennis mantle at the moment???? Bogdanovic????remember the guy is only 20, he's plenty of time to learn what to say to be politically correct...I dont care what he says....he plays good tennis and thats the main thing isnt it???
Posted 02:41 17th February 2009
Fae elisabeth Coleman says...
I agree, there's nothing wrong with being proud to be scottish but he has been playing Davis cup and an a ampalling show at the olympics last year, so much for great british pride Andy! I too find it hard to warm to this guy, not just because I am a die hard rafa fan, I admire federer too and have watched tennis since Bjorg and Macenroe were slogging it out, its just Andy lacks that heart and charisma of a TRUE CHAMPION. Sorry Mark..
Posted 02:36 17th February 2009
Rebecca Mayes says...
Andy Murray is not anti-English. It was a harmless joke, mentioned only on one occasion!!! So if Andy is so anti-English and "British" then why is he playing Davis Cup for Great Britain? This nonsense has been going on long enough, yes of course he is proud to be Scottish but he is also proud to be British. (and he will be a geat Great British champ!!)
Posted 00:07 17th February 2009
Nick Kowalski says...
get over yourself would you....all because of a jibe he received from a journo about the world cup in 2006...and he jibed back. if he's so anti-english why is henman one of his best friends you moron. as a tennis fan i love watching him play the game....his matches with the top two are always fantastic to watch....if you don't like him fair enough...but can't help feeling if he was english your comment would have been different...bit wait....you lot don't like winners
Posted 22:42 16th February 2009
Mark Wallace says...
to Steve Jacks, you speak nonsense. His main sponsor is RBS. He still gets called a Brit in the media. "How anyone can be negative about what he is achieving at the moment is beyond me but there are those who believe he is only being talked up because he's British." Read the article before commenting!
Posted 21:40 16th February 2009
Neil Gordon says...
steve shut up man hes 25% english. he has often stated that his comments about england gettinb beat were jokes that people didnt get so move on and get behind him
Posted 21:29 16th February 2009
Cavan Yates says...
steve, just because a 19yr old andy murry joked that hed support who ever england football team played against in the world cup, does not make him anti english... you may or may not of noiced but tennis is represented by britain, unlike football which does not have a british team, likewise i would not expect johny wilkinson to support wales at rugby, however this is not football nor rugby, and andy murry is british and represents great britain in the davis cup, so lay off him because we may finally have a british grand slam champion.
Posted 19:59 16th February 2009
Mike Brailsford says...
He beats Nadal, the world number 1, 6-0 in the last set and still finds the need to be disappointed in the way he did it because Nadal was injured. Try beating him in a major final and we might start thinking you have a great chance of a major instead of in between tournaments.
Posted 18:50 16th February 2009