Rafael Nadal can follow up his win and excellent display in California with a second consecutive ATP title in Miami this weekend.
The best players in the world will be heading to the east coast for the showpiece event and another exciting showdown, live on Sky Sports.
The Spaniard defeated Andy Murray in the final of the BNP Paribas Open last weekend when the wind got into Murray's mind and, with the World Number One in imperious form, I have doubts anyone can stop him in Florida. He will go into the tournament as favourite for sure.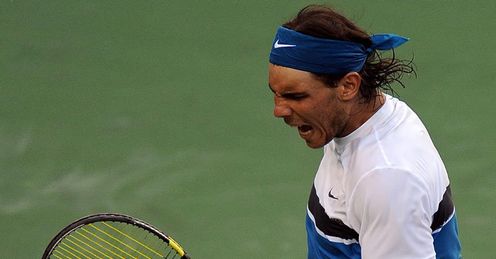 The way he played at Indian Wells showed everybody he is worthy of the number one ranking that he has held for 30 weeks. He demonstrated his fighting qualities against David Nalbandian - where he came back from five match points - and he found a way to come back to win. The will is still very strong for Rafa to win every single match.
The conditions vary slightly in Miami from how they were in windy California, which will have its advantages and disadvantages for the Spaniard. The courts are also a little heavier so he can use the conditions to wear his opponents down, as points will be a little more extended.
Nadal demonstrated his fighting qualities against David Nalbandian - where he came back from five match points - and he found a way to come back to win. The will is still very strong for Rafa to win every single match.
Mark Petchey
Quotes of the week
ATP MASTERS 1000 - MIAMI
Starts 3pm, Sat, Sky Sports Xtra
But at the same time the tremendous amount of spin he puts on the ball will not be quite as active as it was at Indian Wells. The courts in Miami are a little deader which gives some of the other guys more of a chance to play.
Roddick revival
American supporters will be hoping Andy Roddick can produce the goods again after making the semi-finals in California, and the former world number one can put on another good show for his fans in Miami.
If he maintains that form he could be one to watch out here. He's been putting in numerous good performances this year and I think he will be in the mix again.
In his semi-final match against Rafa both players had trouble with the wind but I think it affected Roddick more. When you are the aggressor - as Roddick tried to be in that match and it is as windy as it was - you are going to make more errors because you are aiming for the lines.
That loss hurt him a little bit but he's been in great form and I think that he will push those top guys hard throughout course of this season.
Double trouble
In the women's draw it is hard to look past the Williams sisters, who I fully expect to dominate the latter stages of the tournament.
Serena would probably be my pick but wherever they turn out they are the toughest two, for my money. Tournaments without the Williams sisters don't have the same sense of importance.
However, one threat to the sisters' domination could be the return to form of Serbian star Ana Ivanovic. After a difficult start to the year the French Open champion Ivanovic made the final in Indian Wells, before losing out to Vera Zvonareva.
She is still a little way off where she wants to be but hopefully she can take some confidence away from Indian Wells.
When you have had a good tournament like that it makes practice more enjoyable and the whole graft easier to bare. Ana is such a great player but it has been a torrid time for her; credit to her for fighting her way through it and back into decent form.
At the moment the Williams sisters are firm favourites but give Ivanovic another month and things could be different.
Comments (5)
Matt D says...
I agree with T.Holland. why doesn't every1 get behind our own players, instead of raving about nadal, Personally I think nadal is a totally different player when he plays nadal, he knows he's gunna get beat, ( apart from the other week) c'mon Murray is passionate!
Posted 13:20 3rd April 2009
Samuel Domfeh says...
i have said here before that nadal is the new face of tennis. roger is history. why do you think roger cried like a baby after the aussie open? he did not have a choice. lets consider this, 1. nadal is the one who stopped roger from winning french open and for that matter the four grand slams. 2. nadal is the one who stopped him from breaking wimbledon record. 3. nadal is the one who stopped him from equalling sampras' record. 4 nadal is the one who stopped his run of four and half years as the world no. one. and now with nadal's current devastating form he sees no light at the end of the tunnel. bravo rafa, you make my tennis life complete.
Posted 10:45 31st March 2009
Fae elisabeth Coleman says...
Yes I agree too, Andy Murray did indeed display bad sportmanship in the Indian Wells final, especially against someone as wonderful as Nadal, what with the swearing and tantrums. But foremostly, if he had won that rally, which he finished, he would not have queried the umpire about a let etc. To continue the arguement because he was losing badly, well... talk about letting the side down... will he ever change? Djokovic and others are given a warning for smashing their rackets, he needs one for his mouth!
Posted 10:08 27th March 2009
Tim Musumba says...
Rafael nadal will go on and achieve so much success in tennis.Roger Federrer will never go on to match Pete Sampras record.I believe the us open he won last year is the last grandslam for him to win.But i see Nadal evening Sampras record and going a notch higher.
Posted 07:50 27th March 2009
Christine Stroud says...
sheer will power, guts, determination, competitive spirit, supreme talent, humility, gracious in victory as well as loss, all these qualities make Rafael Nadal the ultimate sportsman. What a shame that his clothing sponsors appear to have let him down so badly. What crass stupidity on their part that they have ditched the iconic trademark look they created for him and have dumbed down the Raging Bull's on court image. Surely they know that legions of Rafa fans are desperately frustrated at this idiotic change - and as for Rafa he's such a gentleman he probably said he was okay with it but all his dedicated followers know in their hearts that he's not comfortable in those nasty thick t shirts. Come on Nike - have a heart - bring back our pirate!!!
Posted 19:20 26th March 2009