Best of Enemies brings two friends-turned-foes together for an all-British world-title affair.
When David Haye and Audley Harrison meet on November 13, live on Sky Box Office HD and in 3D, there will be much more at stake than the WBA heavyweight crown.
It is a fight that has captured the public's imagination already and our expert Panel are no different.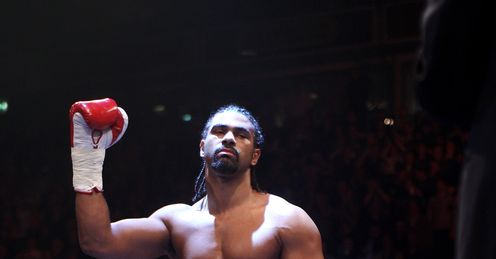 As we count down to fight night Jim Watt, Johnny Nelson, Glenn McCrory and Nicky Piper will tell us what to expect from both fighters, before delivering their final verdicts...
Question Six
You've told us what Audley needs to do to spring a surprise and win, but what of the champion? What are you expecting from David Haye on Saturday night?
NICKY: I think David is going to come out looking for the knockout. I think we will see him throwing bombs from the start. He is the world champion and although he looked very tentative against Valuev, it was hard to land a shot on that guy. Against Ruiz he started fast, but he knew Ruiz could take a good shot. This time, he knows that if he catches Audley flush, he will go over.
JIM: You have to imagine Haye is going to start very fast, very powerful, although he's going to have problems early on with that jab. Harrison will be boxing not necessarily defensively, but certainly mindful of Haye's power. He is massive, he is talented but the fact he is not the bravest will be a real problem.
JOHNNY: David will want to fight at his pace, certainly for the first half of the fight, because he knows if it goes late, it's not to his advantage. And he will look to draw first blood, land that first big shot because as soon as he knows he's got the upper hand, he will turn the screw, break Audley's heart and drain his confidence. If he gets on top, he will be too fast, too quick, too powerful.
GLENN: People might be saying David is going to blow him away, but that's not going to happen. We all saw him at the Boxing Writers' Dinner the other week and that means for me, he is a little too relaxed. I think he is going to have to get nailed to wake up - he's taking this far too easy. He knows Audley and is just thinking this will be easy - like everyone else is - and that is a big danger; if David starts believing his own hype, one day he is going to get caught.
JOHNNY: If if he has taken anything for granted with Audley and he makes a mistake Audley can embarrass him and everything he's been saying, everything disrespectful he has said to Audley will mean nothing. That makes David vulnerable and he knows it, and that is the pressure he is under going into this.
NICKY: David does carry his hands low and I am sure Audley will be looking for that, but it works both ways. We tend to go on about holding our hands up high here in Britain, but in America we see it all the time - and if it's done well it can actually be a huge positive. David uses it very well, he has his hands by his side, but brings them up very quickly and it does actually give him great balance because he has a wider base to swing from.
GLENN: But he is going to have to go into the trenches. We know he's got balls, we know he's a fighter and that's why we all love him. I think he will go gung-ho early and that will be what gets him into trouble - and it will also be what gets him out of trouble later on.
JIM: He's a world-class fighter David, and I would be surprised if it goes into the latter stages. And even if it does, David will fancy himnself. He's a fighter, he's dug in hard, he's been on the floor and he's come through those moments and turned things round. The only time I can recall Audley doing that was against Michael Sprott.
Previous Panel pieces
Question One: Talking the talk - click here to read
Question Two: The temper trap - click here to read
Question Three: The enemy within - click here to read
Question Four: David's new Goliath? click here to read
Question Five: No guts, no glory click here to read
Comments (8)
Lindsay Horman says...
ok I think Haye will win, unless he burns himself out & gets caught! but David Haye has not been in the trenches! I had not heard of that Cruiserweight who knocked him down! (when he went on to win!) David Haye is untested he has nice handspeed but crap defense & got put down by Monte Barrett, John Ruiz was so slow he was like a punchbag & his fights were handpicked like most are excpet the ones he lost! David Tua knockedhim out straight away! BEfore judging Vitali Klitschko watch the lewis fight! he hit Lennox whenever he wanted he is fast & powerful! Lewis was 18 stone & could not hurt him! the headbutts caused the cutts where lewis was holding him all the time! Haye might beat the younger one but NOT Vitali! & who has david haye proved he is world class against? Maccarinelli was up & coming & has not won since! & an old man Mr Thompson taught him a boxing lesson! I think he will win! maybe some of you should actually learn to box b4 talking bollocks!
Posted 11:23 11th November 2010
John Mcgann says...
lets face facts, the sprott punch was a lucky dig that a tired sprott walked onto trying to close out the fight cos he was in front, audrey promises lots and delivers little, steve bunce once told me about haye, for a man with that much power he should be locked in a cage, audley get ready to lay down, by saturday you will be on first name terms with the hayemaker.AND STILL.............
Posted 10:38 11th November 2010
George Annessa says...
Audley has a punchers chance: enough said. The left hook he landed on Sprott would have had just about anyone flat out on the canvas and that's what David has to look out for. His speed and reflexes should enable him to do that easily. If Haye is the fighter we're all hoping he is, then this should be over within 6 rounds.
Posted 01:31 11th November 2010
David Clifford says...
I like Glenn, and usually he is spot on when it comes to calling fights, but this time i think he's letting his friendship with Harrison cloud his judgement. Talk is cheap and Harrison certainly can talk, but never once has he ever backed up what he has said he's going to do in the ring, a last minute stoppage against michael sprott is all he has to hang on to, and maybe a fight with a completely shot Danny Williams. The only thing consistent in audleys fights is how bad they all are, he keeps harping on about winning gold medals etc. that was when he was an amateur, a completely different game altogether. Audley was made for the amateurs because he had a long reach and doesnt like getting hit, that style was never going to work in the pro's!! Anyone reading this who thinks Harrison has half a chance should go onto youtube and watch ANY of his fights, look at the fear in his eyes everytime a punch comes anywhere near him!! He keeps telling us how bad Hayes chin is but Haye has never been k.o'd by one punch like Harrison, it was inexperience and lack of preparation that lost him the Thompson fight when he punched himself out. It's easy to get caught up in the hype of these fights and see Harrison as some kind of genuine contender but the truth is, Haye will do EXACTLY what he wants with Harrison and it will be over in 4-5 rounds.
Posted 18:46 10th November 2010
Maj Gilani says...
I have a funny feeling that Audrey is going to surprise a lot of people. I believe technically Harrison is the better boxer, taller man, heavier and more natural heavyweight, whereas, Haye is faster with knockout power but has had stamina issues in the past. I see Haye coming out hard in the opening rounds and knocking down Harrison but if Harrison can survive the initial burst a really do think he can use his additional weight to lean on Haye and reach to pick off Haye in the Later rounds. I believe the real deciding factor is whether Harrison will have the heart to take the punishment.
Posted 16:25 10th November 2010
Paul Tarrant says...
I find Glen's comments a bit of a joke to be honest. Since when has Audley Harrison taken anyone of any standing at British or European level 'into the trenches'...? I can't recall a time. So how will this happen - taking someone at world championship level into the trenches...? Audley has talked so positively these last few weeks, even people that should know A LOT better are starting to believe his self proclaimed brilliance in the ring. Its just ridiculous - please get a reality check. Audley is 39 and after 10 years of achieving nothing, he's not suddenly going to start achieving and magically have to tools to compete at world level when he's struggled and been beaten domestically.
Posted 13:34 10th November 2010
Chris Payne says...
David Haye will knock Audley Harrison out with ease. Audley Harrison doesn't know what he's in for. C'mon Davy.
Posted 13:07 10th November 2010
Sukh Virk says...
I think this fight will come down to speed, remember speed equalls power. I think Haye is too quick for Harrison, and beleive that his right will connect before Harrisons left, and when that happens it will be game over.
Posted 12:53 10th November 2010