Best of Enemies brings two friends-turned-foes together for an all-British world-title affair.
When David Haye and Audley Harrison meet on November 13, live on Sky Box Office HD and in 3D, there will be much more at stake than the WBA heavyweight crown.
It is a fight that has captured the public's imagination already and our expert Panel are no different.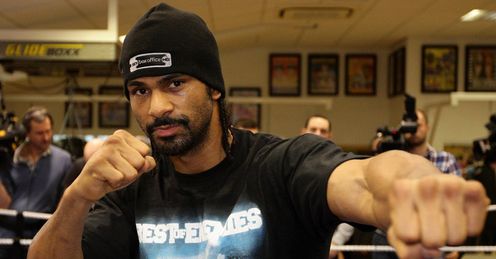 So, hours from the fight Jim Watt, Johnny Nelson, Glenn McCrory and Nicky Piper are finally here with their big-fight verdict...
Question Six
The moment we've all been waiting for is here. How do you see the fight unfolding? And more importantly, who wins?
JIM WATT: I think we might David making Audley miss at first, trying to counter him rather than letting those bombs go. He knows if he does that, he could just as easily walk into one himself. I think he will let the fight unfold and deal with whatever is thrown at him.
You cannot get away from the fact that if Haye does make a mistake or mess about, Audley is going to catch him and can change everything. Audley is capable of making David look bad and if you can make someone look bad, they will make mistakes. But I still think he will be too worried about getting hit himself and we know how devastating Haye can be. If he concentrates properly I reckon he can end this around the fourth.
GLENN McCRORY: I think Audley will come out strong and David might even hit the floor somewhere along the way. If Audley actually believes he can and David is taking this even a little bit lightly, we could see a really explosive start. But once David is stung into action, he is better than Audley, smarter than Audley and hits quicker than Audley.
I think we're looking at Haye by stoppage in round eight or nine, but I guarantee there will be drama along the way and David might even take a bit of a beating. Because of the two characters involved, because they used to be mates, it might be a bit of a chess match at the start, but in the end it will turn into a real scrap. It is going to be superb. Unmissable!
JOHNNY NELSON: There's two ways this can go. Audley can stink the fight out, hit and hold, because he'll be thinking all the time if he makes a mistake, he is going to get hurt. He can be a patient fighter - as we saw against Michael Sprott - but I just hope he's not deluding himself into thinking he can get away with it here because David will do what David does.
And that's the other way it can go. Forget all this rubbish about David being happy to do it on points and really make Audley suffer, the longer this goes on, the more David's reputation gets tarnished! When all's said and done I think David will be too fast and too strong and he will get to him sooner rather than later. I am going for Haye by stoppage, somewhere in the first six rounds.
NICKY PIPER: I think this is going to go the full 12 rounds for some reason, and I can see Haye getting the decision - although I have no confidence in my prediction! I do think someone is going to touch the canvas along the way, but that is the beauty of this fight, anything can happen.
We've got two big punchers, two big enemies and both have a genuine chance of knocking the other out. If Audley wins it will be a terrific story, but in all honesty, David winning will be great for boxing in the long run. He's growing into a world heavyweight champion and there's more mileage in him retaining his title.
Panel archive
Question One: Talking the talk - click here to read
Question Two: The temper trap - click here to read
Question Three: The enemy within - click here to read
Question Four: David's new Goliath? - click here to read
Question Five: No guts, no glory - click here to read
Question Six: Time to make Haye - click here to read
Comments (1)
Craig Macguinness says...
i agree with jim. Nick i cant see in a million years how this is going to go 12 rounds someone is going to get knocked out whether its haye gettin caught by a lucky shot or harrison being bombed out early im going for haye to out boxx harrison until round 5 purely to give the fans value for money. then haye will serious look to knock audley out in rounds 6-7. cant wait.
Posted 13:13 13th November 2010