The Heineken Cup just keeps on delivering as we were treated to another fantstic round of European Rugby.
Aironi were the team on everyones lips - they have not won a game this season so what btter way to change all that than beating last year's finalists. There was plenty of eye-catching moments but which moments make Will greenwoods picks of round three?
TEAM - AIRONI
Are you kidding me - rhetorical question - Aironi!!!! It was the first win of the season for the club and they can look forward with real confidence after claiming one of the biggest scalps in Europe. They dug deep and showed real guts to hang on and claim the win.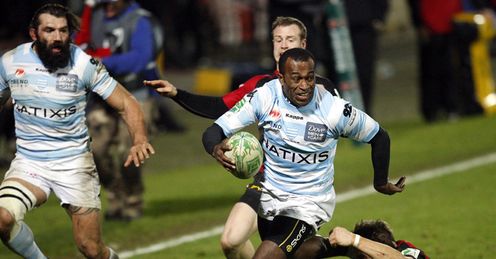 PLAYER - EOIN O'MALLEY
Bizarrely enough I have chosen a player from a losing side. Eoin O'Malley had the task of filling Brian O'Driscoll's shoes which is no easy task. However he was outstanding and played some lovely rugby.
If I had to pick a player from a winning team it would be Stephen Ferris who was immense for Ulster. It looked like Ulster would be their own worst enemy against Bath, however Ferris was at the very heart of their revival.
Saracens have been turned into a very tight unit by Brendan. But his post match interview was stunning in its strangeness, if you don't want to talk to the press then send someone else.
Will Greenwood
Quotes of the week
TRY - SERELI BOBO
Jerome Porical's superb try for Perpignan against Leicester came close but for me it was Sireli Bobo's moment of magic against Saracens. The winger sparked the counter-attack in his own 22 before finishing it off with devastating effect. The 34-year-old split the Sarries defence before powering over in the corner. Great stuff.
MOMENT - AIRONI CELEBRATE
The final whistle in Italy and seeing the reaction and what it means to them. Julien Laharrague will be the toast of Italy and the celebrations were a joy to watch.
VILLIAN - BRENDAN VENTER AND PAUL O'CONNELL
Brendan Venter - For the worst impression ever seen of Mike Bassett England Manager. Saracens have been turned into a very tight unit by Brendan. But his post match interview was stunning in its strangeness, if you don't want to talk to the press then send someone else.
Paul O'Connell for ruining one of the most eagerly awaited comebacks in rugby! The Lions captain saw red within minutes of his return to Heineken Cup following a six-month lay-off when he was sent off for elbowing Jonathan Thomas in the face.
Comments (6)
David O'connell says...
@ Quentin.. Read my comment again please, not being 1 eyed POC never elbowed anyone and the ERC and the referee have reiterated that as of yesterdays hearing. I stated Paul doesn't owe anyone any apologies and I think it was a yellow at best. I stand by that and I also am not complaining about his punishment just casting my observations over it. At the time the Ref was under the incorrect assumption as was Will Greenwood that POC elbowed Thomas, if he had been better informed I think a yellow would have followed & not a red. Also I agree with Matt on his point about getting a slap from POC or anyone else his size you'd go down like a sack of spuds too. What do you want me to take like a man?
Posted 03:19 17th December 2010
Joe Thompson says...
Mat your comment really make me laugh. As an English man myself, i can say our media (commentators included) build up English sides in every sport and are greatly biased towards our players over others. O Connell got 4 weeks, let it lie and lets get back to the rugby
Posted 00:22 17th December 2010
Matt Roberts says...
I think Paul Wallace was out of order suggesting that the Ospreys 8 made the most of O'Connells back hander. If he took a forearm in the face from an 18 stone lock would he just stand there? Anyone esle think that the Irish commentators are the most biased?
Posted 11:32 16th December 2010
Quentin Loers says...
David O'Connell, how one-eyed are you? Your name sake knew exactly what he was doing - if you are going to flail around like that and make contact then you stahnd to get into trouble. Thomas did go down like a Chelsea player but the point is POC deserved his punishment. Take it like a man!
Posted 10:44 16th December 2010
David O'connell says...
POC did not elbow anyone and he owes nobody any apologies, it was a yellow at best.. give it a rest Will. Probably won't show this one either as I don't agree with you..
Posted 18:50 15th December 2010
James Gleason says...
Poor form from O'Connell. Didn't even apologise - lost a lot of respect for him after that incident. he knew exactly what he was doing. Hope he gets a length ban
Posted 15:38 15th December 2010