If NASCAR were to have an equivalent to the Oscars, Hendrick Motorsports would sweep the major awards after their masterful performance in the latest Sprint Cup stockcar thriller.
Forget 'Slum Dog Millionaire' we've got 'Hot Dog Martinsville', and Rick Hendrick's fine troupe of superstars performed flawlessly.
And so, the winning nominations are...
Best Actor: Jimmie Johnson (33) for his patient progression to the role of leading man.
Best Director: Chad Knaus, for his early understanding and interpretation of the plot.
Lifetime Achievement: Mr Rick Hendrick, for 25 years of winning at Martinsville (18 times).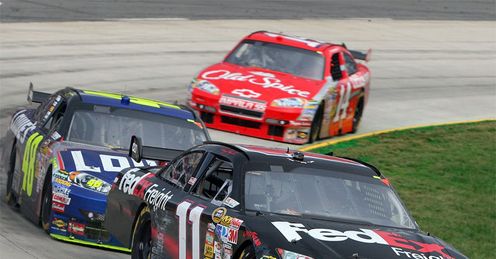 And as with any awards ceremony, real or imagined, there is always a classic performance from an outstanding talent...
Best Supporting Actor: Denny Hamblin (28) very nearly stole the show for Joe Gibbs Racing and showed a gracious manner in defeat.
And finally, ladies and gentlemen, for fine judgement under pressure....
The Fat Controller Award: NASCAR, for keeping their heads when yet another caution period loomed.
This is the kind of place where being second in the last few laps is an advantage. Johnson knew it, but so did race leader Hamlin.
Keith Huewen
Quotes of the week
SAMSUNG 500
10.00pm, Sun, Sky Sports Xtra
The comedy award has been withdrawn due to it not being funny anymore. The only nominees were Tony Eury Junior supported, (for the time being), by Dale Earnhardt Junior who will not now receive the prestigious: Laurel and Hardy - 'That's Another Fine Mess You've Got Me Into' Award.
Old-school
Last week's Food City 500 at Bristol was an eventual 160,000 seat sell-out, and hopes had been high for a classic first short-track encounter of the year, but the racing turned out to be a little 'tame'.
This week the stands were not full, only an estimated 60,000 fans slotted in to the 65,000 available seats, but the Goody's Fast Pain Relief 500 was just what the doctor ordered - for all of us!
As the 'old school' short track scrap came to its crescendo I have never heard such blood-curdling screams in a television studio as, with 15 laps to go and on the edge of disaster, Jimmie Johnson muscled his Lowes-sponsored Chevrolet under the FedEx Toyota of Denny Hamlin, both of them now sideways, with Tony Stewart (Office Depot Chevy) just a fraction too far back to take advantage of the duelling duo. Magnificent!
There are no losers after a sporting event of this calibre, and a collective sigh of relief could be heard across the NASCAR nation as, in the press room, satisfied media hacks wrote headlines for global consumption.
Pressure
And this week's focus should be on a team performance that was near-perfect in the conditions, and netted the 48 team their first win of the 2009 season.
With track time curtailed severely due to rain, it's surface as green as grass come the race and the pressure of so much previous success - five wins from the last six races - around this tight 0.526 mile paperclip shaped track, the 48 team had work to do.
Starting grid positions were in order of owner points, so Jimmie Johnson, (AKA Mr Martinsville), rolled round ninth as the green flag started the 500-lap voyage of discovery.
Every team and driver had to navigate this technically and physically demanding territory and it would take many laps of trial and error before we had a clue as to who could master Martinsville. It was a test of cerebral grit and determination. Just the job for Johnson and Knaus then!
Patience
Giving up track position early on in the race to work on a car that wasn't right for the ever-changing track was key, and it paid off for Jimmie and Chad.
But reversing the finishing order to last year's Spring race (where home state hero Hamblin beat Jeff Gordon, Jeff Burton and Johnson to the flag) was going to take more than just track position and patience. This is the kind of place where being second in the last few laps is an advantage. Johnson knew it, but so did race leader Hamlin.
And so, with 15 laps to go Johnson made his push - literally - for the lead. Hamblin, who'd led most laps - 296, tried to pinch Johnson down on the kerb, but with the momentum in his favour, Jimmie was having none of it.
This was no neat bump-and-run sequence that the 48 might have liked, both looked close to spinning out, but with classic old-school stock car skill they drifted sideways up the track... and Johnson had the advantage.
We return here later in the year when the stakes are massively higher. The sixth race of NASCAR's Chase for the Sprint Cup is on Sunday 25th October and it could be pivotal in Jimmie Johnson's charge for a fourth, and record-breaking, consecutive Cup title.
Based on his performance at Martinsville you wouldn't bet against him!
Comments (2)
Heather Sayers says...
Martinsville was a great race and a well deserved win by Jimmie and the team. Denny Hamlin drove a great race too, as a previous winner and must have been so disappointed to lose, but was very gracious in his post race interview. Thank goodness Sky showed some post race coverage, although I am extremely fed up to see that you are not showing the race live on Sunday and not only that you have only allocated a 3 hour slot for it, whats that all about!!!!
Posted 15:38 31st March 2009
Kevin Gravenell says...
What a fantastic race Martinsville was. It was on the same day as the opening F1 race and it really showed formula one up big style. I thought Jeff Gordon had the best car on Sunday, he just couldnt get it right at the end. I'm very very very disapointed your not showing Texas live, NASCAR is so much bigger than Indy Cars - just go to America and you will know what I mean. Keep up the good work anyway.
Posted 10:50 31st March 2009