There's no stopping this 50-year-old phenomenon. In one week he has secured his future at Hendrick Motorsports, at least another full year of Cup racing and won the prestigious Southern 500 at the 'Too Tough to Tame' Darlington Raceway.
Mark Martin is a man, to be brutally honest, who looks like he'd struggle to ride his bike round a park let-alone muscle an 850 horsepower Cup car around 'the Lady in Black' for 500 miles - one nickname should be enough for any track!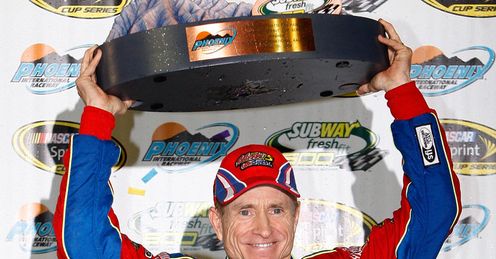 Middle-aged men past their prime the world over are rising to the example of remarkable Mark. In a sport where young millionaires are draped in the latest gear and the prettiest 'Mollys' he sure does stand out. Imagine what it could do to the demographics of those hip resorts (I mean trendy, not orthopaedic hospital) where tight toned 20-something posers parade? Martin, a death defying man of action, tough, determined, rugged, a real man! It's an American dream - for men. Well it should be for any smart, advertising mogul!
Inspiration
If those Marlborough cigarette ads were still allowed Martin would be the bloke on a horse surveying mountainous pastures of cattle with a fag poking from his mouth at a jaunty angle. Get in Mr Martin! All those males with a metaphoric 'yellow label' attached, stacked randomly on that sell-by desk in the store of life, are inspired. It's enough to give our younger rivals instantaneous libido loss!
Martin has done it the hard way. The fact he still has the energy, determination and focus to do what he does, the way he does it, is the real story. And he is proof that physique is only part of what it takes to be successful.
Keith Heuwen
Quotes of the week
In troubled times everyone needs a hero, particularly the downtrodden working class male masses losing their jobs/wives/houses all over the States. Foreclosure and failure is no longer default mode for the over 50's. ED means Exceptional Dude! Martin is an inspiration to every Victor Meldrew previously too miserable to get off their ample butts and fight back.
Of course, if they really knew the truth, they might not be quite so keen to follow in Martin's wheel tracks.
Martin's rising phoenix
Martin has done it the hard way. The fact he still has the energy, determination and focus to do what he does, the way he does it, is the real story. And he is proof that physique is only part of what it takes to be successful. He is, by the way, one of the fittest 50-year-olds you're likely to meet. His dogged determination is being rewarded with fantastic results, and not a little money, but it was certainly not always that way. He hung on in there when many would have thrown the towel in years earlier.
Mark Anthony (wasn't he a Roman general?) Martin was born on January 9, 1959 in Batesville, Arkansas. Encouraged by his Dad, his racing career started on local dirt tracks. But Mark's first big title on asphalt (tarmac) was as ASA (American Speed Association) Rookie of the Year in 1977. He entered NASCAR in 1981 but found funding a Cup drive a nightmare and went back to ASA between '84 and '86. He raced in NASCAR's Nationwide (then Busch) Series from '87 before moving back in to the Cup class. The media named Martin as the Greatest Nationwide Series Driver of all Time in 2006. but it's top class honours that have eluded him. Martin has finished second in NASCAR's premier series 4 times, but has never won it.
Winless streak ended
This year is his 21st full year campaigning in the Cup class. After premature retirement plans had been announced the year before, Martin finally broke a three-and-a-half year winless streak with victory in last month's Subway Fresh Fit 500 in Phoenix. He converted his pole position (at the time his third of '09) into a dominant win of round eight of this year's series.
It was a fantastic achievement, in what then was hailed as Martin's last chance at a first Cup title. He had only, until last week, signed a part time Cup deal with Hendrick for 2010!
After that Phoenix victory, and with a racing career spanning from age 15 to 50 we might have expected the post-race spiel to be a little different, but it was a fleeting reference to one of NASCAR's great drivers, Tim Richmond, that perhaps gave us a clue of just how much his 36th career Cup win really meant to him.
Richmond, or 'Hollywood' as he was known, was one of the most enigmatic stock-car wheel men of the time. He died young, of AIDS, before achieving anything like his potential as a race car driver. During his illness he made a winning track comeback; Martin was around to remember that first hand. Perhaps that Saturday night in Phoenix felt like his big comeback. And perhaps it was.
Let's pray that unlike tragic Tim Richmond, Mark Martin is able to go on to achieve his lifetime dream and become a NASCAR Cup legend. Winning a Cup title in the modern era at 50 would easily give him that status. And not a soul in Pit Road would begrudge him that honour.
Post to your View!
Be the first to post a comment on this story