Nobody likes a race to be decided by 'fuel mileage', and this was the second week in succession such a phenomenon existed in NASCAR's premier Cup class, but when it's as dramatic as the finish to round 15 of the series I'd be amazed if anyone was still in their seat!
Certainly the (much less than hoped for) 90,000 fans track-side were on their feet, holding their breath, for the whole last two-mile lap of Michigan International Speedway.
Defending NASCAR Sprint Cup champ Jimmie Johnson had the car and the pace to win the Lifelock 400 easily, and he seemed to have the fuel mileage to go with it - a perfect combination.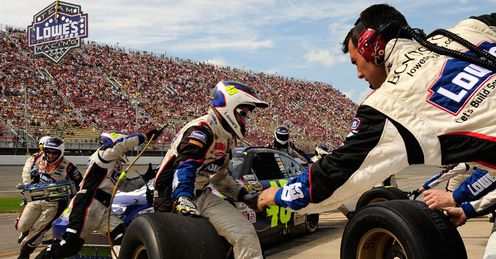 His first 40 or so laps offered a worrying scenario for the competition to cope with - he could go further and faster in 'clean air' than anyone else, and led by some seven seconds until easing back into cruise mode.
Maybe that set the Lowes-sponsored Hendrick team up for a fall.
Destiny
But no-one could know then that the real test would come much later, after a crucial last pit stop. The normally impeccable 48 crew were over a second slower in their box than they should have been, dropping Johnson two places off pit road. This would become the key moment in Johnson's race.
Whether you're Jimmie Johnson or Jo Public in his road car - gas it harder, use more fuel!
Keith Huewen
Quotes of the week
LIVE ON SKY SPORTS
Toyota/Savemart 350
6pm, Sun, Sky Sports Xtra
Perhaps their destiny was decided in those first 40 laps. Perhaps their dominance on track had translated into over-confidence, or maybe they just didn't calculate well enough how much extra fuel Jimmie's Chevy would now use in traffic and under pressure.
Because when Chad Knaus gave the 48 the go-ahead to chase down firstly Mark Martin and then Greg Biffle, after that slower than usual pit-stop saw them restart the final stint from third place, the calculation of 'fuel v pace x distance' came into play. And there's no strategy or tactic that can stretch that calculation! Whether you're Jimmie Johnson or Jo Public in his road car - gas it harder, use more fuel!
So, after having led for 146 laps of the 200 lap race, with just over a lap to go to the chequered flag, the Chevy choked and Johnson went backwards through the field to finish in the pit road, (having taken a splash of fuel), at the end of the lead lap and in 22nd place.
Apologised
Nobody wants to lose on a bad fuel call and Chad Knaus held his hands up and apologised to Johnson over the radio immediately. But whether Jimmie heard we'll never know - he was too busy beating himself up in the car!
Biffle and crew chief Greg Erwin may have been more philosophical - their radio communications in the last few laps indicated that they were clearly aware what a risk a race to the line could be, but Erwin let Biffle go flat-out in his Ford anyway with a hopeful "run it like you need to buddy" and "let's go". Bravado or calculated opportunity? There's no doubt they really wanted that first win of the year, particularly on Jack Roush's 'home' soil, but those very words from Erwin set us up for the most dramatic fuel mileage finish ever.
Class
And so it was Mark Martin who took his third win of the year in the number 5 Kellogg's sponsored Hendrick Chevrolet, (his 38th career Cup win), with last place starting Jeff Gordon second. Martin has now elevated himself from outside the top 12 Chase places to number eight in the standings.
Good news for the 50-year-old veteran, but bad news for anyone that thinks they can out-smart him and crew chief Alan Gustafson. They let the youngsters dual to the last drop of fuel, while patiently waiting for them to fall to the gutter. That's real skill, that's real class, that's a team that will be going for the Cup come November!
And meantime, Jimmie Johnson and Greg Biffle will have to endure those thoughts of 'if only' this week, and when they sleep they'll dream of a grinning 'old man' in Victory Lane who well and truly snookered the pair of them. Respect.
Comments (1)
Kevin Gravenell says...
Great race and great finish on sunday, a much needed win for chevy at michigan. A good finish for jeff gordon and good experiance for joey logano. Cant wait for the road coarse this week it shows formula one how races on a road coarse should be. COULD SKY PLEASE LET US KNOW IF YOUR SHOWING NASCAR IN 2010 PLEASE AND IF YOUR SHOWING ANYMORE RACES IN HD.
Posted 12:22 16th June 2009