You've got to feel for Juan Pablo Montoya; he had an outstanding race car, drove a blistering yet composed race, but then had a seemingly inevitable first oval track Cup victory taken away by 0.11 mile-an-hour, his excess speed in pit road, (allegedly).
I say allegedly because earlier this year he was penalised for speeding on pit road and NASCAR later apologised for getting it wrong, not that that was any consolation for a penalty already metered out and served by the driver.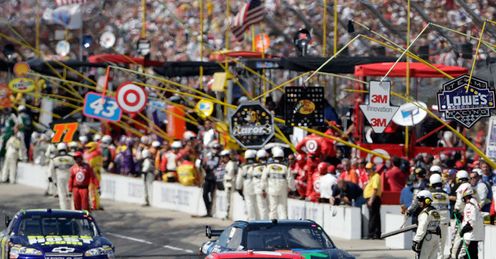 And judging by the exasperated, and lengthy, protests coming from the cab of the 42 car, Montoya believed he was robbed again, but this time from a sure-fire win!
I have never heard a driver swear on as many family members to attest his honesty. The poor man was convinced he'd not allowed his Chevy to roll above the 55mph, (plus 5mph allowance), to the 60.11mph NASCAR claimed.
I have never heard a driver swear on as many family members to attest his honesty.
Keith Huewen
Quotes of the week
LIVE ON SKY SPORTS
Pennsylvania 500
7pm, Sun, Sky Sports Xtra
But does the ranting Columbian have a case? To agree with Montoya you must call into disrepute the world's biggest motor sport Mecca and the sport's controlling body.
The Allstate 400 was not held at some slightly jaded second-rate track with dubious monitoring systems. Oh no, this was Indianapolis Motor Speedway no less. You would expect that the timing 'loops' sunk beneath the hallowed asphalt to be incapable of any inaccuracy.
But I'm a bit old school - I can appreciate these fangled electronic gadgets that you can't touch and see, but not the (sometimes) incompetents that operate them!
NASCAR is responsible for the data, but kept it pretty much to themselves until pressed for the details. Why don't we all get an immediate print-out of everyone's speeds on pit road, through every sector, every time, like this system should be well capable of? Where's the transparency to this crucial element of the race?
After the event Montoya, still largely in disbelief, received a detailed NASCAR response from Sprint Cup Director John Darby. But for some masochistic reason our leaders seem to prefer to fuel conspiracy theories with a lack of timely information to the rest of us. Perhaps, like an arrogant aunt, they don't feel they have to justify their rules or procedures?
Innuendo
Well I think they do. Instantly, NASCAR should have released the exact timing data and quashed the rumours and innuendo.
Of course the alternative argument must be; what the hell was JPM doing even getting close to the pit road limit when he had such an advantage in the race anyway.
At the risk of seeming biased, (which I am not - I swear on all my family's names), I have some sympathy for race drivers in these circumstances.
Their entire lives are made up of pin-point accuracy, of hitting their marks, of split-second decisions that no mere mortal could comprehend, and this is where it can so often go wrong in pit road.
They are totally convinced of their capability to push it right to the very limit at all times, and that includes pushing it to the very limit of the 60mph allowed on this occasion in pit road. Just maybe Juan Pablo Montoya, or the car's systems, made a mistake.
Swift and transparent information from NASCAR would have made Montoya's plight newsworthy for no more than the time it took Jimmie Johnson to roll in to Victory Lane and kiss the Bricks!
Or maybe not?
Comments (6)
Ralf Aring says...
Very simple.... Montoya was a irresponsible driver when he was driving for F1. His aggressive driving nature constantly got him into trouble with race stewards as well as fellow drivers. Seems like some things never change....
Posted 14:04 7th February 2010
Warren Newcombe says...
Re David Gifford. Yes, there was controversy surrounding Wendell Scotts one and only win at a Grand National/Winston Cup race (Speedway Park, Jacksonville, Fla in '63), and had nothing to do with about him not being from the Southeastern US. Scott was actually born in Danville, Virginia. The fact being that this was the first (and only) race that has been won by an African-American driver, so his win was at the wrong time and place in US history.
Posted 09:43 15th January 2010
Kevin Gravenell says...
Warren you are right he was speeding in pit lane in 2 of the segments but what i was trying to say was how good it would of been for NASCAR and montoya as the first person to win the indy 500 and the brickyard 400. NASCAR is popular globaly i get the nascar illustrated magazine (www.americanautomags.com) and there were people from australia in it at talladega race in april, canada and mexico as you say and also here in the uk through sky.
Posted 10:29 30th July 2009
Warren Newcombe says...
Kevin, so what you're saying is that JPM should have won because he's not American, and for NASCAR to get accepted more globally? He won a Sprint Cup back in '07 at Infineon, and prior to that, over forty years ago a non American won the Daytona 500, Maria Andretti as a part of his twelve Grand National/Winston Cup races with Holman Moody. NASCAR have expanded into the Corona Cup in Mexico, and Canadian Tire Series in Canada, but is a grass roots racing that should stay in the US (ASCAR a European offspring never caught on -because Europeans couldn't relate to Chevys, Pontiacs and Fords that were available on our streets). Montoya didn't loose because he was Columbian, but because he made error and was therefore out raced by Johnson, Martin and Stewart , Biffle et al. It's just a pity, because he was so dominant, and it was looking like he was in for a win, but that's NASCAR (racing)!
Posted 19:30 28th July 2009
Kevin Gravenell says...
Montoya was robbed big style its like NASCAR dont want a non american to win.NASCAR want the sport to be more global than what it allready is then they need people like montoya to win because hes known globaly though his indy car and formula 1 career. Thanks for the coverage sky And are you showing Nascar next year
Posted 10:42 28th July 2009
Warren Newcombe says...
Montoya without doubt had the dominate car throughout the race, however, he tripped two of the traps (out of eight) on pit lane. His 'green lights' on the dash are set up by the team, and aren't linked to the NASCAR timing strip computers so only give a rough rpm guide. Maybe Monyoya was just trying too hard, afterall, if he had a five second lead over Martin, why would he need too push it so hard? Should NASCAR give out info of all car speeds throughout the race on pit row-well with 43 cars doing average of five pit stops, thats would have been a hell of alot of needless information, when only six speeding penalties were issued during the race. NASCAR informs those teams/drivers as they happen anyway, and they're the only one's that need to know. After the race no team members were banging on NASCAR doors with petitions! Montoya was unlucky, but that's just racing. Well done to Johnson on his back to back win.
Posted 22:22 27th July 2009