The PEP Boys 500 on America's Labor Day weekend was a microcosm of all that is great in NASCAR's premier series and proof, for those that needed it, why NASCAR is such a unique and intriguing sport.
Since my involvement with the Cup series on Sky Sports I have been asked why I like this very American, even quirky, motor sport invention. How can you watch it, "they only turn left, nothing happens until the last few laps", some ask.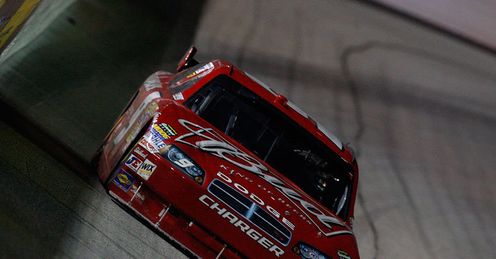 Well, if you had the stamina to stay with us through the night on Sunday, the answers to all those cynical anti NASCAR jibes were laid out in full.
You'd have to be just plain anti-motorsport not to have been amazed at the relentless, skilful and tenacious way that some teams rescued a result from virtually nothing.
Compulsive
In ANY other motorsport event, cars or bikes, for teams in similar circumstances, it would have been game over. And the fans would have been deprived prematurely of their main reason for watching; a race with the whole field battling for the advantage to win. In NASCAR anything seems possible.
You'd have to be just plain anti-motorsport not to have been amazed at the relentless, skilful and tenacious way that some teams rescued a result from virtually nothing.
Keith Huewen
Quotes of the week
LIVE ON SKY SPORTS
Chevy Rock & Roll 400
12.30am, Sun, Sky Sports Xtra
The cars, the rules, and the length of the races, provide opportunities to make remarkable come-backs. NASCAR is compulsive viewing. It's never completely over until the checker comes out!
And under the lights for the first time at Atlanta this was proved - comprehensively!
Unpredictable
It was a night of high pressure on pit road as time and again drivers flirted with the dreaded drive-through penalty issued to speeding cars, tyre changers faced fumbling fingers and fuel cans virtually flew through the air. The battle for a car to spend as little time static as possible was a choreography of demonic mechanics blurred in a dimmer than usual pit road.
With the tiniest adjustments making huge differences to performance, the only thing predictable at Atlanta Motor Speedway was that the finish would be unpredictable!
Kevin Harvick had a Chevy that on a longer run looked invincible and he was perfectly placed for the win, but when a late-in-the-race caution flag came out, (ironically caused by RCR team-mate Clint Bowyer), it shifted the advantage to Kasey Kahne, whose Richard Petty Motorsports Dodge had a set-up that worked better over a short run.
And so it was Kahne who took his second win of the year, making his inclusion in the Chase for the Cup a virtual sure thing with one race to go to the 'playoffs'. Only two weeks ago his position was under threat!
But the change of fortunes at the front of the field was only a very small part in the excitement of this race. With the Chase looming, all eyes were on that cut-off 12th place and those drivers vulnerable to a poor result at Atlanta. The penultimate Race-to-the-Chase meant a mistake, any mistake, by anyone in the team could make the difference, and with the lighting less than favourable down pit road the adrenaline fuelled atmosphere looked positively violent!
Mark Martin, Kasey Kahne and Matt Kenseth were just above the cut. Kyle Busch, Brian Vickers and Clint Bowyer, (with David Reutimann still an outside bet), just below it. And with only two races left to make it in, desperate was not too big a word!
Matt Kenseth was soon in trouble; he 'pancaked' the car and was a lap down in the time it took the commentators to say "oh man". But in a 325-lap race there's time for recovery, and new for 2009 crew chief Drew Blickensderfer set about a plan. They raced back to fifth place but eventually finished 12th, hanging on to a tenuous Chase place by just 20 points!
Time and again the 18 crew beat all-comers off pit road putting Kyle Busch back out in the lead. But in the end the changing conditions beat them back to 13th, now 37 points outside the Chase and dropping a place. It would be incredible if a four-time winner this year, and one of the best Cup drivers, didn't make the Chase, but that's a real prospect now.
Wild
But it was Brian Vickers and the Red Bull Toyota team that really deserved their seventh place, leap-frogging Busch and moving to within one place of a Chase place. After some of the best pit work you'll ever see, a broken axle shaft was replaced, on the pit road, in the heat of the battle.
It was a change that any World Rally crew would have been proud of, and it gave Vickers the chance for a place in the Chase that he may have thought was over.
You really do have to see the action to believe it. So tell your friends, the final race to the Chase is this weekend at Richmond. We're under lights again and even the name of the event adds to the excitement; it's the CHEVY ROCK & ROLL 400!
The Playoffs for the Cup begin the week after at New Hampshire Motor Speedway (AKA Loudon). The ten race Chase for the Sprint Cup concludes at Homestead in Florida on November 22nd. It'll be a wild ride!
Comments (2)
Kevin Gravenell says...
I think what will happen with danica patrick is that she will sign a new indy car deal but she will also race in the Nationwide,truck and arca series to get some experience before coming up to cup. She doesnt want to make the same mistake that other open wheel drivers have. Because in NASCAR you drive the car, the car doesnt drive you like in formula one and indy cars.
Posted 09:55 9th September 2009
Kevin Gravenell says...
Sunday nights race was a great example of why NASCAR is the most exciting motorsport in the world i dont care what anyone says and what happend to brian vickers if that was a formula one driver he would of sat their moaning and sulking instead of trying to get something out of it. The richmond race is going to be even better, the race there in the spring was awesome. just heard on NASCAR now (daily program on ESPN america) danica patrick is almost a done deal to come to NASCAR.
Posted 09:42 9th September 2009