This week Sky Sports News will ask whether or not the recession is having an effect on sport, and if so, what is being done to fight it?
Our reporter, Geraint Hughes, has been looking at the impact of the economic downturn on various sports in the UK and you can see his reports every day throughout the week on Sky Sports News.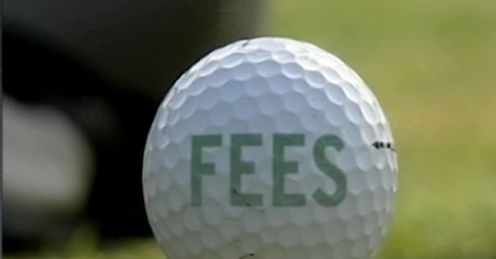 You can also read his blogs on skysports.com each day this week - and don't forget to leave your comments using the feedback form at the bottom of the page to let us know how the recession is having an impact on your enjoyment of sport.
Even hardcore golfers have been starved of their winter fix this year.
Most courses at some point had to close for at least a week because of the snow and freezing weather, but spring is here, and the days are getting longer. We may even get some sunshine in which we can enjoy a round or two. But will we playing 18 holes in such large numbers?
According to a survey by the English Golf Union (EGU) membership is down 45%. It seems to be a huge number, and yes it is, but it needs to put in some context.
Participation is up 23%. What's going on? Well, due to the recession, money is tighter and people are spending their money more carefully. Rather than pay out for 12 months membership at a golf club, the trend is more towards pay as you play or even pay a reduced membership fee and then pay a small green fee when you actually play.
Speaking to a number of amateur club golfers, they'd rather not buy a new car than give up golf, but a golf club has to provide value for money.
We visited one club, Goring and Streatley G.C. in Berkshire that could well have gone out of business had they not radically changed their business model.
Firstly they used the internet. They encouraged members and non-members to book a round, tee-times, and buggies via their website. It cut down their administration costs massively. They've also marketed aggressively via local press and offers such as buy one membership, get one free.
Targeting younger members was also high on the agenda. The club offers unlimited golf for 12 months for just £80 for under-18's. The club is also trying to increase the income it brings in from non-golf related activities. Sunday lunches have become popular and even weddings. They're hoping for five this summer.
Numbers at the club are steady, but according to club secretary Jimmy James: "We had to get off our backsides and go and get the business."
Many golf clubs are hanging in there and tackling the recession. Indeed, the EGU have told us that of the 2,500 courses throughout Britain, just two have closed because of the economic downturn.
What is your experience of the recession and sport? Is it stopping you playing, helping you attend or not really making a difference? Let us know by filling in the feedback form below...
Comments (1)
Wayne Williams says...
Green fee prices here in my area of Spain have decreased slightly but are still over the top. Deals can be found if you look really hard. Membership deals are also available, but only at the cost of quality. Some courses have increased their already inflated rates and others have kept the prices the same. They would rather have 10 golfers at a 100 euros vrs 100 golfers at 10..not too smart. The one course in the area (Roda) has seen a bit of light and are running monthly specials...once these courses are out of business then they will begin to wonder why...
Posted 06:53 25th March 2009